Goldquizblog- Erinnerungspost- Bis Sonntag noch Tippen #11 // Goldquizblog- Reminder Post- Until Sunday still typing #11 (DEU/ENG)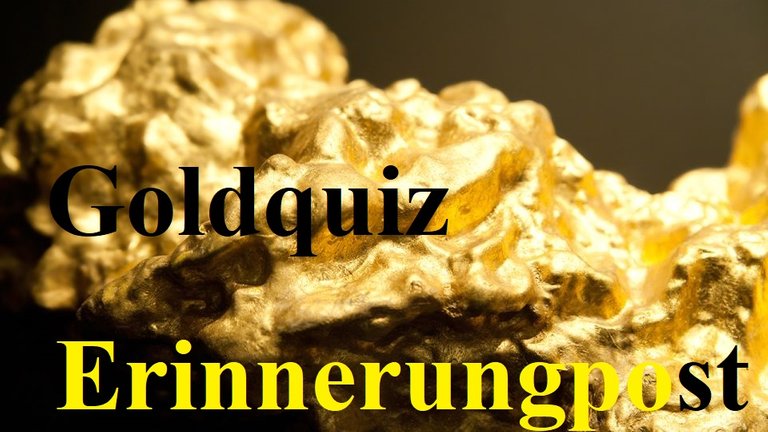 Hallo liebe Community,
Da ich mein Gewinnspiel immer Sonntag austrage, möchte ich gerne mit diesem regelmäßigen Post nochmal Mitte der Woche auf mein QUIZ aufmerksam machen.
Leider habe ich es diese Woche leider arbeitstechnisch nicht geschafft was zu schreiben. Daher kommt er heute und erinnert euch für übermorgen dran, euren Tipp abzugeben.
Hello dear community,
Since I always run my competition on Sunday, I would like to draw attention to my QUIZ with this regular post again in the middle of the week.
Unfortunately, I have it this week unfortunately work-technically not managed to write what. Therefore, it comes today and reminds you for the day after tomorrow to submit your tip.

Ab und zu kommt es vor das einige vergessen ihren Tipp abzugeben und mich schon gebeten haben sie persönlich dran zu erinnern. Doch ich musste das leider ablehnen, weil ich damit nicht anfangen möchte, sonst bin ich nur noch Leute anschreibe und die könnten sich davon vielleicht genötigt fühlen.
Daher wird es ab dieser Woche den Zusatzpost geben, wo ich nochmal an das QUIZ erinnern werde.
From time to time it happens that some forget to give their tip and have already asked me to remind them personally. But unfortunately I had to refuse, because I don't want to start with that, otherwise I'm just writing to people and they might feel coerced by it.
Therefore there will be the additional post starting from this week, where I will remind again of the QUIZ.

Wenn einige dann so nochmal darauf aufmerksam gemacht wurden, können sie ja jederzeit unter meinem Blog das Quiz finden und dort dann mit einem Kommentar oder einem Reblogg dran teilnehmen.
Da es ja 2 Chancen gibt an die wertvollen HSBI zu kommen.
If some were made
attentive then so again
to it, they can find yes at
any time under my Blog
the Quiz and participate
there then with a comment or a Reblogg dran.
Since there are 2 chances to get the valuable HSBI.

---
Taglist: @siphon, @noctury, @bitandi, @dragonballfan, @thedrummerboy, @mario89, @indextrader24, @johnboywalton, @adacardano, @schmidi, @kaeltegott, @desro, @thomasthewolf,@suntree, @kvinna, @dragon-ti, @ynwa.andree,@froeschle,@reiseamateur,@der-prophet, @vegata, @tokutaro22, @ravenmus1c, @treefrognada, @egistar, @tengolotodo, @jdike, @ciderjunkie, @offgridlife, @geelocks, @mundharmonika, @udow, @booboohabibi, @thatgermandude, @gasaeightyfive, @cribbio, @marcocasario, @mclarenf11,@mein-senf-dazu,@monsterbuster, @pirulito.zoado, @henruc @xels, @thebighigg, @fredkese, @nftland89, @circlebubble, @voidd, @kaptnkalle, @rtonline, @solymi

---
---