Status Update for CryptoCompany CEO / $CCDPACK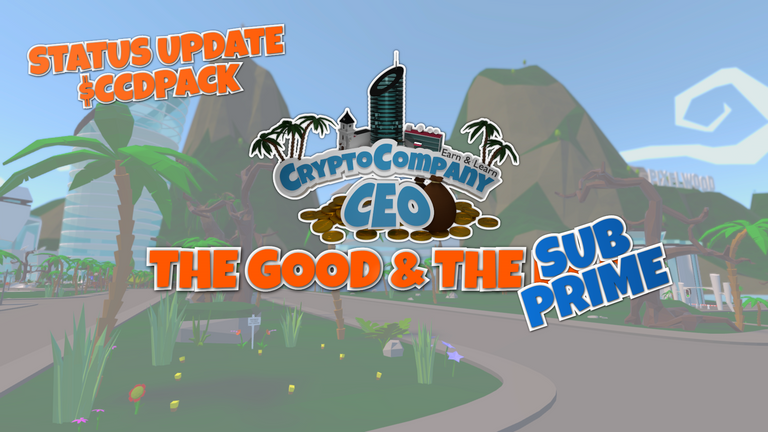 Dear fans and supporters of CryptoCompany CEO. In this post I, PowerPaul, would like to speak to you personally. Even though it's hard for me, because the game is my heart's desire and today I have a message that could be classified as "bad". But basically it is good news and a good decision...
We at CryptoCompany are committed to providing you, as a supporter and player, with the best possible and most valuable experience in and around CryptoCompany CEO. This also includes the optimal weighting of the items in the packs. Unfortunately, we are a little behind schedule. So it will take a few more days before we can progress to opening the packs.
I could list several reasons for this, including external ones. But I'm not the type to do that and I see the responsibility for the game solely in my hands.
I regret very much that we are behind schedule. I apologise for that and will think about how I can bring a smile back to your face with a little goodie. I recommend: keep the CCDPACK - it will be the measure of your reward of loyalty when it comes to compensating for the "waiting time".
And precisely because it takes longer, it should be your reason to hold the CCDPACK: we are working on the optimal and valuable item distribution. Consequently: it is precisely the waiting that increases the value of your PACKS and the items in them. Please be patient and bear with us - it will be worth it.
Frightened? Don't be...!
Don't worry. CryptoCompany CEO is evolving every day towards its potential. The very fact that we prefer to be diligent should give you a good feeling. Members of our Discord have even been able to take a look at our new (additional) website, which serves as your administration of CryptoCompany CEO and where you can find all information about the cosmos of CryptoCompany CEO and interact with it. So we are obviously moving towards the starting line. If you missed this insight, don't worry: we will also introduce this web app here soon.
To conclude this article, I would like to emphasise once again: don't be sad if the creation of all the content and mechanisms is sometimes a little more complex and takes a little longer - this is because we want to develop the best for you.
My personal request and also my thanks for your understanding.
Thank you. <3
---
Now it only remains for me to say goodbye for today.

See you later in the comments!

Make the most of the day!


---





Our lucky subscribers: @aborowczak1972 @acolytesofhelio @acom @adacardano @alex2alex @allonyx.ngs @arkasz @arpuch @awah @balte @bitandi @blue.rabbit @bokica80 @brando28 @captaincryptic @cryptocompany @cryptofiloz @cyberqueenmeg @definethedollar @dewabrata @dlmmqb @dynamicrypto @ecoinstant @ervin-lemark @eustace-kidd @flauwy @forykw @franking1 @fredfettmeister @ganjafarmer @gr33nm4ster @healjoal @high8125theta @hmvf @ifarmgirl-leo @ijatz @imfarhad @imno @indiebandguru @irisworld @ivangeevo @jamesstarr13 @jfuji @kam5iz @karizma @kheldar1982 @kolbi @kryptik.tigrrr3d @kvinna @l337m45732 @lammbock @leosoph @lgxgaming @libertycrypto27 @lorddiablo @lordshah @lougold @lupinox @magalli @mcrahman91 @meanbees @mein-senf-dazu @memess @mistakili @misterc @mizzmomoz @monkeymanking @mugglow @nanie.lilla @noctury @og1 @olebulls @oscarps @pero82 @pix21 @points-fr @poolweb @powerpaul @pregosauce @prinzvalium @proto26 @queenstarr @quekery @reiseamateur @rinchaelle05 @servelle @shrazi @sieghard1990 @silver-edge @siphon @slothlydoesit @snook @solymi @stayoutoftherz @steem82868 @stewie.wieno @tampilyne @the13anarchist @thedoc07 @thgaming @torran @treasure.hoard @trumpman @valdiva @virtualgrowth @wanderingmoon @willendorfia @woelfchen @yeckingo1 @ynwa.andree @zionazrael

---
---