Grab Your Rewards! SQM DISCOUNT SALE! Just 48 Hours, Once Per Person! DON'T MISS IT!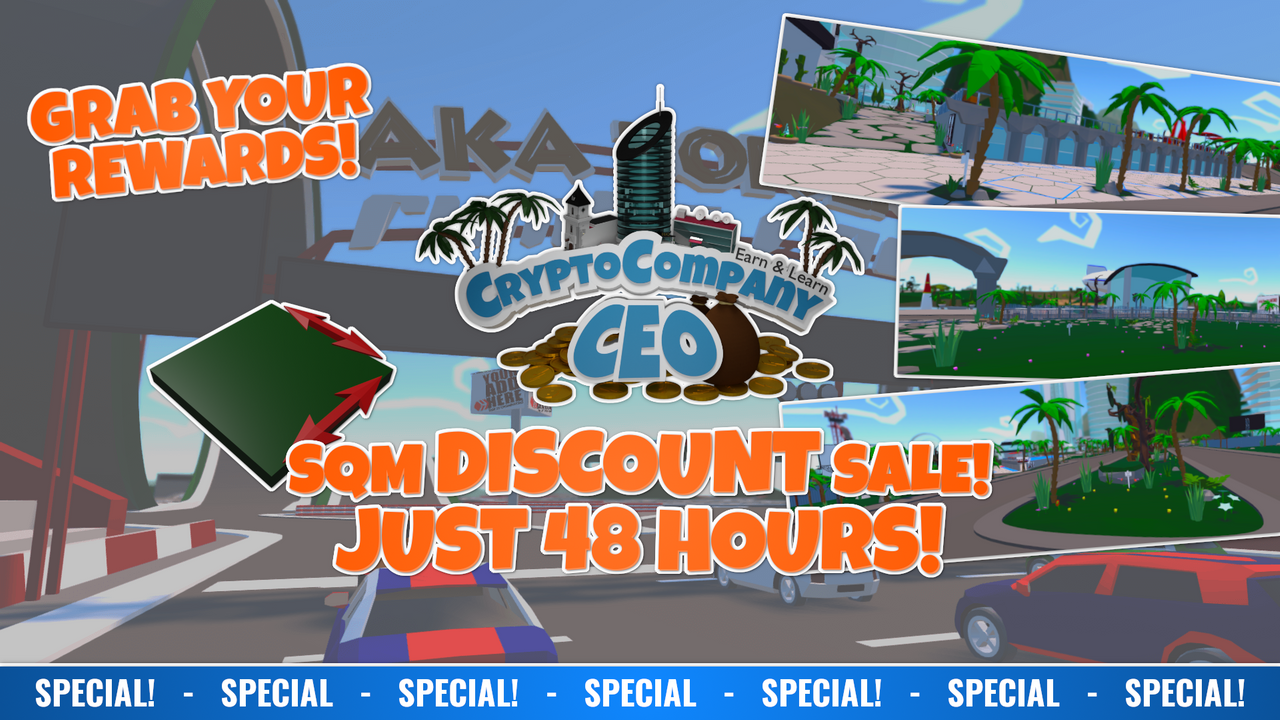 Like every week (and each following until the public beta): As a small thank you to fans, supporters and future players of CryptoCompany CEO we have set up a weekly special discount sale or a small, but nice, investment opportunity - which incidentally also brings your perfect start in the game and also solid returns. In the form of a discount on the purchase of SQM (Info about SQM | buy here). (And since you also get CCPower (Info about CCP) for SQM, the discount is even kinda doubled!)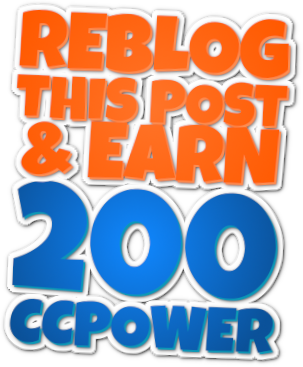 This article opens a new 48-hour sale, but doesn't offer any significantly new information.
This is what you can expect in this post:
Brief recap of the purposes of the SQM token.
How the Special SQM Discount Sale works.
Why you will love it!
And why you should definitely participate!

WHAT IS SQM?

SQM is token based on the Hive blockchain, used in CryptoCompany CEO to buy

land plots

(as well as furnishings and decorations, if included in that property) and

advertising space

. SQM is derived from the English square meter and thus also corresponds to an area in the game – a square meter.

SQM & CCPOWER

For holding your SQM tokens, you will be awarded with

CCPower

– So the more SQM you hold, the more CCPower you can get! Holding 1 SQM will give you a total of 10,000 CCPower. This is based on the Hive Blockchain HP dynamic, which means if you hold more SQM, you will have more CCPower; if you reduce the amount of SQM you hold, your CCPower will be adjusted accordingly.

HOW TO GET SQM?

SQM can be traded on all major trading venues on the Hive blockchain. For example, on

Hive-Engine

,

Tribaldex

or

Leo DEX

.

The SQM token has a regular issue price of 10 HIVE per token. Every Friday we offer an exclusive offer price on a limited number of tokens.

10% discount on 10% of your SQM amount in your wallet.

You already have X amount of SQM in your wallet? Perfect! As a simple example, let's say you have 10 SQM. Now you can buy 10 percent of your already existing amount, with a discount of 10 percent. Consequently, 1 SQM. Regular price would be 10 HIVE. Your special price: 9 Hive.

You can participate in these weekly discounts if you have more than 1 SQM in your wallet. (So from 1.00000001 SQM.)
In your wallet at Hive-Engine, Tribaldex, Leo DEX or on the awesome richlist you can see how much SQM you already have. If you want to claim your discounted SQM (or a part of it), please write in the comments your desired SQM amount and transfer the price in HIVE or Swap.HIVE to @cryptocompany.
You can participate only once per discount sale posting.
The comment with your desired amount of SQM must be posted before this article expires.

Example again?

You already have 10 SQM in your wallet. Then you can order 1 SQM (10% of your wallet) here with 10% discount. So you have to send 9 HIVE or Swap.Hive to @cryptocompany and CryptoCompany will send you the ordered amount of SQM to your wallet.

This discount action considers many aspects and offers double advantages. I want to show these to you!

We have been looking for a way to give a relevant discount on the one hand, without the SQM's share price blowing up in our faces - in a negative sense. How we can give something back to Hivians and future players without being particularly attractive to short-term speculators (who could negatively impact the game economy). In the end, to be able to keep the price at the minimum price of 10 HIVE per SQM, or to keep the distribution quantity in such a way that you could later sell it again worthwhile, if you wanted to do so.

The restriction to 10 percent of your holdings allows you to accumulate comfortably little by little, but rewards larger investments equally. SQM acquired through this promotion will of course be part of the starting point of the calculation for the now higher amount of possible discount SQM at the next sale. So you get discount on your discounted SQM again and again! Awesome? Awesome!

And since you also get CCPower when you hold SQM, the deal is doubly and triply worth it. 10,000 CCPower per 1 SQM! You can find an overview of what CCPower brings you here on our website.




This form of weekly discount promotions will end with the release of the first public beta in the second quarter of 2023 (see timeline). This would then be a good time, for example, at which you can either sell your SQM again profitably or even better:

It would be even more clever to collect CCPower everywhere in parallel, in order to then organize a plot of land for yourself at good conditions (see the table of tiers here). Just as a recommendation and long term perspective: A plot in combination with the advantages of CCPower will give you the most valuable combinations, the most fun and the best resale price of your plot.

You don't have SQM yet? It is not too late!
Buy SQM now to use them as your discount reference!

---




Now it only remains for me to say goodbye for today.

See you later in the comments!

Make the most of the day!






---

 

 

Our lucky subscribers: @aborowczak1972 @acolytesofhelio @acom @adacardano @alex2alex @allonyx.ngs @arkasz @arpuch @awah @balte @bitandi @blue.rabbit @bokica80 @brando28 @captaincryptic @cryptocompany @cryptofiloz @cyberqueenmeg @definethedollar @dewabrata @dlmmqb @dynamicrypto @ecoinstant @ervin-lemark @eustace-kidd @flauwy @forykw @franking1 @fredfettmeister @ganjafarmer @gr33nm4ster @healjoal @high8125theta @hmvf @ifarmgirl-leo @ijatz @imfarhad @imno @indiebandguru @irisworld @ivangeevo @jamesstarr13 @jfuji @kam5iz @karizma @kheldar1982 @kolbi @kryptik.tigrrr3d @kvinna @l337m45732 @lammbock @leosoph @lgxgaming @libertycrypto27 @lorddiablo @lordshah @lougold @lupinox @magalli @mcrahman91 @meanbees @mein-senf-dazu @memess @mistakili @misterc @mizzmomoz @monkeymanking @mugglow @nanie.lilla @noctury @og1 @olebulls @oscarps @pero82 @pix21 @points-fr @poolweb @powerpaul @pregosauce @prinzvalium @proto26 @queenstarr @quekery @reiseamateur @rinchaelle05 @servelle @shrazi @sieghard1990 @silver-edge @siphon @slothlydoesit @snook @solymi @stayoutoftherz @steem82868 @stewie.wieno @tampilyne @the13anarchist @thedoc07 @thgaming @torran @treasure.hoard @trumpman @valdiva @virtualgrowth @wanderingmoon @willendorfia @woelfchen @yeckingo1 @ynwa.andree @zionazrael

---
---