Cowardice and Courage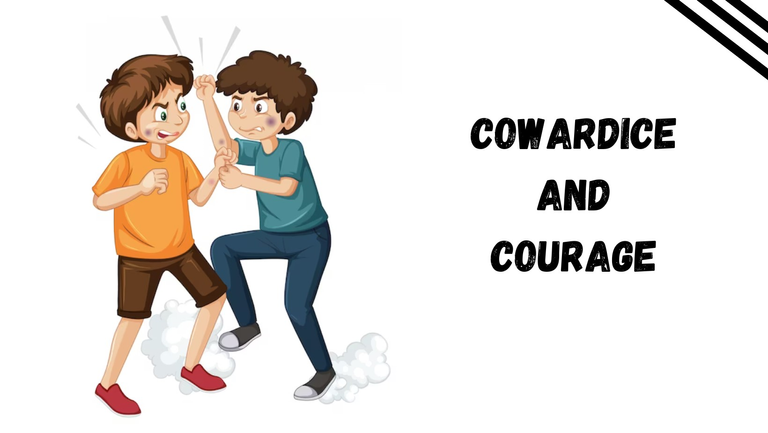 In my childhood, I had a group of four friends who were always together and, honestly, I can't remember when we met. Despite our young age, we had been friends for a long time. Every day, especially at weekends, we would get together and invent some kind of joke.
I remember that our greatest moment of euphoria was when we played soccer. There was always a lot of anticipation when it came to choosing teams, because we always wanted to be on the same team. Sometimes this didn't happen, and whoever was on a different team was very upset. It so happened that, on one of those occasions when we had soccer, I couldn't go, and something happened that shook our friendship.
I was at home, helping my mother with some chores, when I heard the doorbell ring. I opened the door and there was one of my friends, all red and with a few scratches. He told me that, when he and the other boys were playing soccer, he was on another team and they had a disagreement about some play that had taken place. This disagreement turned into a fight, and the other two boys who were part of our group assaulted him. I didn't think twice about it, I dropped what I was doing and went after the other boys.
The two boys who did this were cousins and one always stood up for the other in any situation. But what they did that day was cowardly: not only did they gang up on this friend of mine who had come to me for help, they also teamed up with other boys to beat him up. Obviously, I didn't let it go; I went after all of them to find out what was going on. It's a good thing I did, because a trap was set.
My closest friend lived in a street from which there was only one way to his house. Right in the middle of the road, I came across the two cousins and another boy, and they were waiting for my friend to cross the street to assault him once again. So I confronted all three of them.
First, I tried to talk to them and find out what had happened through their version. For some reason, I didn't believe what they said, because I realized that they were trying to induce me to turn against my friend as well. When they realized they couldn't fool me, they came at me to try to beat me up. I was older than them, I'd always worked, and at that time I was already strong. It was three against two, and we beat these guys up. They were our friends, but I was so angry with them for betraying the friendship of our group and for being so cowardly with my friend that I let all that anger out, and they suffered as a result. Finally, I managed to take my friend to his house.
I was scared, of course I was, but I wouldn't abandon a friend in a time of need, especially in a situation like that. To this day, we remember that story and laugh a lot. After that day, our friendship grew even stronger. On other occasions after all that happened, sometimes I was the one who needed help, and he was there to hold my hand.
---
Credits:
Translated: Deepl
Cover: created by Canva.
Image Thumbnail: Freepick
---

[PT]
Na minha infância, eu tinha um grupo de amigos que sempre estavam juntos e, sinceramente, não me lembro quando foi que nos conhecemos. Apesar de pouca idade, já éramos amigos por bastante tempo. Todos os dias, principalmente nos fins de semana, estávamos reunidos, inventando alguma brincadeira.
Me lembro que nosso maior momento de euforia era quando jogávamos futebol. Era sempre uma grande expectativa para definir os times, pois sempre queríamos estar juntos no mesmo time. Algumas vezes isso não acontecia, e quem ficava em um time diferente ficava bastante chateado. Aconteceu que, em uma dessas vezes em que tínhamos futebol, eu não pude ir, e algo aconteceu que abalou a amizade do nosso grupo.
Eu estava em casa, ajudando minha mãe em alguma tarefa, quando escuto a campainha da minha casa tocar. Abro a porta, e lá estava um dos meus amigos, todo vermelho e com alguns arranhões. Ele me contou que, quando ele e os outros garotos estavam jogando futebol, ele ficou em outro time e tiveram um desentendimento sobre algum lance que tinha ocorrido. Esse desentendimento se transformou em uma briga, e os outros dois garotos que faziam parte do nosso grupo agrediram ele. Nisso, eu não pensei duas vezes, larguei o que estava fazendo e fui atrás dos outros garotos.
Esses dois garotos que fizeram isso eram primos e sempre um ficava a favor do outro em qualquer situação. Mas o que eles fizeram nesse dia foi covardia, além de se juntarem contra esse meu amigo que veio me pedir ajuda, ainda se juntaram com outros garotos para bater nele. Obviamente, eu não deixei isso de lado; fui atrás de todos eles para saber o que estava acontecendo. Ainda bem que eu fiz isso, pois uma armadilha estava armada.
Esse meu amigo mais próximo morava em uma rua da qual só existia uma passagem até a sua casa. Bem no meio do caminho, eu me deparei com os dois primos e mais um outro garoto, e eles estavam esperando que meu amigo passasse pela rua para agredi-lo mais uma vez. Então, eu enfrentei todos os três.
Primeiro, eu tentei conversar e saber o que tinha acontecido através da versão deles. Por algum motivo, não acreditei no que eles falaram, pois notei que estavam tentando me induzir a ficar contra meu amigo também. Quando perceberam que não iam conseguir me enganar, vieram pra cima de mim para tentar me bater. Eu era mais velho que eles, sempre trabalhei, e nessa época eu já tinha força. Foram três contra dois, e demos uma surra nesses caras. Eram nossos amigos, mas eu estava com tanta raiva deles por terem traído a amizade do nosso grupo e por terem feito uma covardia com meu amigo que coloquei toda essa fúria para fora, e eles sofreram com isso. Por fim, consegui levar meu amigo até a casa dele.
Eu tive medo, claro que eu tive, mas eu não abandonaria um amigo em um momento de necessidade, principalmente em uma situação como aquela. Até hoje, nos lembramos dessa história e rimos bastante. Depois desse dia, nossa amizade se fortaleceu ainda mais. Em outras ocasiões depois de tudo isso que aconteceu, algumas vezes foi eu quem precisou de ajuda, e ele estava lá para estender as mãos para mim.
---
Credits:
Translated: Deepl
Cover: created by Canva.
Image Thumbnail: Freepick
---

---
---