Chilean Gold Bullion Coin
As I had previously mentioned I love collecting South American coins, especially from Chile. The cien pesos gold coin was produced from 1926-1980 as a bullion coin. The obverse has a female bust facing left with a traditional Chilean dress and the reverse has the Chilean emblem. They were all produced in the Santiago mint and the mint mark S is visible on the reverse. This is definitely one of my favorite Chilean coins.
It was produced until 1980 when the new Chilean constitution was ratified. This was done after the 1973 military coup placing Augusto Pinochet in charge of the nation as he was the top general. This coup was supported by the CIA since the elected president Salvador Allende was a socialist. At the time the US was in the middle of the Cold War with the Soviet Union and didn't want any allies of the USSR in the Americas. Allende committed suicide rather than to resign the office as president or be arrested by the military. Sadly under the rule of Pinochet thousands of people "disappeared" as they were considered a threat to his regime.
This is a great bullion coin and can be readily purchased at most large bullion suppliers and even eBay. It's a great coin to add to any gold or silver stack! I can't show you my coin since I'm still working out of state away from my goodies.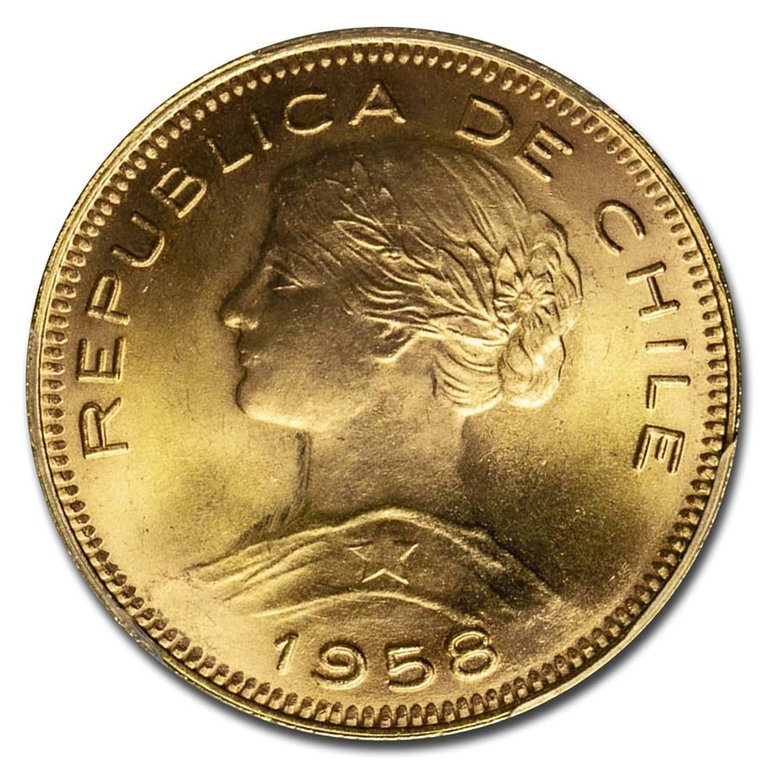 Photo credit: Apmex
Coin information:
Mint: Santiago
Composition: 90% gold
Weight: 18.3 grams
Diameter: 30.5 mm
Thickness: 1.8 mm
Production: 1926-1980
I hope you enjoyed my post and have a great Monday!
Disclaimer: Gold and Silver investing and coin purchases are a great hobby, but isn't for everyone. You can lose money. I'm not a financial advisor and this isn't financial advice. Just my personal fun hobby!
References:
https://www.coininvest.com/en/gold-coins/peso/100-chilean-peso-liberty-gold-coin-1895-1980/
https://en.wikipedia.org/wiki/Augusto_Pinochet
---
---