Funny HiveFest Photo Contest Winners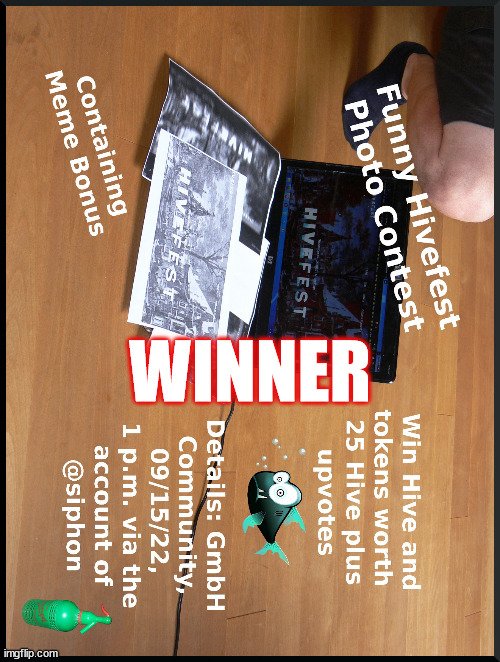 HiveFest Photo Contest Winners
Thanks to the Hivefest that was held with great fanfare in Amsterdam, the small GmbH Community was able to attract attention with a large advertisement in the first press-pressed issue of @hiq. Of course, so much effort (see ad above) was put into this ad until it became the best ad of the entire magazine. So the winner has actually already been decided: It is the Community with Limited Humour GmbH.
The choice of the winners
Finding a winner in the GmbH community is traditionally complicated and time-consuming. Of course, we will remain loyal to this tried and tested system and do everything differently in the Photo Contest than in the GmbH Meme Contest.
As you probably noticed, there was a voting of the community for the winner, that is one part of the winner selection. The second part is of course my numerical rating system that some know from the meme contest. Admittedly, it's a bit slimmed down.
In the end, all the results are added together and we have a winner!
The participants:
The Community Voting:
Many people followed the call to vote for the winner. At first it was a bit slow with 4 - 5 Hivians voting for the photos, but after I mentioned some GmbH members in the comments it was finally 18 Hivians who voted. So, I would like to say that it was a fair choice and at the same time I am a bit proud that the GmbH community works so well.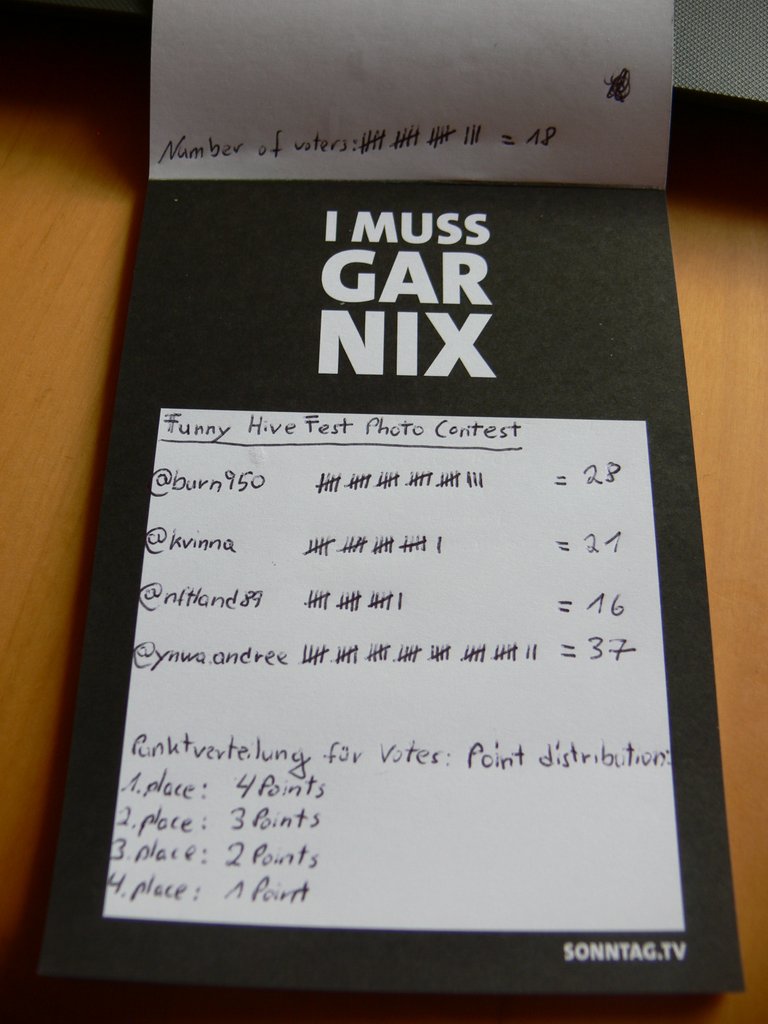 Temporary result:
ynwa.andree: 37 points
burn950: 28 points
kvinna: 21 Points
nftland89: 16 Points
The GmbH Scoring
A few reflections on the submitted memes.
I had a hard time judging the funniness of @ynwa.andree's meme. Sure it's a derivative of the joke "When life gives you lemons..." but it works differently with foam. I was looking for a middle way in the rating.
As always, @nftland89 got everything right and created a very well-functioning meme. I expect a laughing spasm from you by now just opening the post.
@kvinna has cooked her own soup and directed the funniness into the peripheral text, outside the meme. I like the variety so I rate it as a work of art.
@burn950 actually deserves a special prize because he was the fastest and even had to make his picture twice to make it fit. Besides, he is simply right with his meme.

Result of the GmbH Scoring:
nftland89: 20 points
kvinna: 19 points
burn950: 18 points
ynwa.andree: 18 Points
Final result:
---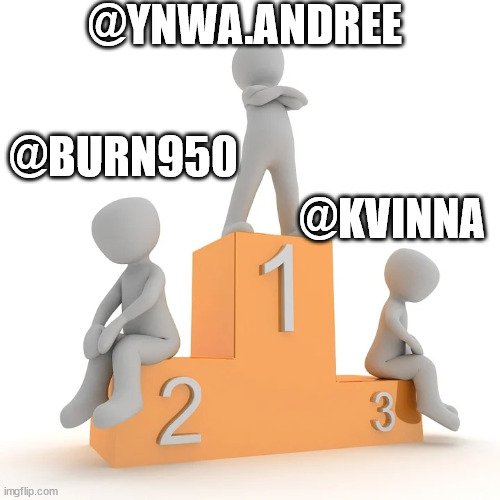 1st place: @ynwa.andree 55 points
2nd place: @burn950 46 points
3rd place: @kvinna 40 points
4th place: @nftland89 36 points
What can we say, there is a clear winner who has beaten everyone, congratulations to @ynwa.andree. If it had been a pure meme contest, the entry would have had a hard time, but it was a photo contest, so it absolutely deserves it.
It is also the only entry that was personally photographed at HiveFest. Taking the theme of beer was of course clever with all the boozers on the Chain 😂
A word to our 4th winner @nftland89 the same applies here as for ynwa.andree only the other way round. As a meme contest you would have had the best chance to win and in the GmbH scoring you were also first. But the scoring was so close that it had no influence on the final result.
Is there anything missing?
That's right, 6 lucky Hivians have each been promised a HSBI if they participate in the "Winner Voting". All 18 voters are in the running and will be drawn in the next post of my alt-account: @siphon.tribes.
The prizes in form of Hive, Meme, Fun & Hiq Token will be sent out during the evening if I stay sober 🤪
---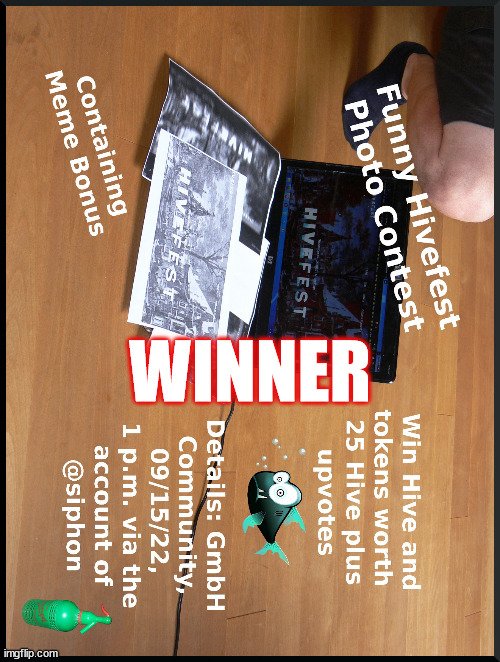 Gewinner des HiveFest Photo Contest
Dank des Hivefests das mit großem tamtam in Amsterdam veranstaltet wurde, konnte die kleine GmbH Community mit einem großen Werbeartikel in der ersten druckmaschinengepressten Ausgabe der @hiq auffallen. Selbstverständlich wurde so viel Aufwand (siehe Anzeige oben) in diese Anzeige gesteckt bis sie die Beste Anzeige des gesamten Magazins wurde. Somit steht der Gewinner eigentlich schon fest: Es ist die Gemeinschaft mit beschränktem Humor GmbH
Die Wahl des Gewinners
Die Findung eines Gewinners in der GmbH Community ist traditionell kompliziert und aufwendig. Natürlich bleiben wir diesem bewährten System treu und machen beim Photo Contest gleich mal alles anders als beim GmbH Meme Contest.
Es gab wie ihr wahrscheinlich bemerkt habt ein Voting der Community für den Gewinner, das ist der eine Teil der Gewinner-ermittlung. Der Zweite Teil besteht natürlich aus meinem zahlenschwangeren Bewertungssystem das ihr aus dem Meme Contest kennt. Zugegeben es ist etwas abgespeckt, dafür gibts aber das Community Voting.
Am Ende werden alle Ergebnisse miteinander addiert und wir haben einen Gewinner!
Die Teilnehmer:
Das Community Voting:
Dem Aufruf zum Voten des Gewinners sind wirklich viele gefolgt. War es erst etwas verhalten mit 4 - 5 Hivians die die Memes bewertet haben, waren es nachdem ich einige GmbH Member in den Kommentaren gementioned habe schließlich 18 Hivians die bewertet haben. Also möchte ich sagen das es eine faire Wahl war und bin gleichzeitig ein bisschen stolz das die GmbH Community so gut funktioniert.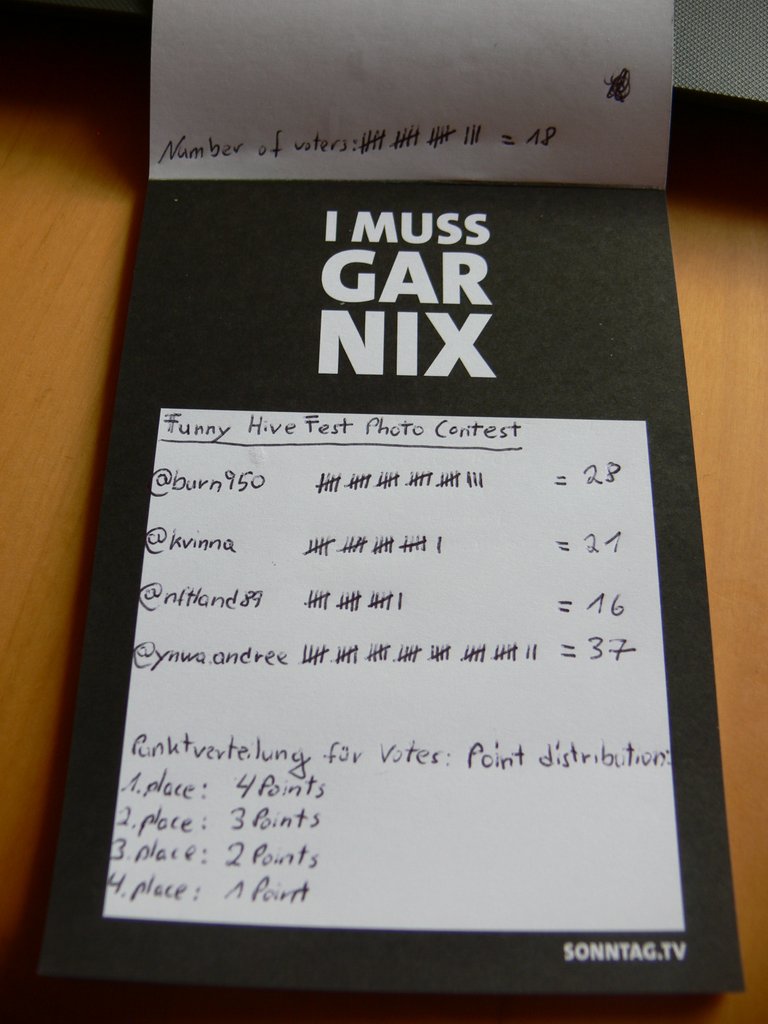 Vorläufiges Ergebnis:
ynwa.andree: 37 Punkte
burn950: 28 Punkte
kvinna: 21 Punkte
nftland89: 16 Punkte
Das GmbH Scoring
Ein paar Überlegungen zu den eingereichten Memes.
Die Lustigkeit des Memes von @ynwa.andree zu bewerten fiel mir schwer. Klar es ist ein Ableitung des Gags "Wenn dir das Leben Zitronen gibt..." es funktioniert aber anders mit Schaum. Ich hab da einen Mittelweg in der Bewertung gesucht.
@nftland89 hat wie immer alles richtig verstanden und ein sehr gut funktionierendes Meme gebastelt. Ich erwarte von dir inzwischen schon einen Lachkrampf beim öffnen des Posts.
@kvinna hat ihr eigenes Süppchen gekocht und die Lustigkeit in den peripheren Text, außerhalb des Memes abgeleitet. Mir gefällt die Abwechlung deshalb werte ich es als Gesamtkunstwerk.
@burn950 hat eigentlich ein Sonderpreis verdient weil er am schnellsten war und sogar sein Bild 2 mal machen musste damit es passt. Außerdem hat er mit seinem Meme einfach recht.

Ergebnis des GmbH Scorings:
nftland89: 20 Punkte
kvinna: 19 Punkte
burn950: 18 Punkte
ynwa.andree: 18 Punkte
Ergibt folgendes Endergebnis:
---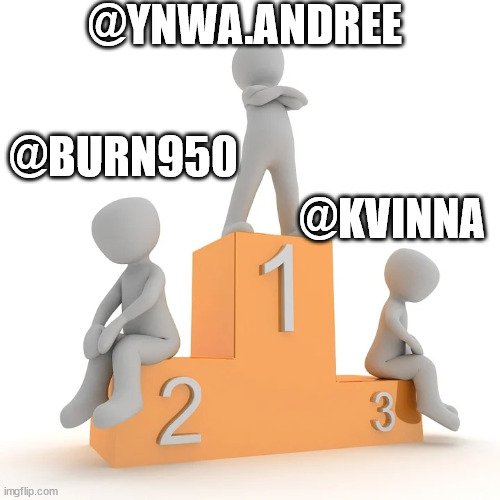 Was soll man dazu sagen, es gibt einen klaren Gewinner der alle abgehägt hat, @ynwa.andree herzlichen Glückwunsch dazu. Wäre es wohl ein reiner Meme Contest gewesen hätte es der Beitrag schwer gehabt, es war aber ein Photo Contest, deshalb absolut verdient.
Es ist auch der einzige Beitrag der persönlich auf dem HiveFest fotografiert wurde. Das Thema Bier zu nehmen war natürlich clever bei all den Schluckspechten auf der Chain 😂
Ein Wort noch zu unserem 4 Gewinner @nftland89 hier gilt das gleiche wie für ynwa.andree nur anderes herum. Als Meme Contest hättest du beste Karten gehabt zu gewinnen und im GmbH Scoring warst du auch knapp erster. Das Scoring war aber so eng das es keinen Einfluss auf das Endergebnis hatte.
Fehlt noch was?
Richtig, 6 glücklichen Hivians wurden jeweils ein HSBI versprochen wenn sie sich am "Winner Voting" beteiligen. Alle 18 Voter sind im Rennen und werden im nächsten Post meines alt-accounts: @siphon.tribes gezogen.
Die Gewinne in Form von Hive, Meme, Fun & Hiq Token werden heute im laufe des Abends verschickt sollte ich nüchtern bleiben 🤪
Im kommenden Monat Oktober gibt es endlich wieder unseren guten alten GmbH Meme Contest, also nicht verpassen, immer der zweite Dienstag des Monats, der nächste ist somit am 11.10.2022
---
---