Easter Seasonal Mission, New Server & New Blending Information!
Egg Hunt
It's an eggcellent time of year for dad jokes!
How It Works
For those of you who have joined since our last seasonal mission this is how it works: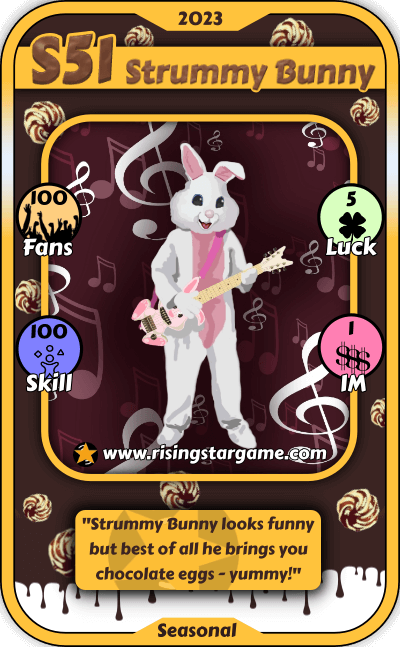 You will need an S51 Strummy Bunny card to start the mission, which can be found randomly in packs or you may be able to buy on the market from other players.

Click on the "Special Missions" button.

Start the "Egg Hunt" mission.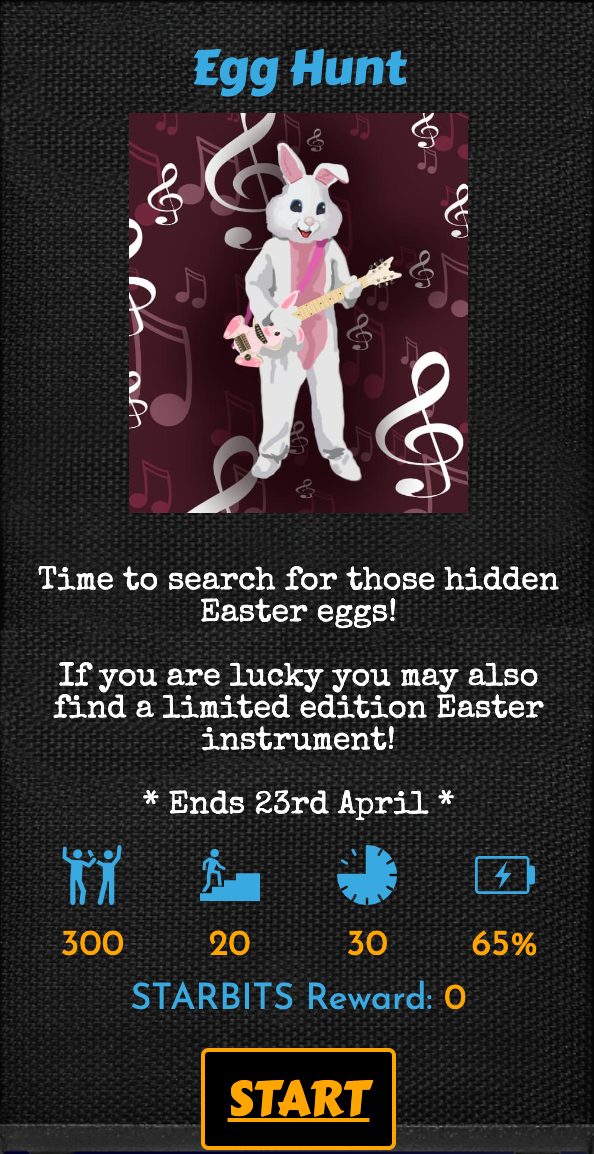 You have a random chance (1 in 10) of getting one of these two special instruments when the mission completes:
Animated Cards!
We are excited to release three new blends which give you animated cards!
These will be added to the "Blends" page soon but as before you will need 10 of the standard cards to blend into the animated version PLUS a "Fix It" card (see below).
Please be aware that you CANNOT use the S51a Strummy Bunny card to run the mission so make sure you have at least eleven S51 Strummy Bunny cards if you are going to blend but you still want to run the mission.
We would love to know what you think of these amazing looking cards beautifully drawn by @theturtleproject, card designed and animated by @nupulse.
New Blending Information
All new blends, starting with the Egg Hunt cards, will require a "Fix It" card. One "Fix It" will be required for each blend.
The price of the "Fix It" card may change over time as we are going to make it equivalent to a $ value but it will always be sold by us for STARPRO (look for the pink "risingstargame2" to know you are buying directly from us).
"Fix It" cards are available now.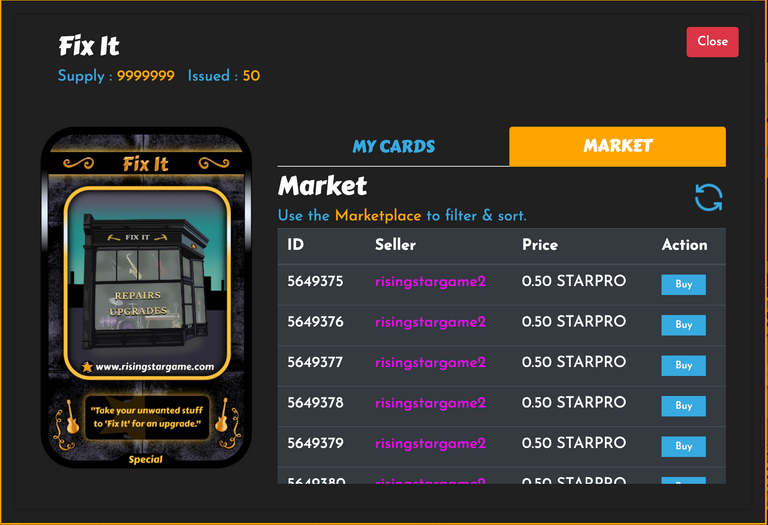 Limited Time Blends
Exciting news!
We will start doing regular short duration "specials" where you can blend certain combinations of cards (and spare parts from crafting) into limited edition cards. This was something that was suggested by quite a few players so we thank you for the feedback and we have listened!
Server Move Completed!
It was long overdue but we have finally moved to a super fast new server and the game is zipping along now!
Being on this server opens up many new possibilities as we can do a lot more processing to enable more and more features to be added to the game.
Raves is already in final testing but we needed this new server up and running before we could think about putting it fully live.
Wait until you see what we have in store after Raves!!
And Finally
We want to thank you, our amazing community, for sticking by us even though the bear market has been really brutal and the game felt like the code was running through treacle most of the time!
You are the true dedicated Rising Stars and with you we are now ready for the bull run that seems to be getting ever closer.
We wish you luck if you are heading out to find those eggs!
Jux and the Rising Star team.


Rising Star - The Play2Earn NFT virtual music career game built on Hive.
---
---