WHY PEOPLE SHY AWAY FROM EGG PRODUCTION POULTRY FARMING.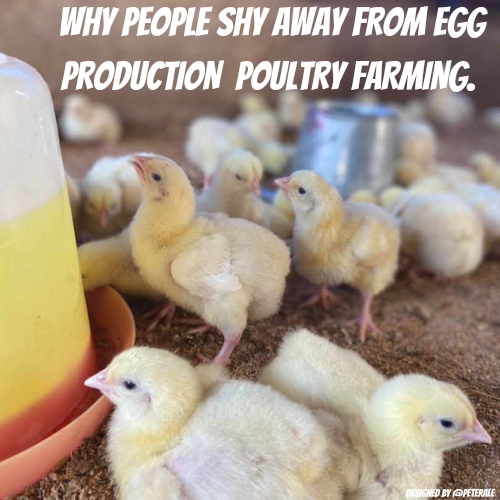 Poultry farming irrespective of the side you found yourself; I mean Poultry farming isn't only limited to rearing Broiler birds alone but it's also extended to rearing birds for egg consumption purpose. Whichever way, it's more likely that majority of Nigerians find it easy to dwell more in rearing Broiler birds for meat consumption. In every Nigeria home, it's hard that you won't find people rearing chicken for consumption purpose or sales purpose either local chicken or agric chicken (whatever they call it).
I have found many of my neighbors getting in contact with me telling how they have some chicken they have reared for Sales. According to my findings, I have found out why most people love to run Poultry farm for meat production with one major reason to be because of the cost of production;setting up a Poultry farm for egg production seems to come along with seemingly huge amount of money, meaning it attracts a lot of cost production which average Nigerians can't afford.
To run a Poultry farm is on two major purposes;1. Meat production.
2.Egg production. Both are good, but it's just that one fits a long time investment than the other while the other fits short time investment. Broiler chicken rearing seems to welcome short time investment while rearing chicken for egg production is somehow long time based investment (the least is after six months of investment that will start making sales. This is more reasons why majority of Africa home embrace rearing Broiler chicken for meat production.
I will also love to further pick on the stress the egg production farming attracts ranging from how they feed, how they pass out feces and how their pen can bring out unbearable smell even if you take care of them everyday. This smell might be unfriendly to the neighbors which might start an unnecessary feud within the neighborhood. Unlike rearing Broiler birds, once you normally take cares of them steady, hardly would you perceive any smell coming from the pen farm. This is one of the reasons why people prefer to rear chicken for meat production.
---
You can click below to view some of my projects.
PART ONE OF THE BROODER PEN CONSTRUCTION:- CLICK HERE👉🏻SOURCE
PART TWO OF THE BROODER PEN CONSTRUCTION:- CLICK HERE👉🏻SOURCE
PART THREE OF THE PROJECT,THE BIRDS ARE NOW 2WEEKS PLUS:- CLICK HERE👉🏻SOURCE
Also thanks to @balte , @schlees and @satren for their upvote. I really appreciate.
---
Thanks for stopping by to view my blog. Please do have a wonderful day ahead.@peterale cares🤭
---
---