The impact of consumerism: mass extinction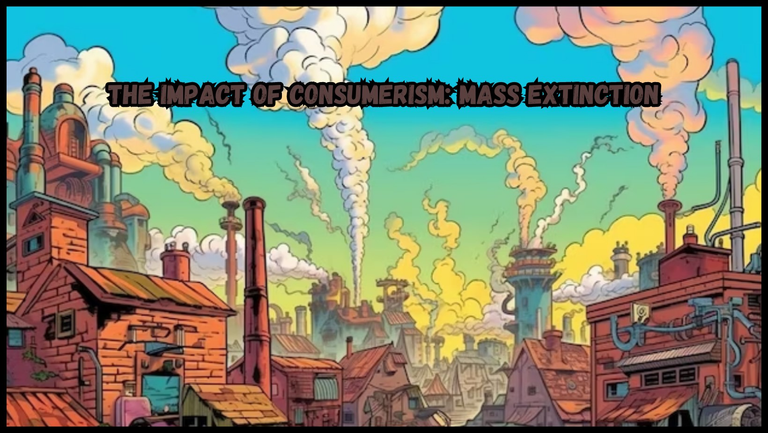 This week, I finished watching a documentary on Netflix called "Life on Our Planet", a very good documentary that talks a bit about the animals that have inhabited the planet, about life and the adaptations that animals have had to evolve in order to stay alive. However, despite giving a retrospective insight into life here on planet Earth, something caught my attention: the various mass extinctions that the Earth has witnessed throughout its history.
This part of the documentary never left my mind, especially as it had been an unusually hot week here in Brazil. I don't remember ever feeling so uncomfortable with high temperatures. So, I associated this moment that planet Earth is going through with global warming and this made me uncertain about our future. Will we be the victims of the sixth mass extinction?
I'm not sure if only one invention is responsible for causing so much damage to our planet or even to people. At every moment, tens of thousands of products are being manufactured; an immense amount of carbon dioxide is being released onto our planet. For what? Do we really need so many things? I think the worst thing ever invented is mass production, factories and even the way people are induced to consume, consume and consume?
A vicious, murderous cycle has been implemented. People buy, for example, a cell phone, which after a while becomes outdated and you have to buy another one, and companies never stop producing or inventing something that people can't live without. It sounds like a bad joke, but people are trading the health of the environment for adult toys, and here I'm just talking about a cell phone. Imagine how many other products are produced and how much they pollute the environment, and then surely become pollution again when they are no longer needed. Factories pollute to produce future waste, all fueled by people's euphoric consumerism.
I'm afraid.
We see news that some measures are being implemented, but it will never be enough to reverse the fate to which our planet is heading again. I don't rule out another mass extinction, motivated to happen by ourselves. My thoughts are that nothing can be done, that our planet, our civilization, is already doomed, because it would take a change in everyone's awareness, which is impossible if everyone is only looking for profits and forgets that the greatest asset is in the only place we could live. We have no choice but to preserve planet earth.
So, has humanity really evolved to produce so much and serve so many people that it has forgotten to preserve the most important thing? What could we do to reverse this situation? It's hard to think of anything that could change everything. We've already entered a perpetual system, but if each person changed the way they deal with pollution, or in some way mitigated its impact, couldn't things be a little better?
Despite knowing that my actions alone won't change the course of what's to come, I still try to do my bit as an individual and change the way people around me think. It's small compared to what's really needed, but it's my part, and I'm doing my duty.
Faced with this reality, there is an urgent need for a collective change in the global mindset that prioritizes environmental preservation over profit. This requires a profound overhaul of our economic systems, industrial practices and consumption habits. As individuals, it is crucial that we continue to do our part by educating and positively influencing those around us. However, the real transformation will come when society as a whole recognizes the importance of a sustainable approach to ensure not only the survival of humanity, but the preservation of diversity and balance in the global ecosystem. The future of our planet depends on the ability of all of us to act responsibly and collectively, seeking a balance between progress and preservation, or else we already know our fate.
---
Credits:
Translated: Deepl
Cover: created by Canva.
Image Thumbnail: Freepick
---

[PT]
Essa semana, eu terminei de ver um documentário na Netflix que se chama "A Vida no Nosso Planeta", um documentário muito bom que fala um pouco sobre os animais que já habitaram o planeta, sobre a vida e as adaptações que os animais precisaram evoluir para estarem vivos. Mas, apesar de passar um conhecimento retrospectivo sobre a vida aqui no planeta Terra, algo me chamou a atenção: foram as várias extinções em massa que a Terra presenciou em toda a sua história.
Essa parte do documentário não saiu dos meus pensamentos, principalmente por esta ter sido uma semana de um calor fora do comum aqui no Brasil. Eu não me lembro de sentir um incômodo tão grande com as altas temperaturas. Então, eu associei esse momento que o planeta Terra está passando com o aquecimento global e isso me gerou incertezas sobre o nosso futuro. Será que vamos ser as vítimas da sexta extinção em massa?
Eu não tenho certeza se apenas uma invenção é a responsável por causar tantos danos ao nosso planeta ou mesmo as pessoas. A todo instante, dezenas de milhares de produtos estão sendo fabricados; uma quantidade imensa de dióxido de carbono está sendo liberada no nosso planeta. A troco de que? Será que precisamos mesmo de tantas coisas? Penso que a pior coisa já inventada é a produção em massa, as fábricas e até mesmo a forma como as pessoas são induzidas a consumir, consumir e consumir...
Um ciclo vicioso e assassino foi implementado. As pessoas compram, por exemplo, um celular, que depois de um tempo fica ultrapassado e é necessário recomprar outro, e as empresas nunca param de produzir ou inventar algo que as pessoas não vivam sem. Parece uma piada de mau gosto, mas as pessoas estão trocando a saúde do meio ambiente por brinquedos de adultos, e aqui eu estou falando apenas de um celular. Imagine quantos outros produtos são produzidos e o quanto eles poluem o ambiente, e depois certamente vão se tornar poluição de novo quando não são mais necessários. Fábricas poluem para produzir lixos futuros, tudo isso alimentado pelo consumismo eufórico das pessoas.
Eu tenho medo.
Vemos notícias de que algumas medidas estão sendo implementadas, mas nunca será o suficiente para reverter o destino para o qual nosso planeta está indo novamente. Eu não descarto mais uma extinção em massa, motivada a acontecer por nós mesmos. Meus pensamentos são que nada poderá ser feito, que nosso planeta, a nossa civilização, já está condenada, pois seria necessário uma mudança de conscientização de todos, o que é impossível se todos buscam apenas por lucros e se esquecem que o maior patrimônio está no único lugar que poderíamos viver. Não temos outra opção a não ser preservar o planeta terra.
Portanto, será que a humanidade realmente evoluiu para produzir tanto e atender as pessoas que se esqueceu de preservar o mais importante? O que poderíamos fazer para reverter essa situação? É difícil pensar em algo que possa mudar tudo. Já entramos em um sistema perpétuo, mas será que se cada pessoa mudasse a forma como lida com a poluição, ou de uma forma a amenizar esse impacto, as coisas não poderiam ser um pouquinho melhor?
Apesar de saber que apenas as minhas atitudes não irão mudar o curso do que está por vir, eu ainda tento fazer a minha parte como indivíduo e mudar a forma de pensar das pessoas que estão à minha volta. É pouco em comparação ao que realmente é necessário, mas é a minha parte, e eu estou cumprindo com o meu dever.
Diante dessa realidade, surge a necessidade urgente de uma mudança coletiva na mentalidade global, que priorize a preservação ambiental sobre o lucro. Isso exige uma revisão profunda de nossos sistemas econômicos, práticas industriais e hábitos de consumo. Enquanto indivíduos, é crucial continuarmos a fazer nossa parte, educando e influenciando positivamente aqueles ao nosso redor. Porém, a verdadeira transformação virá quando a sociedade como um todo reconhecer a importância de uma abordagem sustentável para garantir não apenas a sobrevivência da humanidade, mas a preservação da diversidade e equilíbrio do ecossistema global. O futuro do nosso planeta depende da capacidade de todos nós de agir de forma responsável e coletiva, buscando um equilíbrio entre progresso e preservação, ou do contrário, já sabemos o nosso destino.
---
Credits:
Translated: Deepl
Cover: created by Canva.
Image Thumbnail: Freepick
---

---
---