Do not accept candy from strangers.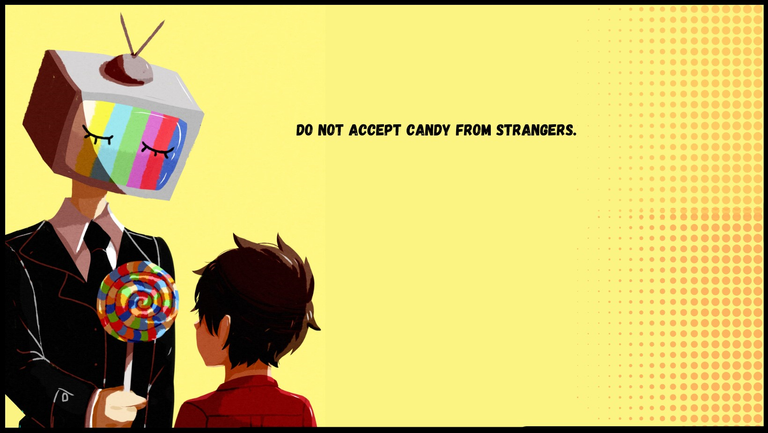 It was my first day at school on a course I had been looking forward to for a long time. I remember the anticipation, the anxiety and the chill in my stomach that accompanied me, but I was very happy with that first step, because many doors could open with this new learning experience. It was a great opportunity to get a better job and provide better conditions for my family.
The bell for the last class rang; I picked up my things and walked to the bus stop. It was a beautiful, warm evening, and I was happy. It was an hour before my bus arrived. I lit a cigarette and was stuck in my thoughts for a while. Despite the happiness, my thoughts were of worry, since studying after a day's work wouldn't be an easy routine, and my son was still small. My wife would have to look after him alone for some time, and I would miss out on some important moments in his life, but I was doing it for him; it was my duty to open doors of opportunity. It would be worth it. Then I was roused from my thoughts as a man sat down next to me at the bus stop.
He was a well-dressed middle-aged man, he asked me for a cigarette and we started chatting. There was still some time before my bus was due to arrive, so someone to talk to was useful at that moment. We shared a few quick stories. He told me about the city he was going to, and I told him that I had just finished my first day of school and about my worries about being away from my son during this time of study. It was a fun conversation and then he offered me a candy.
I don't normally accept anything from people I don't know, but I had no reason to be suspicious of this guy; after all, he was really nice! Besides, I was very hungry, so a candy would take the edge off my hunger until I got home. But when I put the candy in my mouth, I noticed that it was cracked into a few pieces. That's not so strange, after all, some candies break when they fall or when you sit on them in your pocket. Then my bus arrived, and I said goodbye to this guy.
As I was getting on the bus, my tongue felt something hard in the middle of the candy's cracks, and it gave me the creeps. At the same time, I took the candy out of my mouth and noticed a piece of buckshot right between the cracks. I was shocked. "Chumbinho" kills; it's the same poison used to kill rats, and that guy tried to kill me! A guy who didn't know me tried to kill me, and to this day I don't know why anyone would do that. I never believed it when someone told me as a child not to accept sweets from strangers, and that day, it was happening to me.
Inside the bus, I was totally desperate. It was a route between two cities, and there was no hospital along the way. I was very scared of dying. Could I have swallowed a piece without realizing it? It wasn't fair that I should die just when things were about to get better! I tried to force myself to vomit to get anything out of me, but my stomach was empty. After all, I hadn't eaten anything for hours, and inside that dimly-lit bus, I just wished I could see my son's face one more time.
After 40 terrifying minutes, I finally arrived at my destination and went straight to the emergency room. I told the doctor what had happened, and he reassured me: "If you had swallowed something, my dear, you would have arrived here dead." At that moment, I don't know if I was really relieved or in shock. I came within a hair's breadth of death, but I survived. I thank God that I came through that event unscathed and was able to see my son grow up.
This was a true story that happened to me, so never accept sweets from strangers.
---
Credits:
Translated: Deepl
Cover: created by Canva.
Image Thumbnail: Source
---

[PT]
Era o meu primeiro dia de aula em um curso que eu desejava fazer há bastante tempo. Lembro-me da expectativa, da ansiedade e do frio na barriga que me acompanhavam, mas eu estava muito feliz com aquele primeiro passo, pois muitas portas poderiam se abrir com esse novo aprendizado. Era uma grande oportunidade para conseguir um emprego melhor e dar melhores condições para minha família.
O sino do término da última aula soou; peguei as minhas coisas e fui caminhando para o ponto do ônibus. Era uma noite bonita e quente, e eu estava feliz. Faltavam 1 hora para meu ônibus chegar. Acendi um cigarro e fiquei preso em meus pensamentos por algum tempo. Apesar da felicidade, meus pensamentos foram de preocupação, já que estudar depois de um dia de trabalho não seria uma rotina fácil, e meu filho ainda era pequeno. Minha esposa teria que cuidar dele sozinha por algum período, e eu perderia alguns momentos importantes da vida dele, mas eu estava fazendo isso por ele; era meu dever abrir as portas das oportunidades. Iria valer a pena. Então, fui despertado dos meus pensamentos, pois um rapaz sentou ao meu lado no ponto do ônibus.
Era um cara de meia-idade e bem vestido, ele me pediu um cigarro, e começamos a conversar. Ainda faltava algum tempo para meu ônibus chegar, então alguém para conversar era algo útil naquele momento. Compartilhamos algumas histórias rápidas. Ele me contou sobre a cidade para onde estava indo, e eu falei que tinha acabado de terminar meu primeiro dia de aula e sobre minhas preocupações em estar longe do meu filho durante esse tempo de estudo. Foi uma conversa divertida e então, ele me ofereceu uma bala.
Eu normalmente não aceito nada de pessoas que não conheço, mas eu não tinha motivos para desconfiar desse cara; afinal, ele foi bem simpático! Além disso, eu estava com muita fome, uma bala iria disfarçar um pouco da minha fome até a hora que eu chegasse em casa. Mas quando coloquei a bala na boca, eu notei que ela estava rachada em alguns pedaços. Isso não é tão estranho, afinal, algumas balas se partem quando caem ou sentamos em cima delas quando estão no bolso. Então, meu ônibus chegou, e eu me despedi desse rapaz.
Quando eu estava subindo no ônibus, minha língua tateou algo duro no meio das rachaduras da bala, e isso me deu arrepios. Na mesma hora, eu tirei a bala da minha boca e notei um pedaço de chumbinho bem entre as rachaduras. Eu fiquei em choque. Chumbinho mata; é o mesmo veneno usado para matar ratos, e aquele cara tentou me matar! Um cara que não me conhecia tentou me matar, e até hoje eu não sei por qual motivo alguém faria isso. Nunca acreditei quando alguém me dizia quando criança para não aceitar doces de estranhos, e nesse dia, isso estava acontecendo comigo.
Dentro do ônibus, eu estava totalmente desesperado. Era uma rota entre duas cidades, e não tinha nenhum hospital pelo caminho. Eu fiquei com muito medo de morrer. Eu poderia ter engolido algum pedaço sem perceber? Não era justo eu morrer logo agora que as coisas iriam melhorar! Eu tentei forçar vômito para tirar qualquer coisa de dentro de mim, mas meu estômago estava vazio. Afinal, eu não tinha comido algo por horas, e dentro daquele ônibus de luzes apagadas, eu só desejava poder ver o rosto do meu filho mais uma vez.
Depois de 40 minutos aterrorizantes, eu finalmente cheguei ao meu destino e fui direto ao pronto socorro. Falei para o médico o que tinha acontecido, e ele me tranquilizou dizendo: "Se você tivesse engolido algo, meu caro, você teria chegado aqui morto." Naquele momento, eu não sei se fiquei realmente aliviado ou em estado de choque. Eu passei a um fio da morte, mas sobrevivi. Agradeço a Deus por ter passado por esse acontecimento ileso e poder ver meu filho crescer.
Essa foi uma história real que aconteceu comigo; portanto, nunca aceite doces de estranhos.
---
Credits:
Translated: Deepl
Cover: created by Canva.
Image Thumbnail: Source
---

---
---