ANOTHER DAY ANOTHER GIVEAWAY #197 - WIN 1500 STARBITS DAILY - Ends May 15th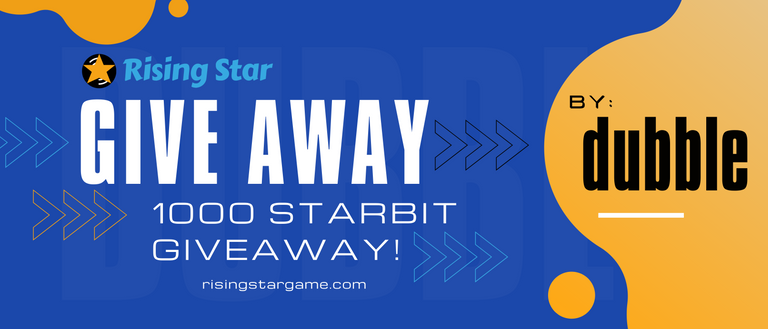 🎮Gameplay Update🎮
Howdy! Sorry for such a late drawing again, been a bit pre-occupied!
I hope you're all making good progress or gains around the board, I've sold off quite a few Starbits in recent days with the huge price increase, honestly couldn't help myself. So even buying drums/combatting ego is on the back burner now!
Had to stack that Hive as best as I could!
I am also going to continue to go through the previous thread and reply to comments once this is up and posted, so forgive me for some slowness!
Welcome to another giveaway friends, hope you're all doing well!
Thank you as always for joining in on these giveaways, it helps our community grow and I hope inspires more to start their own giveaways to help out even more newer players!


I will be using https://hivetools.herokuapp.com/picker/ to determine winners! 😀
Thank you for participating in my giveaway, goodluck everyone-
@engilhramn, @diochen, @mario02, @rondonshneezy, @yeckingo1, @ninjatrading, @hatdogsensei, @hoosie, @thaddeusprime, @longganisan, @lumpiadobo, @amaillo, @roscar9, @camillecrls629, @pgm-curator, @tokenizedsociety, @fefe99, @rayius, @tjnew14, @lorddiablo, @pochocles, @rynow, @perales, @rtonline, @ronnybryant, @mikjaja, @davideownzall, @supriya.gupta, @ydaiznfts, @sukmhaske, @luizeba, @rentaw03, @coquicoin, @ericpso, @hivebits, @blitzzzz, @eijibr, @servelle, @assasinos3, @belhaven14, @henruc, @candnpg, @jdike, @rachaeldwatson, @maggotmilk, @jfang003, @harpreetjanda, @gessy, @szmobacsi, @danideuder, @dafusa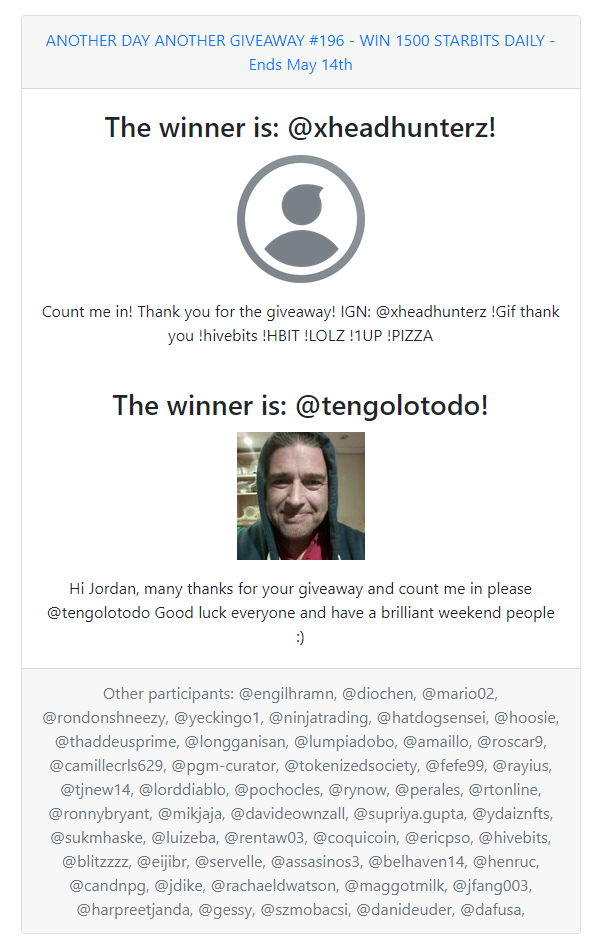 Winner 1 - 1000 Starbits - xheadhunterz
Winner 2 - 500 Starbits - tengolotodo
Congratulations @xheadhunterz & @tengolotodo 😄 I hope you enjoy your Starbits & Thank you for participating!
Transaction ID 1: tx/5aa4559975d6bb6982f49605f577132d40f4f4d8
Transaction ID 2: tx/562d398db06fe639e76a8a8bd59be346bcb8c433
TO JOIN MY GIVEAWAY:
1. Comment anything below (include your Rising Star name)
2. Upvote this post / Follow to not miss any giveaways (optional)
3. Winner will be drawn in the next post! Goodluck + Enjoy
TO TRY RISINGSTAR OUT FOR
FREE
SIGN UP
HERE!

Check out the #1UP #ONEUP Community for great Gaming related content!

I will be distributing !PIZZA 🍕, !LUV ❤️ & !LOLZ 😂 to consistent participants in my giveaways!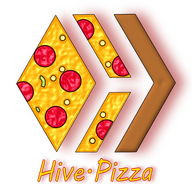 What is
!PIZZA
?
Read more about it
HERE!
JOIN THE PIZZA
DISCORD

---
---