ANOTHER DAY ANOTHER GIVEAWAY #194 - WIN 1500 STARBITS DAILY - Ends May 12th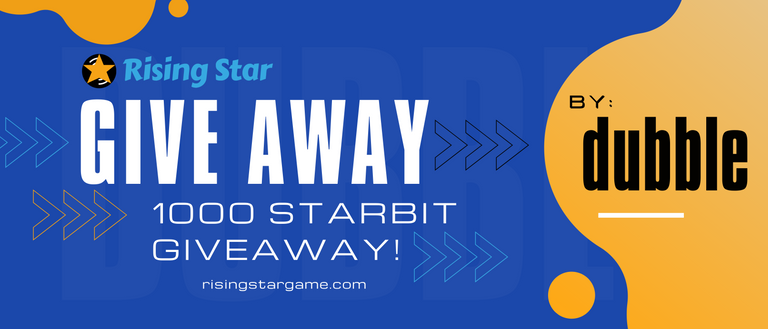 🎮Gameplay Update🎮
Hello friends, I hope everyone is doing well today even if the markets are all red!
Speaking of which, I've been keeping my eyes out most of today In the hopes of snagging some tokens up on the cheap, always risky to buy mid free-fall as we could go even further from here but such is the life of crypto!
Rising Star news, I finally sold off a few instruments last night probably pocketed an additional 12,000ish to the fund. Will most likely go ahead and start buying up drums any time I see a good bargain now, hoping to push my Skills XP up to 100+ per mission, that'd be great.
Welcome to another giveaway friends, hope you're all doing well!
Thank you as always for joining in on these giveaways, it helps our community grow and I hope inspires more to start their own giveaways to help out even more newer players!


I will be using https://hivetools.herokuapp.com/picker/ to determine winners! 😀
Thank you for participating in my giveaway, goodluck everyone-
@davideownzall, @eijibr, @rtonline, @danideuder, @coquicoin, @supriya.gupta, @blitzzzz, @jfang003, @ydaiznfts, @assasinos3, @luizeba, @thaddeusprime, @szmobacsi, @dafusa, @hoosie, @hivebits, @gamita-1, @jdike, @roscar9, @kingpeapot, @henruc, @imfarhad, @engilhramn, @amaillo, @middle-earthling, @rayius, @criptosectadepit, @rachaeldwatson, @tengolotodo, @pgm-curator, @candnpg, @belhaven14, @camillecrls629, @pousinha, @servelle, @rentaw03, @pochocles, @mario02, @harpreetjanda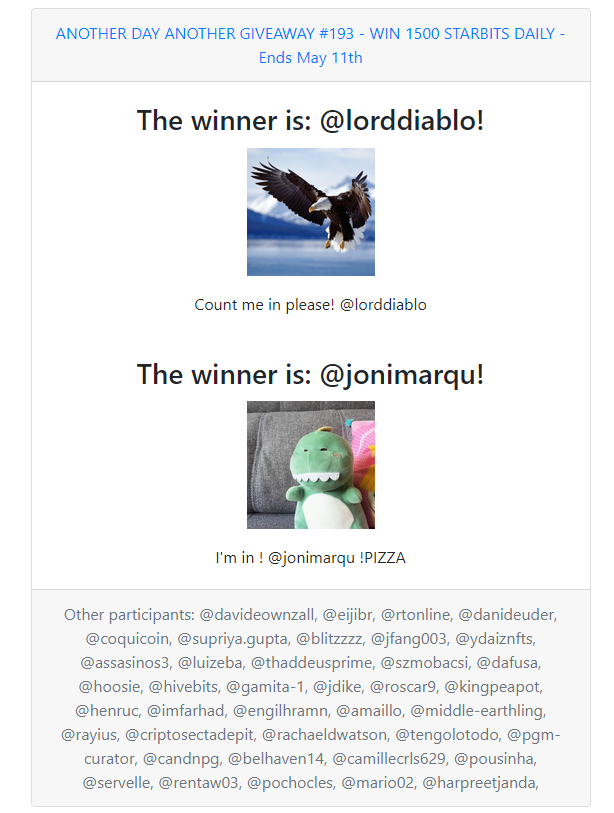 Winner 1 - 1000 Starbits - lorddiablo
Winner 2 - 500 Starbits - jonimarqu
Congratulations @lorddiablo & @jonimarqu 😄 I hope you enjoy your Starbits & Thank you for participating!
Transaction ID 1: tx/b255c4e8a053c80de85ca35148c366c0e59dd31a
Transaction ID 2: tx/d842ef584626d4afc295c75006e399b7c3d37bdc
TO JOIN MY GIVEAWAY:
1. Comment anything below (include your Rising Star name)
2. Upvote this post / Follow to not miss any giveaways (optional)
3. Winner will be drawn in the next post! Goodluck + Enjoy
TO TRY RISINGSTAR OUT FOR
FREE
SIGN UP
HERE!

Check out the #1UP #ONEUP Community for great Gaming related content!

I will be distributing !PIZZA 🍕, !LUV ❤️ & !LOLZ 😂 to consistent participants in my giveaways!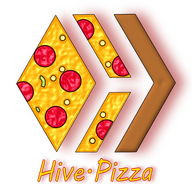 What is
!PIZZA
?
Read more about it
HERE!
JOIN THE PIZZA
DISCORD

---
---