The new "free fall campaign": live from Amsterdam!
In order to give all those who can't be here live at the HIVE Fest in Amsterdam the same chances, a little insight into the 1st PRINTAUSBAGE of HIQ, which everyone received on the spot.
On the bottom of page 13 you can see an advertisement for the campaign competition of the new "FREE FALL CAMPAIGN ".
The blue.rabbit once again has a competition for you and if you click on "free fall " you will find the campaign launch for the big photo competition.
Since you can't hold the first print edition of the HIQ in your hands, I took a picture of the HIQ for you. As I have created a quest for a print issue, the way to the "new hot PHOTO Contest " will also be found offline.
For all of you who can't imagine the whole thing virtually, here is the original advertisement, in case you want to print it out to have the same conditions as in Amsterdam!
Have fun with the quest!
Translated with www.DeepL.com/Translator (free version)
---
---
deutsch
Die neue free fall Kampagne, live aus Amsterdam!
Um allen die nicht live am HIVE-Fest in Amsterdam dabei sein können, die selben Chancen zu geben, ein kleiner Einblick in die 1. PRINTAUSGABE der HIQ, die alle vor Ort erhalten haben.
Worauf ihr unten auf der Seite 13, ein Inserat zum Kampagnen Wettbewerb der neuen "FREE FALL KAMPAGNE" seht.
Der blue.rabbit hat wieder mal einen Wettbewerb für euch und wenn ihr den "freien fall" findet ihr den grossen Foto-Wettbewerb zum Kampagnen Start.
Da ihr die 1.Printausgabe der HIQ nicht selbst in den Händen halten könnt habe ich euch ein Foto der HIQ gemacht. Da ich ein Rätsel für eine Print Ausgabe erstellt habe, wird der Weg zum "new hot PHOTO Contest" auch offline zu finden sein.
Für alle die sich das ganze nicht virtuell vorstellen können, auch noch das original Inserat, falls ihr es z.B. ausdrucken wollt um die selben Voraussetzungen wie in Amsterdam zu haben!
Viel spass bei rätseln oder Basteln!
---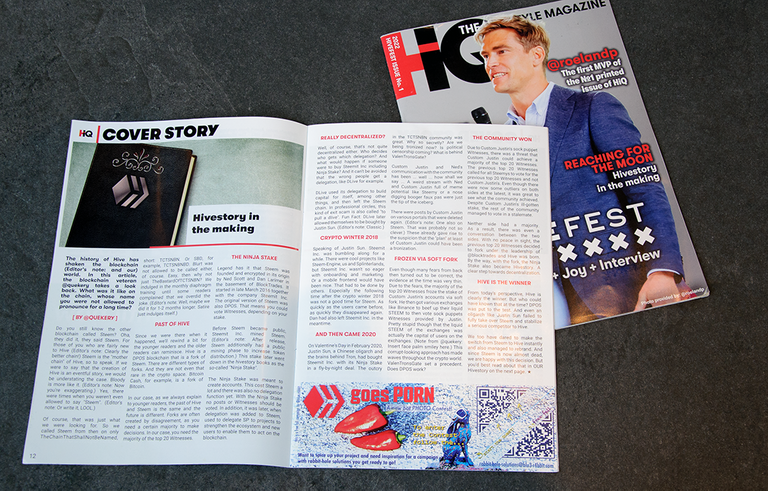 ---

---
---
Info an die deutsch sprachige Community:
Kein virtueller #Engine-Stamm(tisch) am 18.9.22
Auf Grund der oben erwähnten Situation, dass der #engine-stamm(tisch) zeitlich mit der Schlussveranstaltung des HIVE-Fest's kollidieren würde wird der monatliche Engine-Stamm(tisch) auf nächste Woche Sonntag den 25.9.22//20:30 verschoben!

---
---
Concepts, ideas, madness and design and not to forget all IMAGE RIGHTS used in this post originate solely and "non fungible" from the rabbit.hole of the blue rabbit and therefore all RIGHTS of this content belong to BLU3.R4BBIT.
---
Konzept, Ideen, Wahnsinn und Design und nicht zu vergessen sämtliche BILDRECHTE, die in diesem Beitrag verwendet wurden, entstammen einzig und "non fungible" dem Rabbit.hole des blauen Hasen und somit sind sämtliche Rechte dieses Inhalt's bei BLU3.R4BBIT.
---

---
---