Announcement: PIZZA:ONEUP Liquidity Pool + Rewards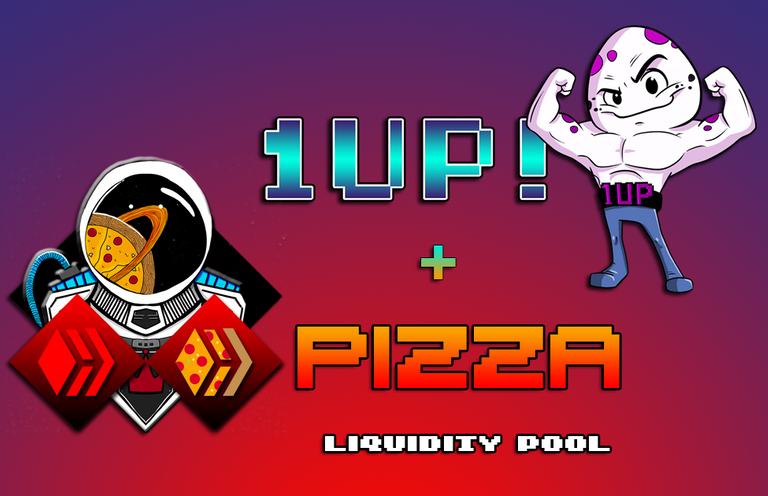 Hey PIZZA crew! We're excited to announce that we have partnered up with the ONEUP squad to bring you another tasty diesel pool with some yummy rewards!
Enjoy! Make sure you give the ONEUP team some BIGUPS! Announcement post on-chain to follow in the next few hours
ONEUP
Special shoutout to @flauwy for being flexible and working with my crazy hectic schedule to see this happen. If you have not already, please do check out the ONEUP project. 1UP is an awesome gaming project with a 'Play2Earn' focus.
Discord: https://discord.gg/Bqjw6fABGx
You've probably seen the ONEUP tribe already, but they're also planning additional front-end development and are looking to create bridges for NFTs over to HIVE. Exciting!
How do you get in on these sweet liquidity rewards?
Head over to BEESWAP here.
Once there, simply add the same dollar amount of each token in the pair. So if you did $100 worth of PIZZA, also do $100 worth of ONEUP, for example. After that, you're good to go. Sit and collect your share of the liquid rewards every day!
Note: You will miss the following 24 hour reward period after adding liquidity. Try to keep that in mind when increasing your liquidity amounts.

DELEGATE TO PIZZA
You can also delegate your HP to our @hive.pizza curation account and farm your share of the daily $PIZZA rewards pool! The reward pool increases 10 tokens every 10k HP that is delegated to the account!



You can also check out the HIVE.PIZZA website here.
Buy $PIZZA
Leodex
Tribadex
Hive-Engine

Join the PIZZA Discord server and $PIZZA NATION

Join our curation trail here
Vote for us as Hive-Engine witness here
Vote for us as HIVE WITNESS HERE
---
---