Astral Revelations — An isometric turn-based pet tactics RPG (built on Hive)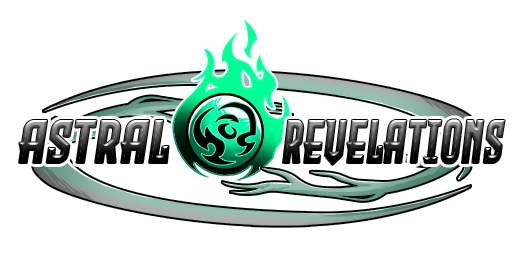 ---
THE SETTING
Astrological & Elemental
Astral Revelations combines the traditional elemental concepts of Air, Earth, Fire and Water with fantasy themes depicting astral planes—realms in our case—as otherworldly dimensions or spaces existing just beyond the natural realm. This hybridization allows for leaning into well-known elemental themes while widening those expectations to include what we hope are unexpected or unique variations of fantasy tropes.
Astral Realms
You will face aggressive astral beings from a hostile neighboring realm that are returning to the natural realm. Events have been set in motion to reopen the portals they first used to invade your world. A prior war was fought to seal these portals, but the protections put in place by benevolent forces are wearing away.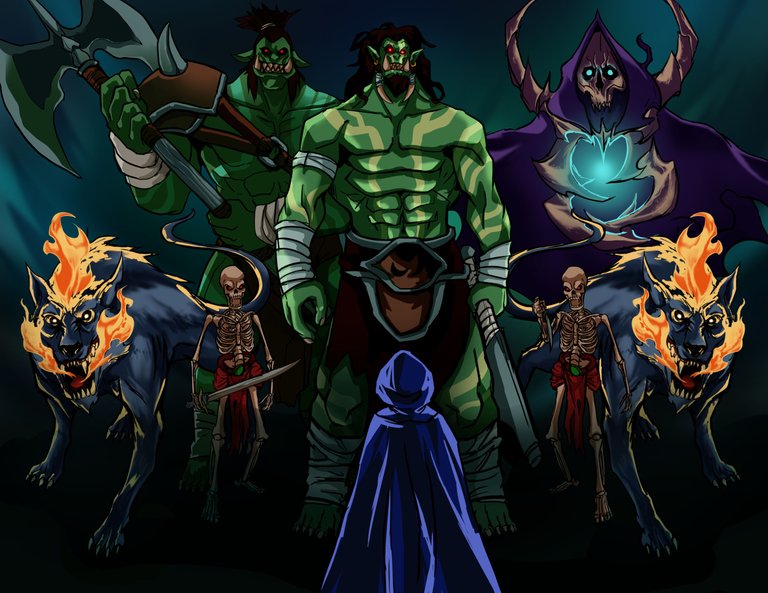 In your quest for salvation, you'll discover your own private pocket of astral space known as the Astral Sanctuary in which your familiars reside. This housing space can be molded to suit your needs, as it will serve as the base of operations for planning out your adventures.
Semi-Open World
Gameplay will be divided between a quest-driven Campaign Mode—the semi-linear progression gate you'll periodically tackle to unlock new regions, upgrades and content—and an exploratory Adventure Mode. We want to allow for stepping in and out of the story to dig into the game world and collect familiars without constantly forcing the narrow confines of a quest narrative.
Adventure Mode is also the only way to acquire the familiars and resources necessary to overcome the many challenges present in the branching Campaign Mode. Depending on your early campaign choices, certain areas will be unavailable until later choices or progression steps allow for backtracking to earlier regions. The goal is to create a world system that rewards a variety of exploration habits and playstyles.
---
GAMEPLAY
Adventures
In Adventure Mode, you'll assemble "Adventure Teams" of familiars—astral creatures you've captured—used to explore a region. An adventure begins upon leaving a safe zone such as a village, and everything you do after that point matters. Whether tackling every foe in sight or sneaking about to find challenging dungeons and hidden treasure, rewards aren't calculated until an adventure has concluded. This occurs when your adventure team is fully exhausted—typically after losing a combat encounter—or you enter a qualifying safe zone (some only pause the adventure). Planning teams around your adventuring goals will be vital for those looking to thrive in dangerous environments.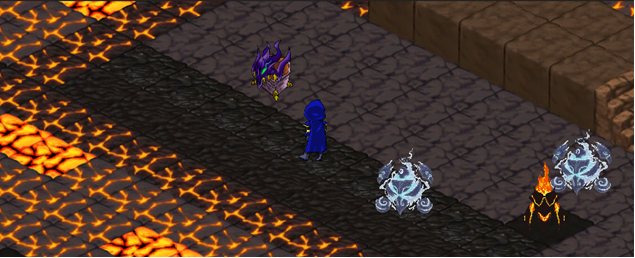 Combat
Each region is filled with both random and fixed encounters that steadily exhaust your adventure team. Not only are your familiars knocked out when defeated—they'll be unable to fight until allowed to rest at a safe zone—but binding (capturing) new familiars will require you to expend an undeployed familiar of similar strength. Both familiars be unavailable until rested, just like defeated familiars. This introduces a new decision tree when building teams as you'll need to balance your ability to progress through the region against the opportunity to bind new familiars.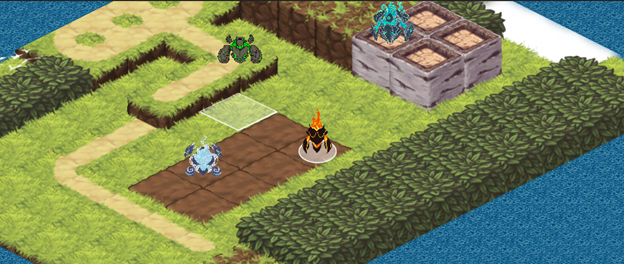 Each combat encounter will be turn-based and begins by deploying familiars from a set randomly selected from your adventure team. It'll be important to pay close attention to the opposing team, as there are many combat modifiers that will result from elemental clashes (i.e. Water > Fire) or synergy (i.e. deploying multiple familiars of a matching element).
Evolution
Central to Astral Revelations' gameplay is the process of merging predetermined sets familiars evolve stronger (higher tier) familiars. With nine tiers currently planned, there will be hundreds of familiars available to choose from. Parallel to the evolutionary process is the concept of "variants"—rare versions of familiars appearing in non-standard elemental forms. For example, an Orthrus (think two-headed "Hellhound") most commonly appears in its Fire form, but occasionally it can appear—and be bound!—as an Air, Earth or Water variant.
---
OWNABLE ASSETS
As you read through this section, keep in mind that all tokens and NFTs can be acquired for free by simply playing the game. While we expect some fine tuning to occur, our overall goal is to provide enough $ASTRA for active players to acquire transactable assets as a byproduct of progressing through the game.
$ASTRA and $STELLARUM
The main token for Astral Revelations—$ASTRA—will be earned primarily through defeating combat encounters. The more challenging/powerful an encounter, the more $ASTRA you will earn for overcoming it. $ASTRA will be required for nearly every form of progression or transaction within Astral Revelations such as evolving familiars or unlocking content through upgrades.
$STELLARUM is a secondary token earned by staking $ASTRA which will be thoroughly explained in a future post.
Familiars
All combat is fought using familiars, astral creatures you've bound to yourself in order to summon them for battle via astral projection. The process of binding a familiar creates a non-NFT version that cannot be transacted. As you accumulate $ASTRA, you'll have the choice of evolving non-NFT familiars into stronger forms or "unbinding" them to mint NFT versions you can transact. NFT familiars will also gain additional utility that is partly explained below (see Keystones) and will be elaborated upon in future posts.
| | | | |
| --- | --- | --- | --- |
| Air Wisp | Fire Wisp | Earth Wisp | Water Wisp |
Each familiar has an element (Air, Earth, Fire or Water) and a race (Aquaran, Avian, Daemon, Fey or Minogrin). A familiar's element determines which keystone/attunement bonuses it benefits from and what combat bonuses/penalties it receives when facing familiars of other elements. A familiar's race provides similar bonuses indirectly based on the natural "bias" of each race and determines where they are most likely to be encountered. For example, Daemons are fire-biased (more likely to be encountered in a Desert or Volcano) while Aquarans are water-biased (more likely to be encountered near a Beach or River).
Keystones
During the Prologue—the first part of the Campaign Mode that must be completed to unlock Adventure Mode—you will have the opportunity to choose and element for your first Astral Keystone. Keystones can control and modify astral objects and beings matching their element, but only one can be equipped at a time. While every player will eventually receive four free non-NFT keystones during normal play—one for each element—the order you obtain them in will affect what areas of each region you can explore. For example, certain dungeons will require a matching keystone to enter them.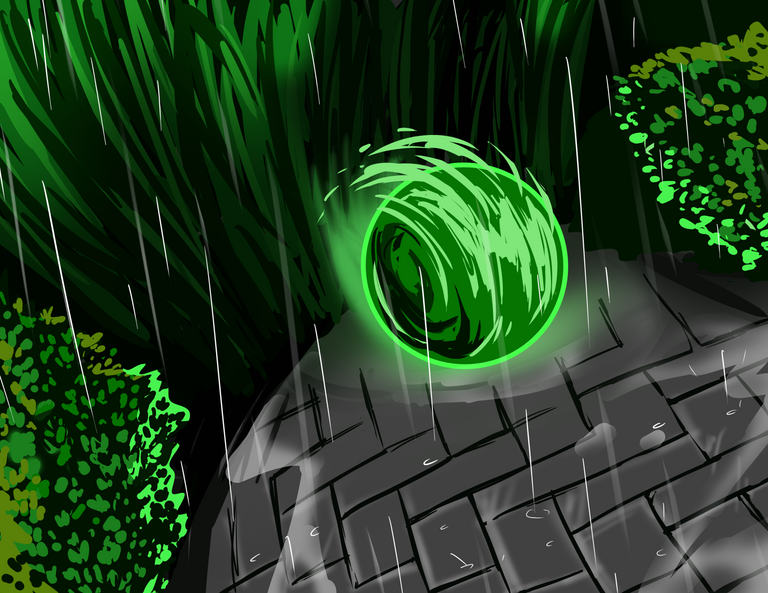 Once you've acquired a full set of keystones, you'll unlock the ability to "forge" new NFT keystones by merging specific sets of unbound/NFT familiars. Both non-NFT and NFT keystones can be upgraded with $ASTRA to provide specific bonuses for same-element familiars, but NFT keystones will have a higher upgrade cap. For both kinds of keystones, the cap is designed to encourage specializing, as you'll be unable to apply every upgrade to one keystone.
Attunements
Just like keystones, the Astral Sanctuary you discover towards the beginning of Astral Revelations can be attuned to one of the four elements. You'll similarly acquire a free set of four non-NFT "attunements"—yes, free land!—just by playing the game after which you can "construct" NFT versions. The construction process involves merging NFT keystones matching the attunement's element.
Attunements represent our unique take on land, and they can be upgraded in similar ways to keystones. Whereas keystones must be equipped to strengthen your familiars—thus limiting you to a single element—one attunement per element can be applied to your sanctuary. Their bonuses are applied regardless of which keystone you have equipped and have upgrade caps similar to non-NFT and NFT keystones respectively.
---
OUR TEAM
@spiritsurge — Founder, CEO & Lead Developer
Recognizable on Hive for his prior role as "The Hand" of the Cartel, Spiritsurge brings over a decade of corporate experience in project management and development operations to the team including a bona fide background in electrical engineering. His skill at networking and forecasting practical team goals makes him uniquely qualified to lead this group of gaming misfits.
Not one to sit idle, he even developed design software and websites for startups to corporate businesses as a side hustle. Whether the stack is LAMP, MERN, MEAN, MEVN or python (he even dabbles in solidity and Ruby on rails), he's worked with it. As a die-hard gamer, his father once told him he'd outgrow games. Fortunately for us, it never quite stuck!
When first discovering Hive, Entrepidus did what he always does when faced with something new and exciting: He dove in head first without a life jacket or a clue what he was looking for. This passion for discovery is what motivates him to explore all things creative. His passion for writing (obscenely long posts) lead him to producing introductory guides for many of the Cartel's early gaming investments before eventually settling into THGaming (Threshold Guardian Gaming)—a guild focused on blockchain/web3 gaming—as its Operations Manager.
His resume includes nearly two decades of solo/team game modding experience both as a designer and developer, 16 years of graphical design experience (most notably as a professional photography editor), and nearly three decades of musical background as a classically trained pianist. This eclectic set of seemingly unrelated skills provides the ideal hub for information on the team, as he speaks all the technical languages required to translate design concepts between members.
If you've browsed through any of the gaming-related communities on Hive, chances are you've seen this talented artist's amazing work whether you know it or not. He's contributed artwork to many Hive projects and games (the Cartel, THGaming and WOO to name a few), and we're extremely fortunate he agreed to take on the challenging task of visualizing an entire game world. All of the graphical art you've seen and will see in the coming weeks were made possible by Japex. We like to keep him busy ;)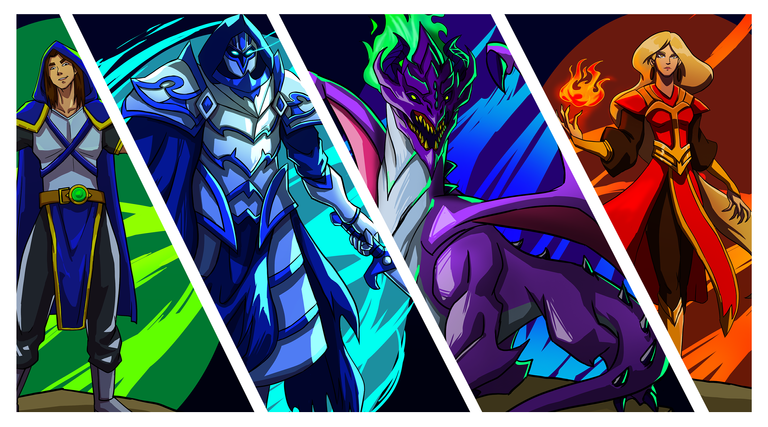 @NewenX — Music Composer
As both a regular Hive streamer and musical contributor to Rising Star, Newen has amassed hundreds of self-produced tracks on platforms like YouTube, Spotify and Soundcloud. He's a self-taught musician of 20 years, is an absolute dream to work with, and his talent at piecing together catchy, memorable tunes is undeniable. We're excited to share with you a preview of his work on Astral Revelations, as it says far more about his skills than we ever could:
The Community Team
In addition to our core development team, we've assembled a growing group of passionate gamers that are helping us prepare a community space for Astral Revelations. Just check out this sweet swag they've already made when attending the Phillipines Web3 Festival!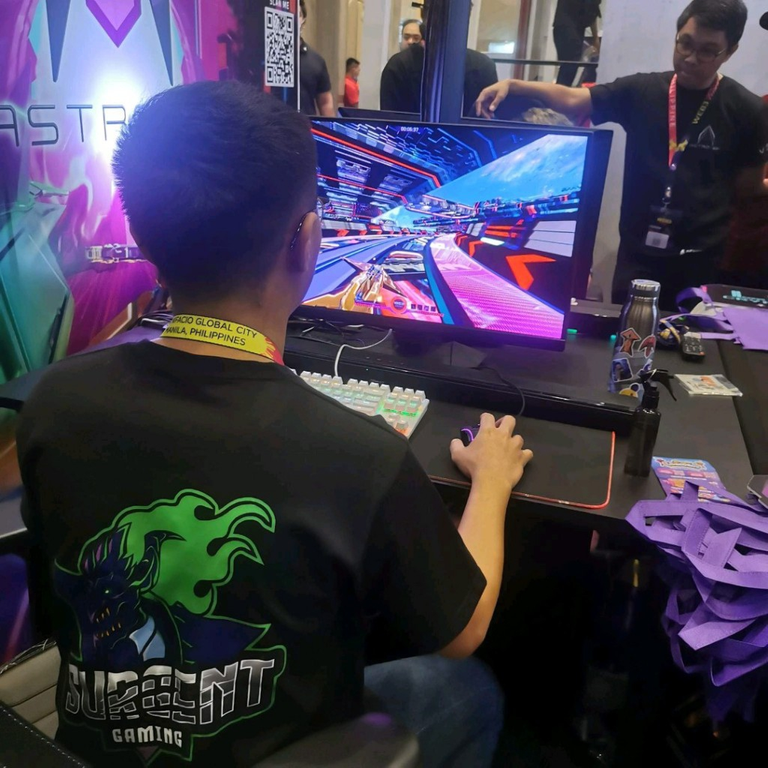 You'll have an opportunity to get to know each of them as we continue to share details about Astral Revelations over the coming months.
---
THE FUTURE
Whitepaper
If after reading through this post you're left scratching your head about some details, that's okay! There's so much to share that we didn't want this post to become a 10,000 word post doubling as our whitepaper. This is meant to be a general introduction to the world of Astral Revelations, and we're actively working on an official whitepaper we'll release along with our website in a future post.
Major topics we'll cover include:
What we plan to have implemented for the v1.0 launch
Tokenomics for $ASTRA and $STELLARUM
Gameplay progression from the perspective of a player
NFT progression from the perspective of an investor
$ASTRA costs for evolving/unbinding/forging/construction and NFT upgrades
Roadmap to Launch
Alongside our whitepaper will be a roadmap detailing everything we intend to do leading up to the v1.0 launch. Among these milestones will be the following presales and testing phases:
A Starter Pack presale (includes access to alpha/beta testing)
Closed Alpha
A Keystone presale (includes access to beta testing)
Closed Beta
Open Beta
General Sale (includes Attunements)
---
Stay tuned for MANY more details about Astral Revelations coming later this month!
Discord - - - | - - - Twitter - - - | - - - LinkedIn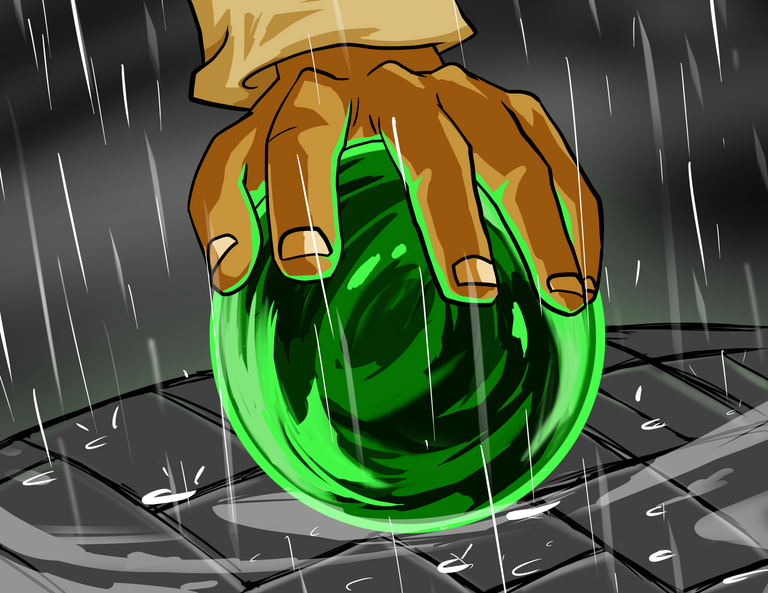 ---
---