When You Have Fun, Time Flies - Amsterdam Hive Fest Day 2 & 3
I know that the Hive Fest finished 10 days ago, but every time when I see a post about it, I got hit by nostalgia that it's over and it was so fun to be there! So, it's time for my second (or third) post about it where I will try to wrap it up with second conference day and the "last dinner" day...
You have probably noticed that I didn't do a lot of photos... The reason is simple, I have traveled light and didn't bring my camera, so all photos are from my mobile phone... On the other side, I was more focused on presentation and networking, that I forgot to take photos... 🤦‍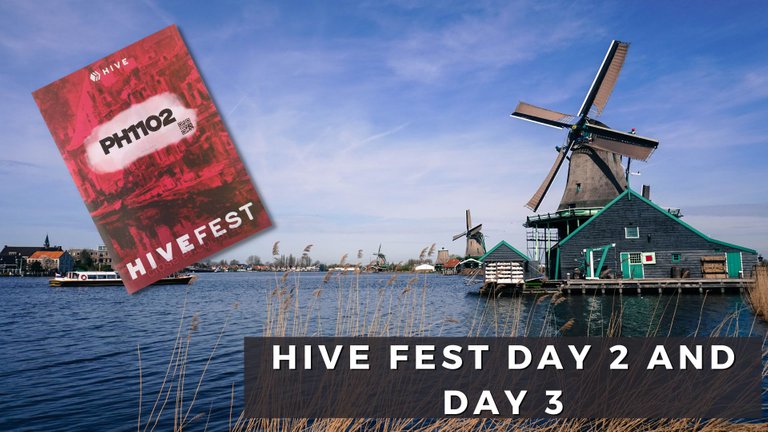 Created in Canva.com
Anyways, day 2 has started at the same time as day 1, and I was more lucky with my train from The Hague... :) No problems today, got in time to Amsterdam, and I have decided to go on foot to the conference venue, which was an old church...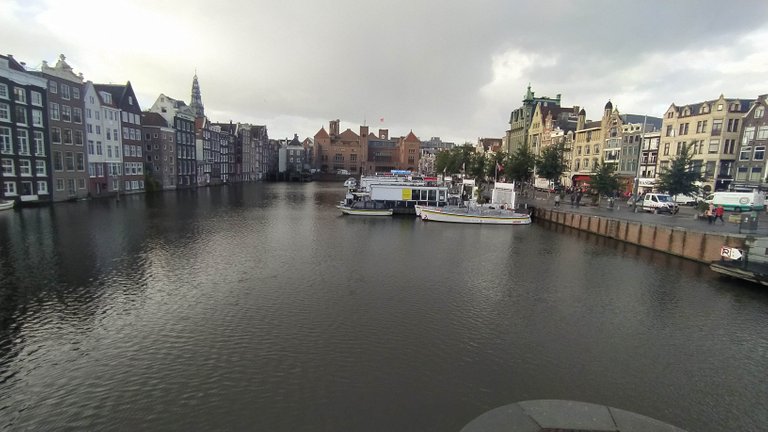 But to get there, I had to pass a couple of bridges and narrow streets... I think I walking through the same street late in the night, but environment changes completely when dark falls... Amsterdam is like a parallel Universe, by day and by night...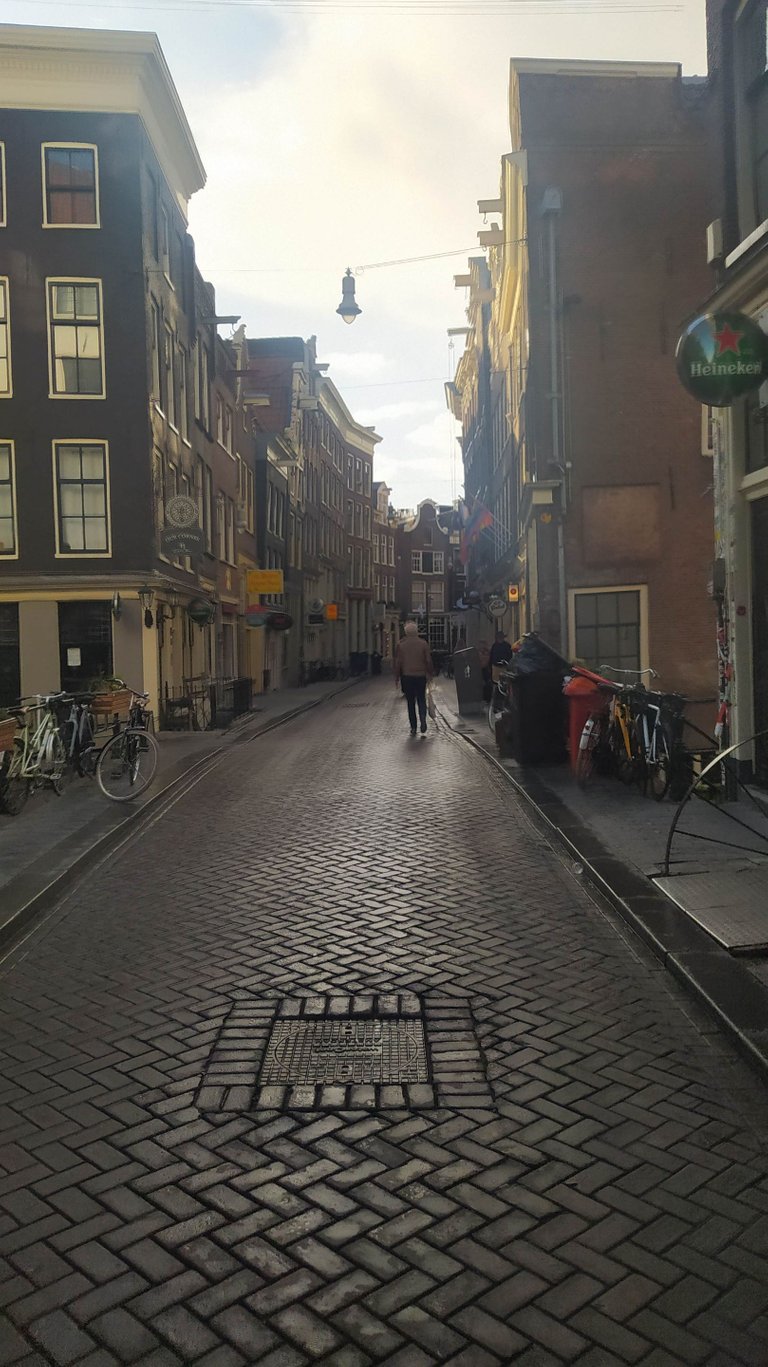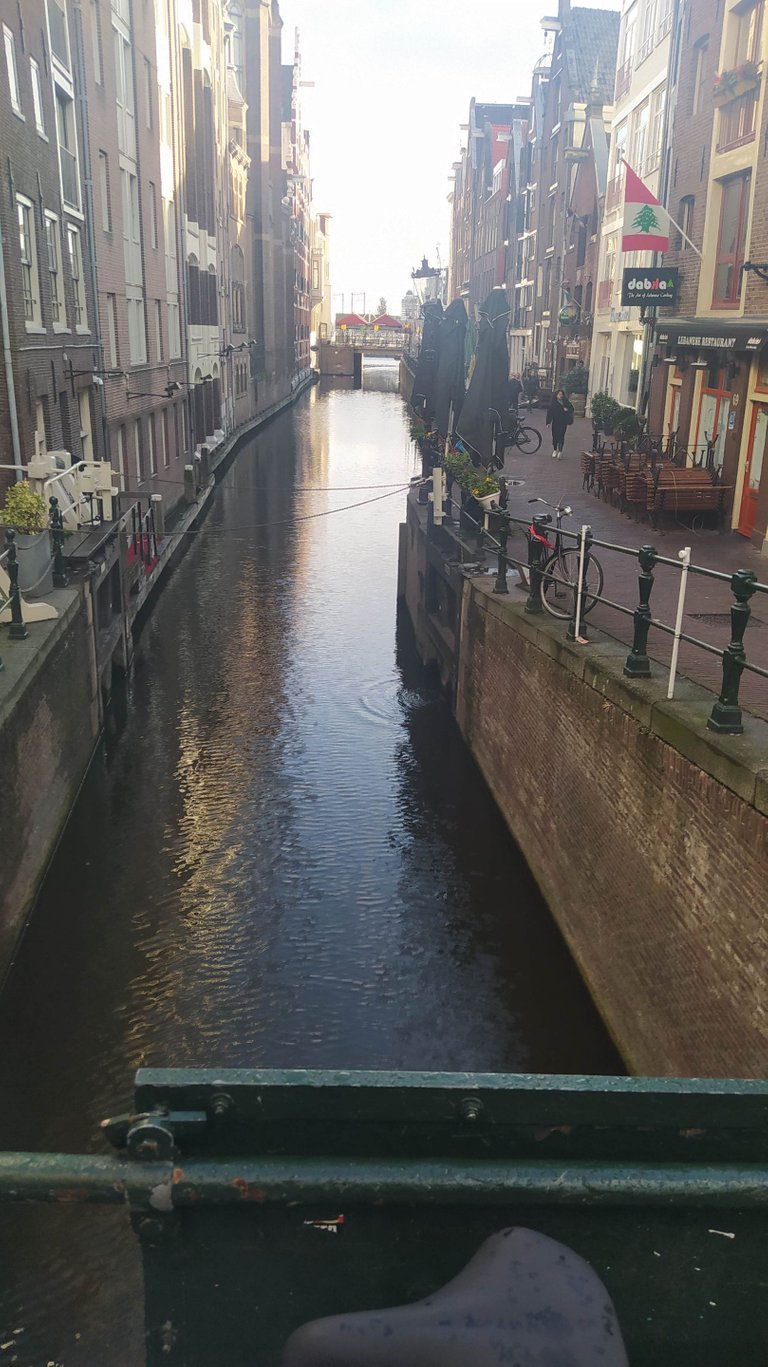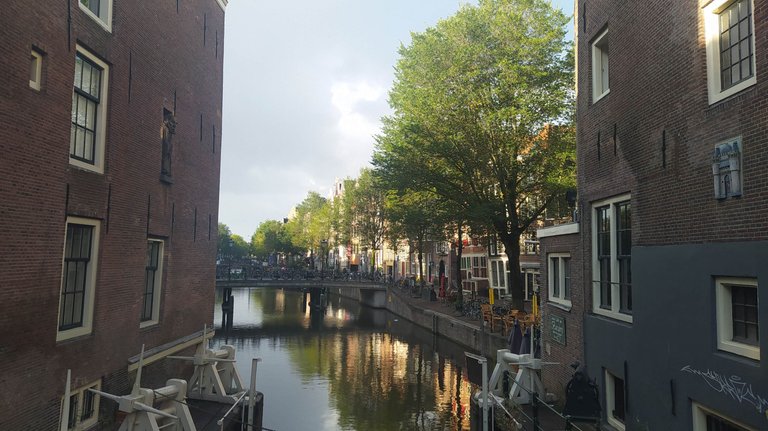 Luckily, there were two HIVE chairs in front of the old church, which was "hidden" behind the passage...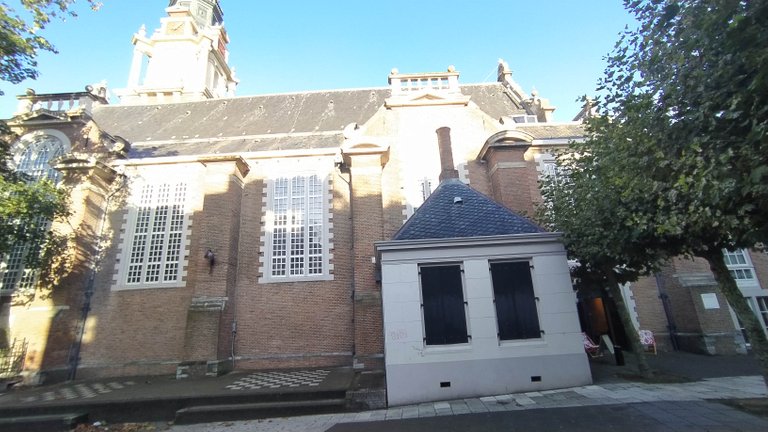 It was nice to see familiar faces from the day before and I took some weird photos as it was early in the morning with sun rays pentrating the building... First presentation was from HiQ Magazine guys and girls, and on the stage was @smooms explaining their digital HIVE Magazine which got its first paper publishing!!! We got them in our "welcome package" on day 1!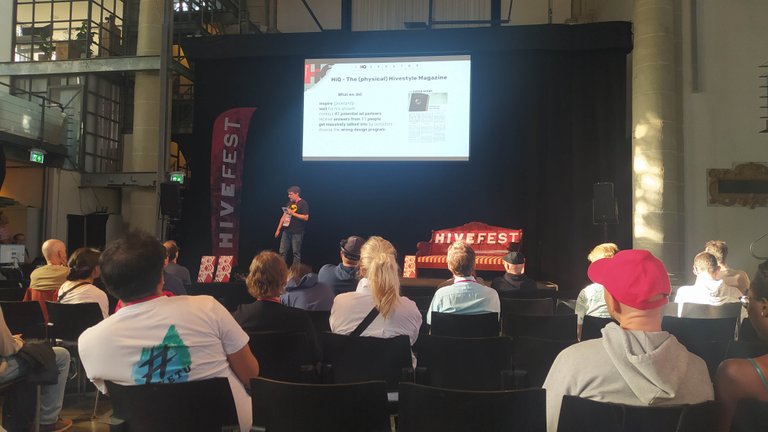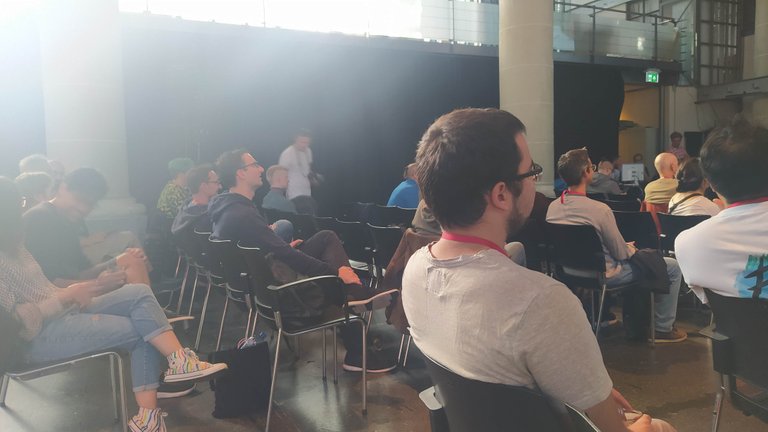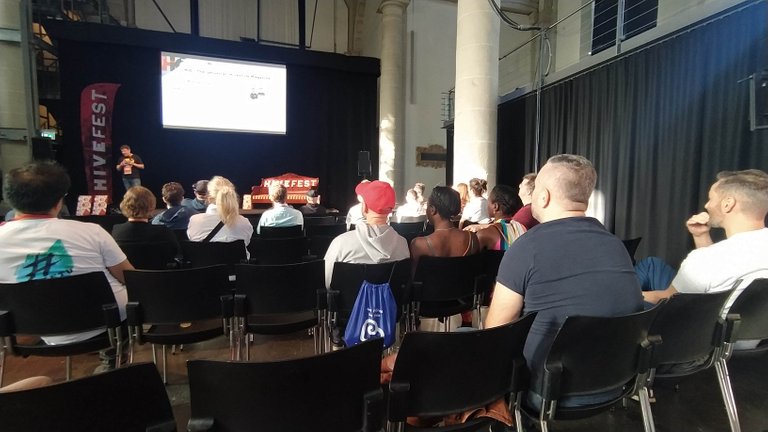 Next on stage was @livinguktaiwan, presenting OCD project and how it works... On a big disappointment of audience, she said that delegating to @ocdb, or tagging the same in your posts will not bring up your probabilities to get an upvote... dang! :) So, the only way to get nice upvotes is still to bring value to the HIVE, create unique posts, and share your stories... No copy-paste stuff, people!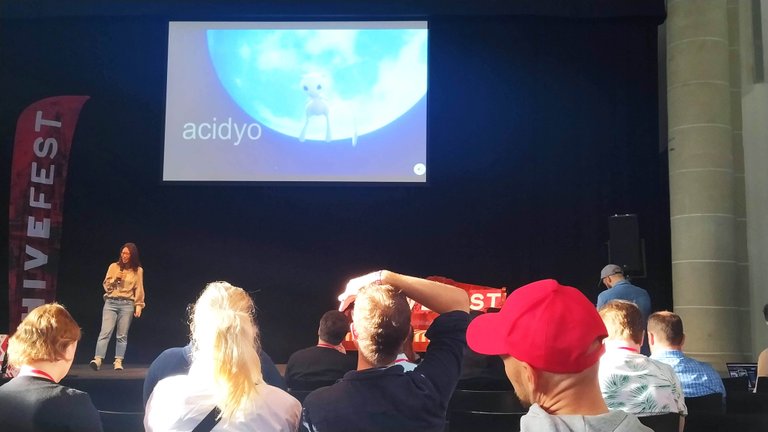 I had to take a photo of these 3 points in the presentation as they are very important for longevity of HIVE community... It's important to say that these points are huge and it's almost impossible that 1 person does all 3 and that's why we (old Hivers) have to work together on them... I know that I suck with onboarding people to HIVE, but I know that I can help with retention and that's why I work at @Ourpick sub-project... It's part of @Liotes project where we pick interesting posts, comment on them, reward authors, and show APPRECIATION to what they are creating! Don't forget to thank people for bringing quality to HIVE... That's the best way to keep them motivated and inspired to continue what they are doing...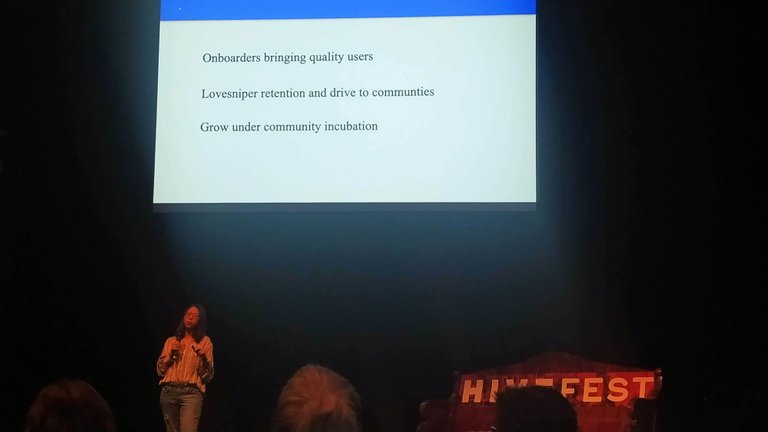 The next on stage we had many other presentations and I forgot to take photos... In short breaks when we have some snacks, I had many great talks with other Hivers... On the photo below, you can see a selfie photo with Jux from @risingstargame, that I took to "tease" people in Discord about the new thing which will be implemented in the game! It's not a secret anymore, and you can check details about RAVEs here...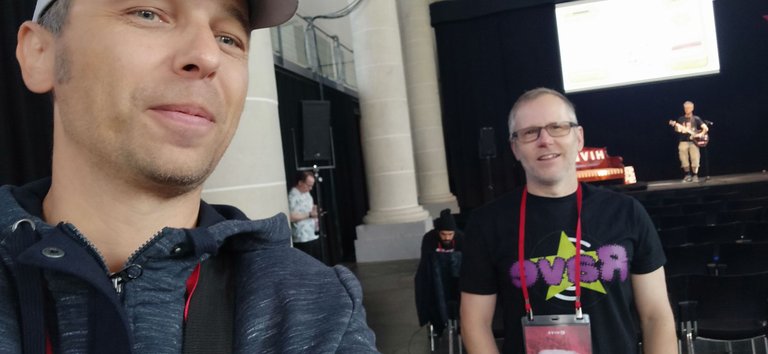 Another interesting presentation was about the game Crypto Shots by @keys-defender! As it is a "one-man-project", I was pleasantly surprised how many thing can be done by 10 fingers of a creative developer! Congrats!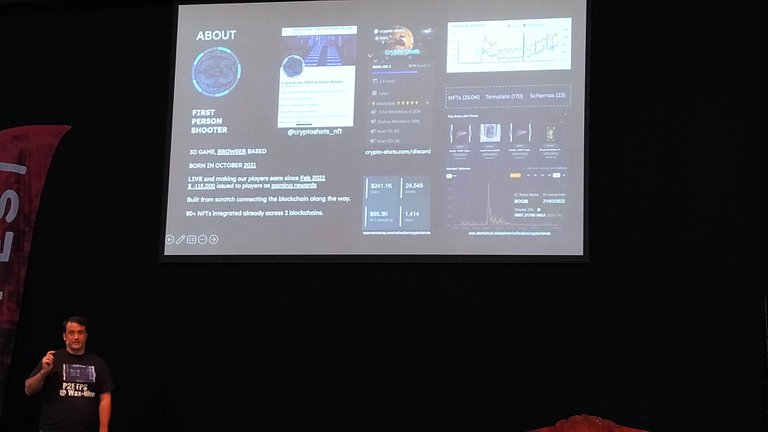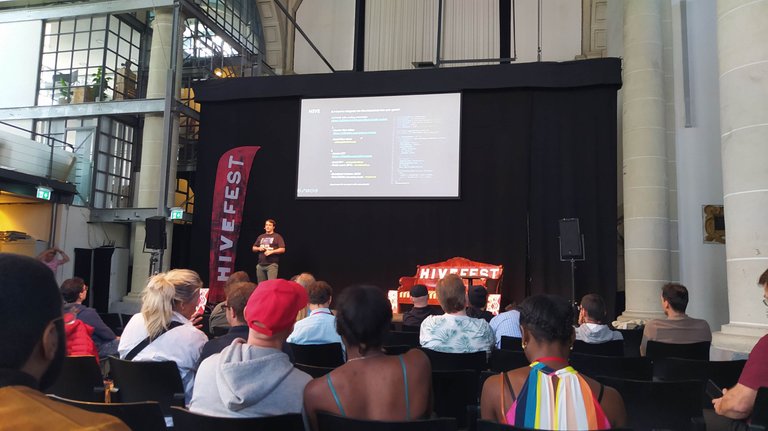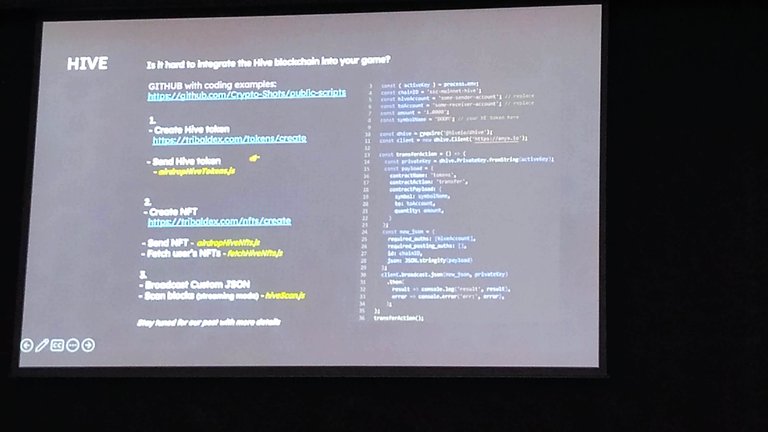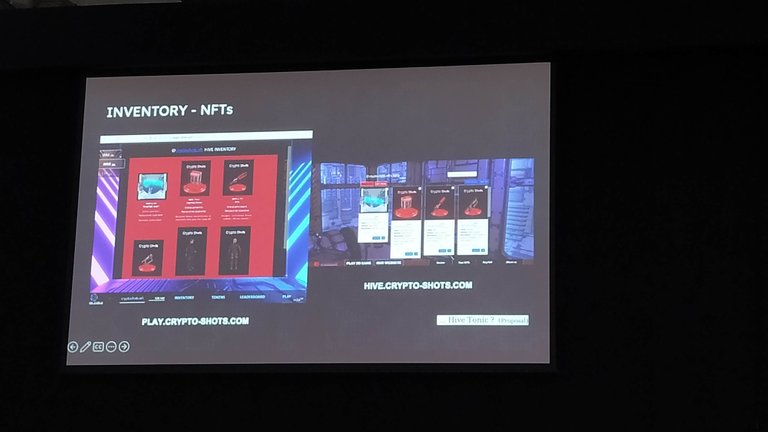 Another interesting presentation about Podping by @brianoflondon, and my blurry photo from the background... lol...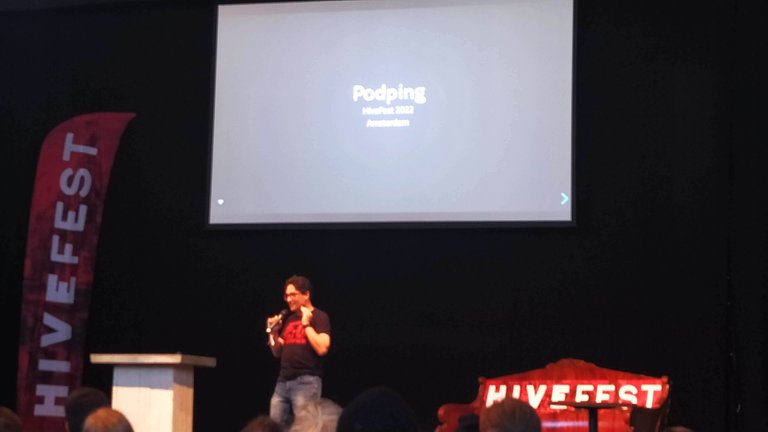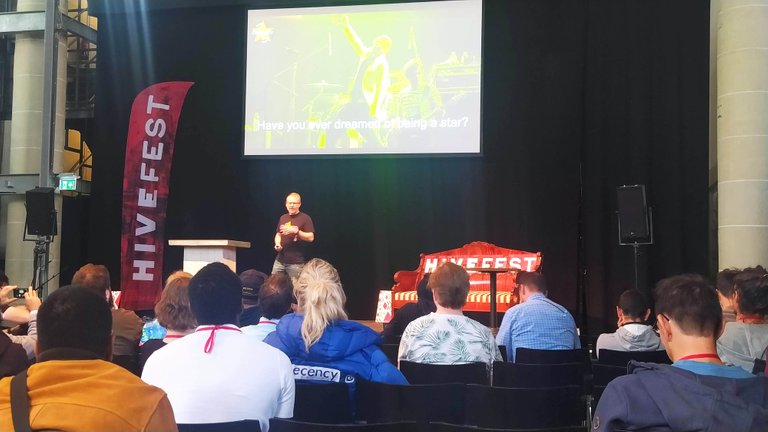 At the end of a day (conference part), we had @risingstar presentation and awesome music performance by @tdctunes!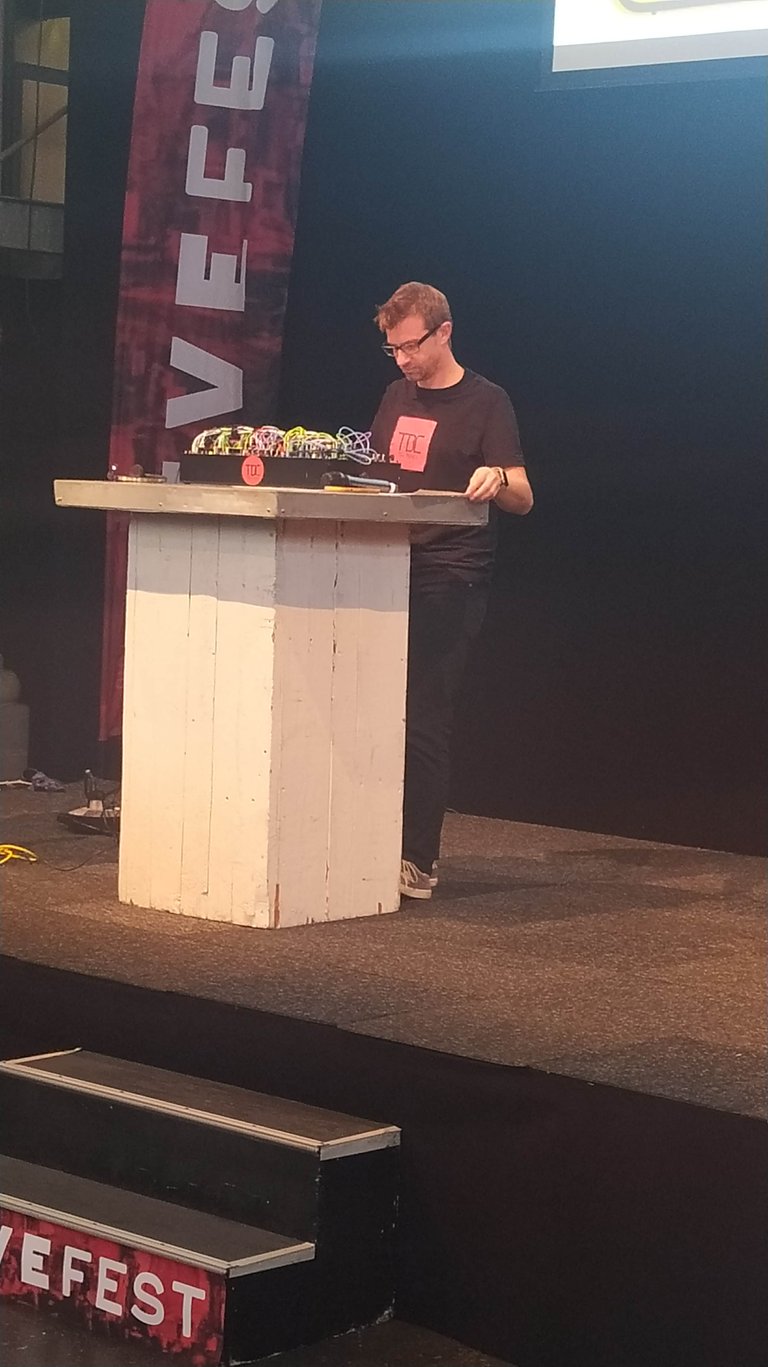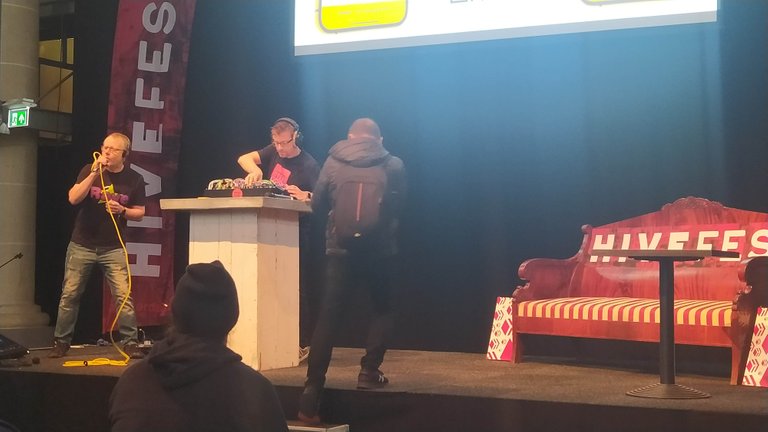 Like I said, it was a day full of talks and chats with many Hivers... I had encounters with @awildovasquez, @arcange, @roelandp (thanks for solving the problem with my Hive Fest 7 badge), @bil.prag, @jarvie, @livinguktaiwan, and many others... Thanks for your time guys and girls!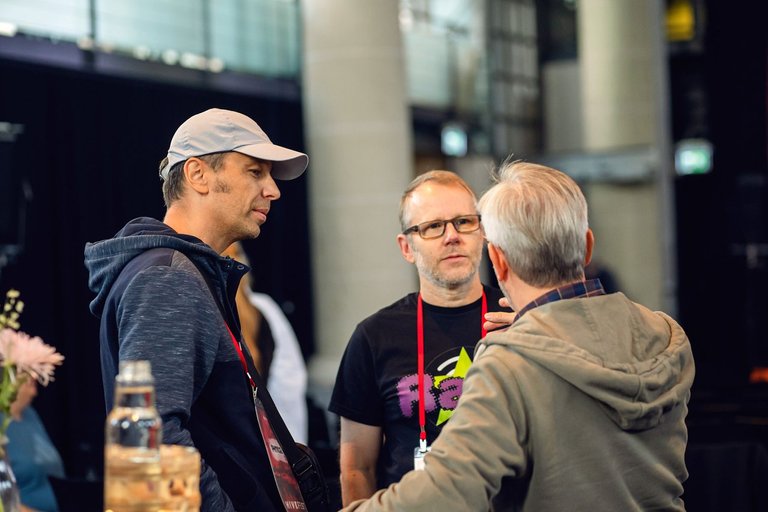 photo by @bil.prag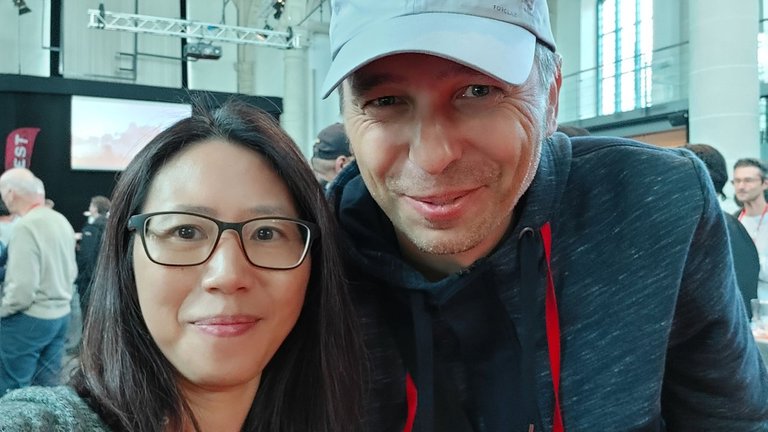 photo by @livinguktaiwan
After the presentations part, we had a free evening with different options to do... For the beginning, I went for a walk around Amsterdam with @ugochill, Jux and @little.lamb! The weather was tricky with periods of showers and sun, but in a good company, that wasn't a big problem...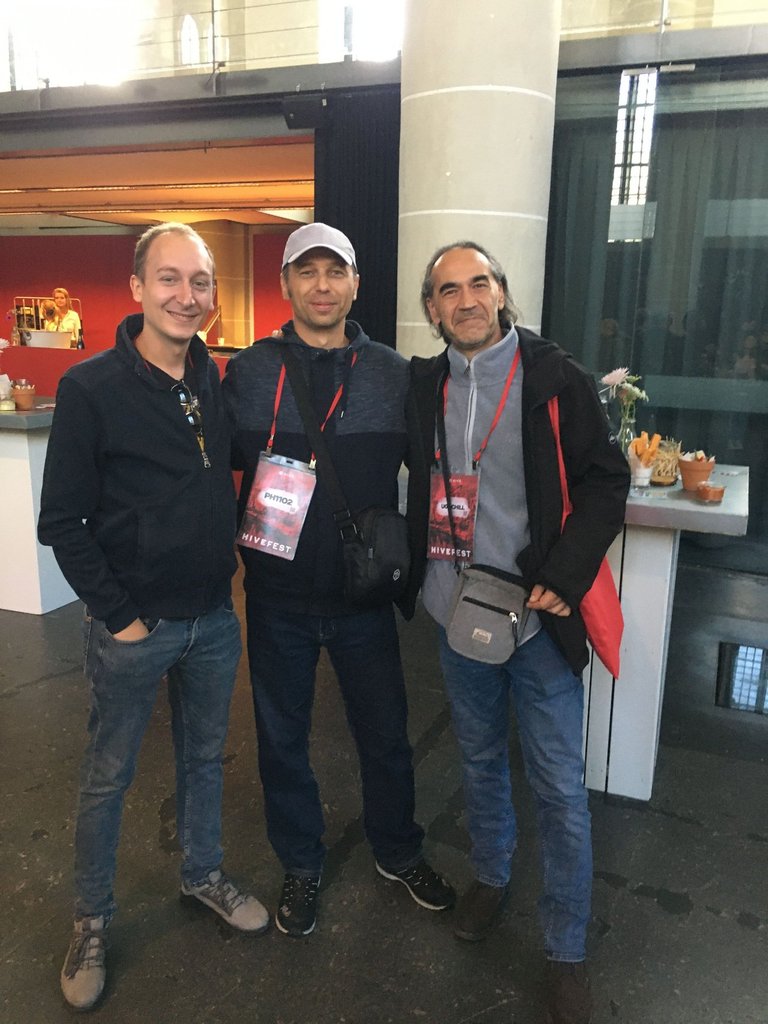 photo by @ugochill
---
The last day of Hive Fest, we had a "closing dinner", but unfortunately, I didn't feel well that day... I had a heavy headache and I didn't have many talks with others...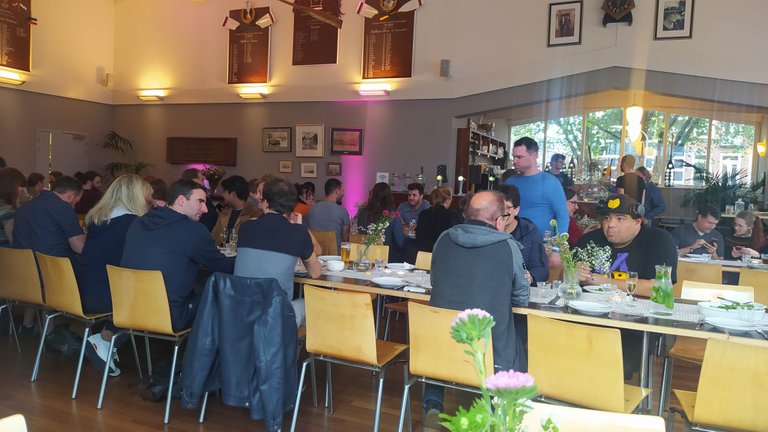 Anyways, it was nice to be at the same table with guys like @rmach, @steevc, @bil.prag, @ugochill, @revisesociology, etc... We have some occasional visitors to our table and I have a nice talk with famous @soyrosa, who was a very popular Hiver back in the days... We miss her, and I hope she will be back with her posts, sharing her new experiences from her studies (about mushrooms? 🤔)...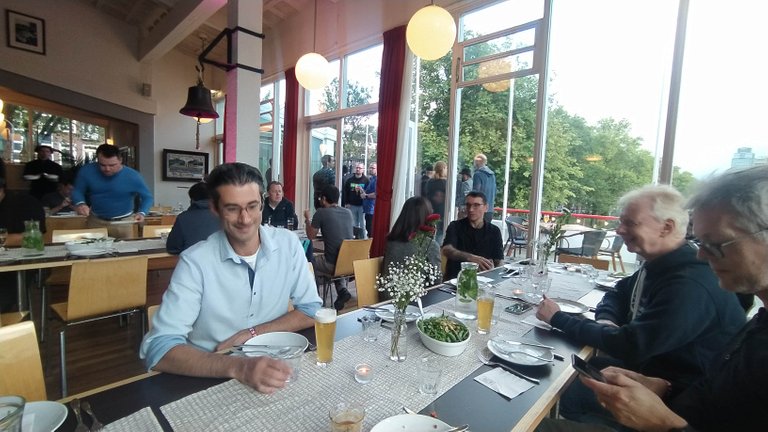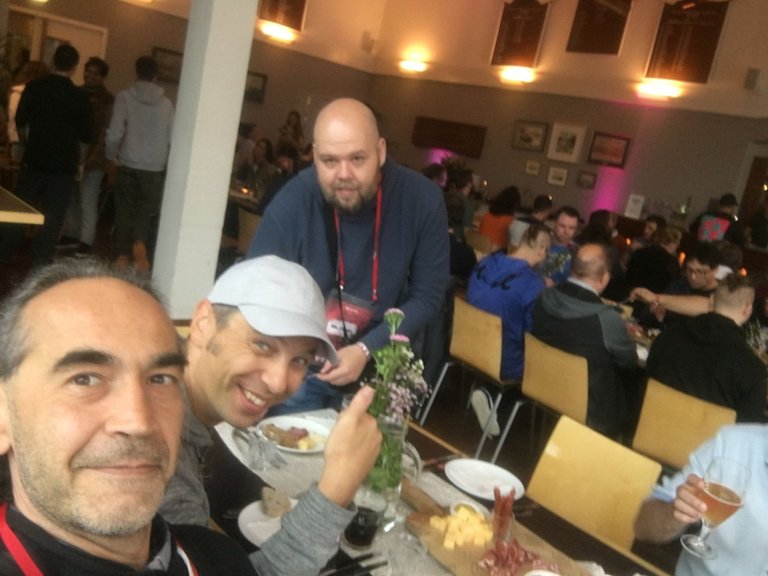 photo by @ugochill
I think that I can say in the name of EVERYONE who was attending the Hive Fest 7, that it was too short... 😃 I hope that the next time we will have at least one week of celebration and maybe, maybe then, we would have enough time to chat with everyone... I'm so sorry that I was "down" on the last day as I wanted to speak to many others, but it was impossible for me to do it...
This was my first (in the real life) #HiveFest ever and I'm sure that it will not be the last... I had so much fun, met so many different people, and learned a lot about them, and about my favorite blockchain, HIVE!!!
Long live HIVE and see you at next HIVE FEST!!!
Thank you for your valuable time,
~ph~

<-------------------------------->

If you want to support my witness, you can do it by voting for @ph1102.ctp here https://tribaldex.com/witnesses, or just scan the QR code down below...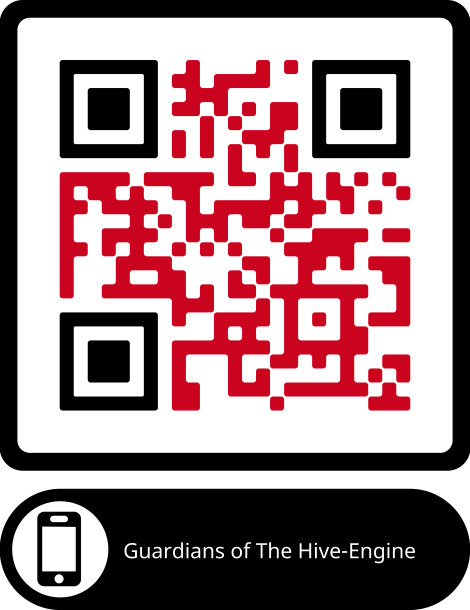 Don't forget to follow, reblog, and browse my Hivepage to stay connected with all the great stuff!
You can also find me on LEO Finance .:. Twitter .:. LBRY
---
---