WHY PERSONAL INVESTMENT CAPACITY SHOULD BE CONSIDERED BEFORE STARTING A POULTRY FARM BUSINESS.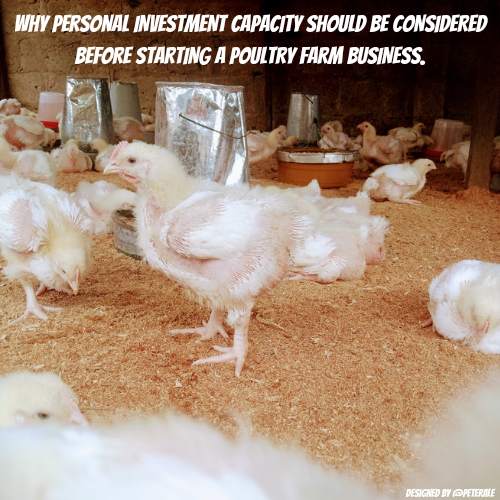 Before I go further to buttress or explain what personal investment capacity entails. I will love to chew my mouth what "business capital" means. When someone is considering to start up a business, there's what is called "Business Capital" . What is Business Capital? Business Capital is the amount of money or fund an individual has at his or her disposal to starts up a business. In other words, business Capital is the amount of financial fund that is being used to manufacture goods and services.
So when starting a business, poultry farm business to be precised after the business Capital. Personal investment capacity comes next to importantly be considered. Personal investment capacity is the process or means by which an Investor is working within his or her capital Investment plan.
How Poultry farm business is suitable for an individual to work within his or her budget.
So considering how business capital and personal investment capacity have meeting point. Poultry farm business is a kind of business that gives room for individual to access his or her personal Investment capacity. This solely means, the the farming business helps individual to invest within his or her budget. For example, after you have gotten hold of the business capital, the next assessment should be to work towards starting a business within the capacity of the owner of the business.
Having said that, so I guess if an individual is starting up a Poultry farm business and working within the individual's Investment capacity, such individual can go for 50 birds to start with knowing fully well that the cost of production to raise 50 birds from day old to 6 weeks has been budgeted or falls within the individual personal Investment capacity. It's better of to say you cut your your coat according to your clothes. It your Investment capability can only take care of 50 birds, start with it instead of choking yourself beyond capital Investment plan.
---
You can click below to view some of my projects.
PART ONE OF THE BROODER PEN CONSTRUCTION:- CLICK HERE👉🏻SOURCE
PART TWO OF THE BROODER PEN CONSTRUCTION:- CLICK HERE👉🏻SOURCE
PART THREE OF THE PROJECT,THE BIRDS ARE NOW 2WEEKS PLUS:- CLICK HERE👉🏻SOURCE
Also thanks to @balte , @schlees and @satren for their upvote. I really appreciate.
---
Thanks for stopping by to view my blog. Please do have a wonderful day ahead.@peterale cares🤭
---
---