LIGHTING SYSTEM AND POULTRY FARMING: HOW THE FORMER CAN MAKE OR MAR THE BIRDS END PRODUCT.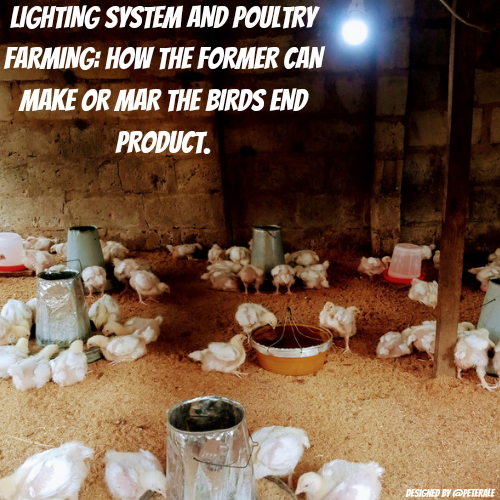 Before all else, one thing to bear in mind as a Poultry farmer is how to raise a healthy livestock which eventually may have effect positive or negative effects on the final production of the Broiler birds; feeding pattern, water management, pen layout etc
Light pattern in the farm.
Whatever light pattern you want to have in your Poultry farm, one should just make sure that the light pattern covers every nooks and crannies of the Pen. There shouldn't be any part of the Pen that there will be darkness because in the process where there's no provision of lighting system most especially at night, this may affect the development of the Broiler birds.
As many sources as claimed that the development of Broiler birds mostly takes place at night. This development is hugely effective if there is adequate light supply which spurs their development more. With this, the accurate average weight of both the male and female birds will be accurately achieved at the end of six weeks.
Colors of bulb that suit Poultry farming.
Concerning the color that best suit the Poultry Farm, the color depends on who has the pen and the availability of bulbs you could in the market but here I am conversant with yellow bulb and white bulb mostly. At the early stage of the birds, from day old to like ten days, I normally use 200 watts yellow bulb to generates to heat for the birds because that's what important at that stage. So from the birds day eleven, I will uninstall the yellow bulb and replace it with white bulb which generates less heat unlike the yellow bulb. While the illumination of the white bulb is better of that of yellow bulb.
---
You can click below to view some of my projects.
PART ONE OF THE BROODER PEN CONSTRUCTION:- CLICK HERE👉🏻SOURCE
PART TWO OF THE BROODER PEN CONSTRUCTION:- CLICK HERE👉🏻SOURCE
PART THREE OF THE PROJECT,THE BIRDS ARE NOW 2WEEKS PLUS:- CLICK HERE👉🏻SOURCE
Also thanks to @balte , @schlees and @satren for their upvote. I really appreciate.
---
Thanks for stopping by to view my blog. Please do have a wonderful day ahead.@peterale cares🤭
---
---