Hive power Staking and Investment ; Any Future plans for your HP

Hello Hive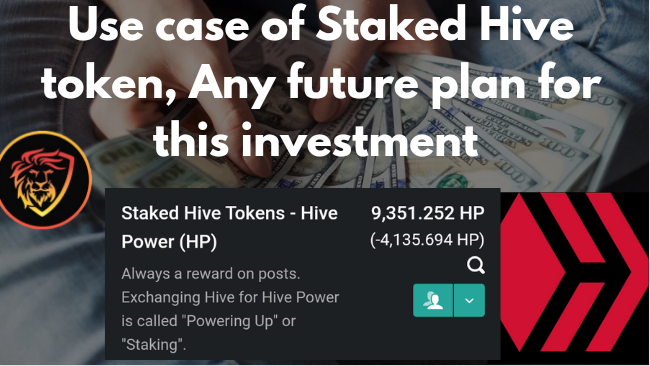 Investment is one difficult task for so many people and if not for hive's policy that encourages people to invest a good number of people around here would be totally unwilling to keep a dime either as an investment for the future or as an investment that can aid the development of the blockchain.
But it is good that the reward pool has been splited such that we have the 50/50% pool and you get a 50%reward in HBD that you can instantly spend and the other 50% goes into a staked portion that you can use for several good purposes on the blockchain like cheating, commenting and engaging in post.
Having a hive power above a thousand gives you the liberty of supporting and encouraging other hivers via comments on their post.
But it is paramount for us especially newbie to understand that in order to give out quality amount of votes on other peoples post, we need a healthy amount of Hive power.
100k Hive power is such a milestone that can only be achieved if you bring in enough fiat and external currencies to buy as much hive then stake them as hive power.
Well this is also one very good and less risky investment that if some whales having taking the heart to do so, you may not likely see or enjoy a dollar vote for all brain work and quality content you post here. Alot have invested in hive with their hard earned money that is why we have what we have here.
While several others have taking out the pleasure completely to save as much HP over time. For someone to have saved 40k Hive power they must have spent like 2-3 years on the blockchain working engaging and staking up the rewards.
It is fair enough that the goal is to stake enough HP, invest and assist other via our votes and duration but aside these does anyone else have other plans for their HP.
HP is staked for the future,(future investment) where and when is this future and when it comes what will you do with these stakes HP.
Assuming today is that future we have hoped and you have some couple of million HP, aside curating what else will you find yourself doing with these huge investment?
Will you power down to invest in other hive development or what else can these HP be used for?.
Would there be more use cases for Hive power or any special investment idea in your head for when your HP reaches a good sum.
Remembering that we can make a healthy investment work for us in multiple way.
Posted Using LeoFinance Beta
---
---