Five Fingers (1952)
If you are a true cinephile Five Fingers is highly recommend. A forgotten classic that haven´t heard of it before. Nominated for 2 Oscars.
STARS: James Mason, Danielle Darrieux, Michael Rennie.
DIRECTOR:Joseph L. Mankiewicz
WRITERS: Michael Wilson (screenplay), L.C. Moyzisch (book "Operation Cicero"), Joseph L. Mankiewicz (uncredited)
CiINEMATOGRAPHY: Norbert Brodine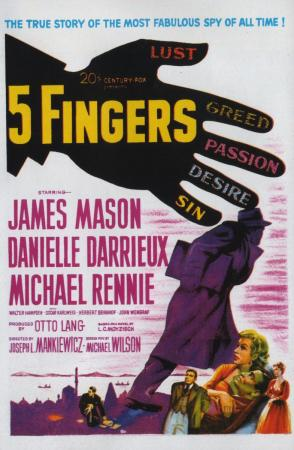 20th Century Fox
20th Century Fox
Turkey was officially neutral during World War II, but it actually served as a meeting point for spies from the warring powers, who were looking for an opportunity to exchange military secrets. A complex case of espionage, in which the Germans and the English were implicated, was about to change the course of the war, tipping the balance in favor of the Berlin-Rome-Tokyo Axis powers. Diello (James Mason), an ambitious character who was secretary to the English ambassador, hatched a risky plan to sell British secrets to the Nazis and then flee to South America.
You can watch it for free on youtube:

20th Century Fox
Conclusion: Clever plot twist, James Mason is an amazing actor. He steals all the scenes of the movie
---
---