(DE/EN) Terracore - Earning Hive as a Scavenger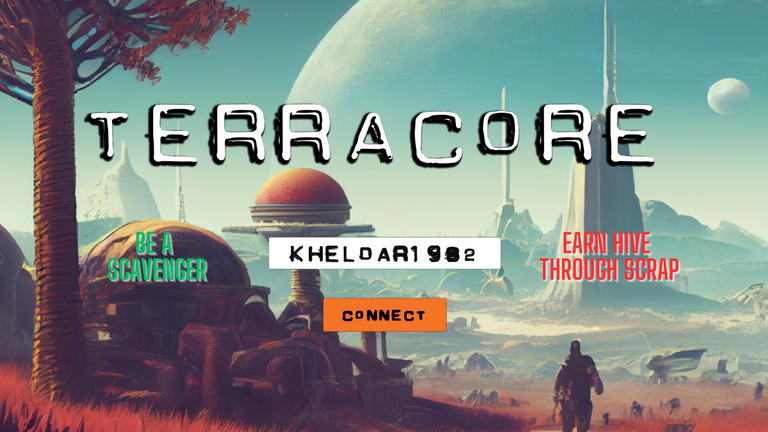 Intro
Durch einen Post von @prinzvalium bin ich auf @terracore gestoßen. Ein neues Spiel auf der Hive Blockchain.
https://www.terracoregame.com/
Um was es geht, was ihr mit den SCRAP die ihr dort sammelt tun könnt, und wie man damit ein paar Hive sammeln kann, zeige ich Euch im Video.
Für alle, die nicht so auf Videos stehen, gibt es wie immer eine Kurzzusammenfassung hier im Artikel.
Ich wünsche Euch viel Spaß damit!
Intro
I came across @terracore through a post by @prinzvalium. A new game on the hive blockchain.
https://www.terracoregame.com/
What it's about, what you can do with the SCRAP you collect there, and how to use it to collect some Hive, I'll show you in the video.
For those of you who aren't so into videos, there is, as always, a brief summary here in the article.
I wish you a lot of fun with it!
---
---
Die Story
Zur Story, lässt das Whitepaper vieles offen.
Der Planet auf dem wir leben, liegt in Trümmern. Als Scavenger sammeln wir wertvollen Schrott.
Diese Schrott können wir in unseren Scavenger investieren, um unsere Werte zu erhöhen.
Wir können ihn aber auch der Community spenden, um so eine Entdeckungsreise zu einem anderen Planeten zu finanzieren.
The Story
As for the story, the white paper leaves a lot to be desired.
The planet we live on is in ruins. As scavengers, we collect valuable scrap metal.
We can invest this scrap in our scavenger to increase our values.
We can also donate it to the community to fund an exploration of another planet.
---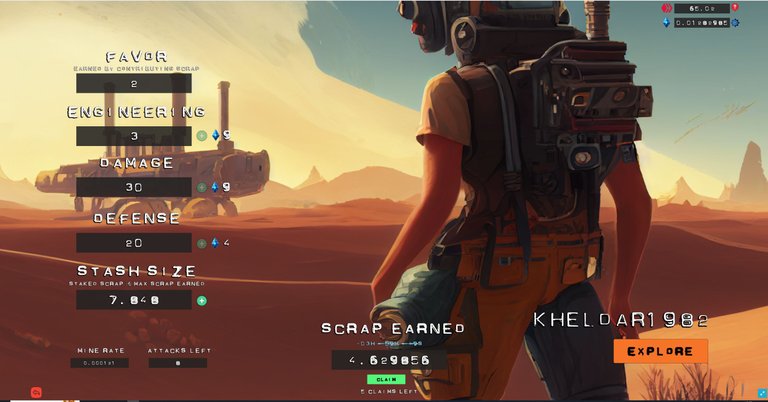 ---
Die Stats
Sobald wir unsere 10 Hive Gebühren zum Erwerb unserer Bürgerrechte bezahlt haben, sehen wir die Übersicht über unsere Stats.
In Terracore gibt es diverse Stats, die teilweise aufeinander aufbauen.
FAVOR
Favor bringt Euch mehr SCRAP, wenn ihr andere Spieler angreift und ist wohl später wichtig um ein Stück Land auf dem neuen Planeten zu erhalten.
Favor erhaltet ihr dafür, Scrap für die Erkundung zu spenden. Pro gespendetem Scrap erhaltet ihr 1 Favor.
ENGINEERING
Jeder Punkt Engineering erhöht eure Minerate, also die Menge Scrap, die ihr pro Sekunde fördert um 10 %.
Ihr startet mit Engineering 1 und einer Minerate von 0,0001.
Engineering wird um jeweils einen Punkt gesteigert.
ATTACK und DEFENSE
Ein hoher Wert in Attack ermöglicht es Euch andere Spieler anzugreifen.
Ihr könnt nur Spieler angreifen, deren Defense unterhalb eures Attack Werts liegt.
Die Difference aus euren Attack Wert und dem gegnerischen Defense Wert ergibt den Prozentsatz, den ihr dem Gegner stehlt. Das genaue Ergebnis hängt dann noch davon ab, wer von Euch beiden mehr Favor hat. Die Details findet ihr im Whitepaper.
Alle Spieler starten mit Attack und Defense von 10.
Attack und Defense werden in Schritten von 10 gesteigert.
STASH Size
Die Größe eures Lagers. Ihr könnt nur so viel Scrap lagern, wie euer Stash groß ist.
Stash Size erhaltet ihr durch das Staken von Scrap.
The Stats
Once we have paid our 10 hive fees to acquire our citizenship, we will see the overview of our stats.
In Terracore there are various stats, some of which build on each other.
FAVOR
Favor gives you more SCRAP when attacking other players and is probably important later to get a piece of land on the new planet.
Favor you get for donating scrap for exploration. Per donated Scrap you get 1 Favor.
ENGINEERING
Each point of Engineering increases your Minerate, the amount of Scrap you mine per second, by 10%.
You start with Engineering 1 and a minerate of 0.0001.
Engineering is increased by one point at a time.
ATTACK and DEFENSE
A high value in Attack allows you to attack other players.
You can only attack players whose defense is below your Attack value.
The difference between your Attack value and the opponent's Defense value is the percentage you steal from the opponent. The exact result depends on which of you has more Favor. You can find the details in the whitepaper.
All players start with Attack and Defense of 10.
Attack and Defense are increased in steps of 10.
STASH Size
The size of your camp. You can only store as much Scrap as your Stash is big.
Stash Size is obtained by stacking Scrap.
---
Stats verbessern
Wollt ihr euren Engineering, Attack oder Defense Wert steigern, müsst ihr Scrap investieren.
Dabei ist kostet die erste Steigerung 1 Scrap, die Zweite 4 scrap, die Dritte 9 Scrap und so weiter.
Das Steigern der Attribute geht also ziemlich schnell ins Geld, bzw. in den Schrott.
Dabei ist zu beachten, dass die Kosten auf einmal gezahlt werden müssen. Euer Stash muss also groß genug sein, so viel Schrott aufzunehmen.
Wie kommt man an diesen ran?
Improve Stats
If you want to increase your Engineering, Attack or Defense value, you have to invest Scrap.
The first increase costs 1 scrap, the second 4 scrap, the third 9 scrap and so on.
The increase of the attributes is therefore quite fast in the money, or in the scrap.
It should be noted that the cost must be paid all at once. So your stash must be big enough to hold that much scrap.
How do you get this?
---
Scrap sammeln
Terracore ist ein Idle Clicker. Eurer Scavenger sammelt sekündlich von alleine Scrap.
Alle 4 Stunden erhaltet ihr eine Möglichkeit Scrap zu claimen und in eurem Stash zu sichern.
Ihr könnt bis zu 8 Claims sammeln.
Ihr könnt immer nur den gesamten gesammelten Schrott auf einmal claimen. Achtet also darauf, dass ihr genügend Scrap gestaked habt und somit eure Stash groß genug ist.
Solange euer gesammelter Schrott noch nicht geclaimed wurde, kann er Euch von anderen Scavengern geraubt werden. Dazu gleich mehr.
Über die "Explore" Schaltfläche rechts unten kommt ihr zum Erkundungsbildschirm.
Collect Scrap
Terracore is an idle clicker. Your Scavenger collects Scrap by itself every second.
Every 4 hours you get a chance to claim Scrap and save it in your Stash.
You can collect up to 8 claims.
You can only claim all the scrap you have collected at once. So make sure that you have enough scrap staked and that your stash is big enough.
As long as your collected scrap has not been claimed, it can be stolen by other scavengers. More about that in a moment.
The "Explore" button on the bottom right will take you to the exploration screen.
---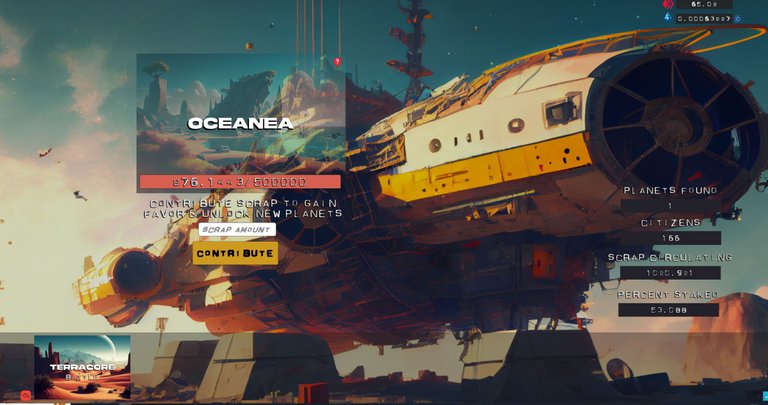 ---
Die Erkundung unterstützen
Um den ersten Planeten Oceanea zu erkunden, sind 500.000 gespendete Scrap notwendig.
Auf diesem Bildschirm könnt ihr eure hart verdienten Scrap investieren und so Favor gewinnen.
Bisher sind 260 Favor gespendet worden. Wir haben also noch einen weiten Weg vor uns.
Über die "Terracore Battle" SChaltfläche unten links kommt ihr zur Übersicht der Scavenger, die ihr angreifen könnt.
Support the exploration
To explore the first planet Oceanea, 500,000 donated Scrap are needed.
On this screen you can invest your hard earned Scrap to win Favor.
So far, 260 Favor have been donated. So we still have a long way to go.
The "Terracore Battle" SChalt button on the bottom left will take you to the overview of scavengers you can attack.
---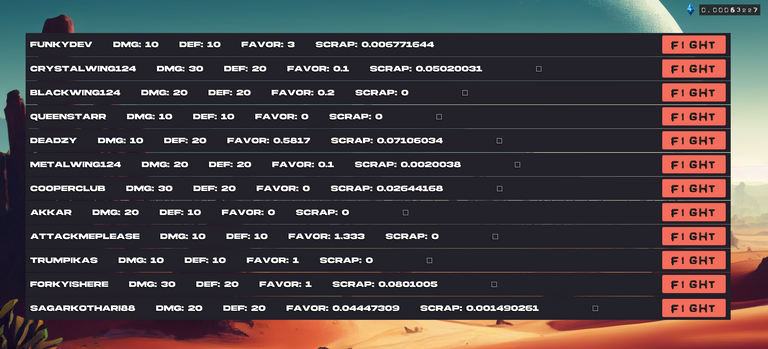 ---
Kämpfe
Auf diesem Bildschirm seht ihr alle Scavenger, deren Defense Wert unterhalb eures Attack Wertes liegt.
Ihr seht ihre Attack und Defense Werte, sowie ihren Favor und den Scrap, den sie derzeit besitzen.
Ziel sollte es sein, jemanden anzugreifen, der am Besten nicht zurückschlagen kann und genügend Scrap besitzt, dass es sich auch lohnt.
In diesem Screenshot gibt es keine wirklich lohnenden Ziele. Da war jemand anderes schneller.
Alle 4 Stunden erhaltet ihr die Möglichkeit einen anderen Scavenger anzugreifen. Ihr könnt maximal 8 Angriffe aufsparen.
Die Scrap, die ihr raubt liegen nicht direkt in eurem Stash sondern müssen ebenfalls erst geclaimed werden.
Es macht also Sinn, anzugreifen bevor man den Claim Button betätigt.
Battles
On this screen you will see all Scavengers whose Defense value is below your Attack value.
You can see their Attack and Defense values, as well as their Favor and the Scrap they currently possess.
The goal should be to attack someone who can best not hit back and has enough Scrap to make it worthwhile.
In this screenshot, there are no really worthwhile targets. Someone else was faster.
Every 4 hours you get the chance to attack another scavenger. You can save up a maximum of 8 attacks.
The scrap you steal is not directly in your stash but has to be claimed first.
So it makes sense to attack before you press the claim button.
---
Scrap handeln
Natürlich könnt ihr eure Scrap auf auf der Hive-Engine verkaufen, anstatt sie in Stats oder Exploration zu investieren.
Andersrum könnt ihr auch Scrap kaufen, wenn Euch die Entwicklung eures Scavangers zu lange dauert.
Gestern war der Preis für Scrap noch zwischen 2 und 3 Hive pro Scrap. Es war also sehr leicht, die 10 Hive Startgebühr wieder reinzuholen.
Heute ist der Preis deutlich zurückgegangen, liegt aber immer noch über 1 Hive.
Trade Scrap
Of course you can sell your Scrap on the Hive Engine instead of investing it in Stats or Exploration.
On the other hand, you can also buy Scrap if the development of your Scavanger takes too long for you.
Yesterday the price for Scrap was between 2 and 3 Hive per Scrap. So it was very easy to recoup the 10 hive starting fee.
Today, the price has dropped significantly, but is still over 1 hive.
---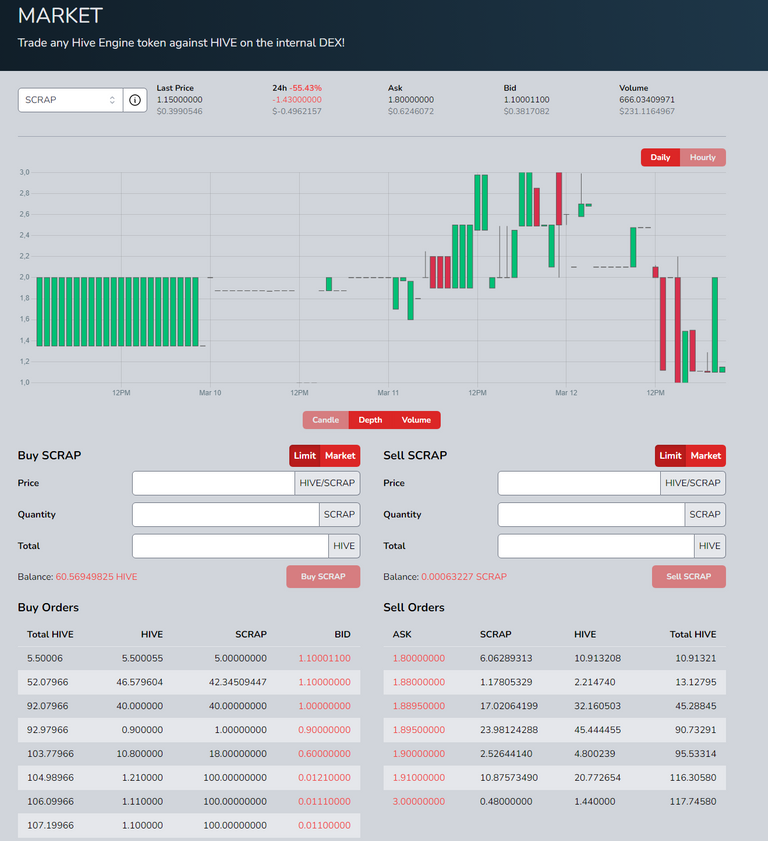 ---
Outro
Noch gibt es in Terracore nicht viel zu tun.
Dennoch muss ich gestehen, dass es mir Spaß macht, mich alle paar Stunden einzuloggen, meinen Schrott zu claimen und meine Charakter weiterzuentwickeln.
Ich bin auch gespannt, wie sich die Kämpfe entwickeln, jetzt da mehr und mehr Spieler hinzustoßen.
Wirklich interessant wird das Spiel aber wohl erst werden, wenn jenseits des ab und an klickens, weitere Funktionen über die neuen Planeten hinzukommen.
Das Whitepaper schweigt sich hierzu noch sehr aus.
Meine 10 Hive Startgebühr habe ich schon lange wieder drin, und konnte zusätzlich in meinen Charakter investieren.
Derzeit schafft es mein Scavenger am Tag 10,5 Scrap zu schürfen. Bei den Preisen auf der Hive-Engine ist das ein netter Nebenverdienst für ab und an mal klicken.
Ich hoffe, ich konnte Euch mit dem Artikel und dem Video einen guten Einblick geben.
Falls ja abonniert doch einfach meinen Channel, um kein video mehr zu verpassen. Mich würde es freuen.
Es gibt inzwischen einen RefLink zum Spiel. Wenn ihr meinen nutzt schicke ich Euch einen Scrap:
https://www.terracoregame.com/?ref=kheldar1982
Viel Spaß beim Spielen und investieren.
Euer
Kheldar1982
Outro
There is not much to do in Terracore yet.
Still, I have to admit that I enjoy logging in every few hours, claiming my junk, and developing my character.
I'm also curious to see how the battles develop now that more and more players are joining.
However, the game will probably only become really interesting when, beyond the occasional click, more functions are added via the new planets.
The whitepaper is still very silent on this.
My 10 hive starting fee I have long since back in it, and could additionally invest in my character.
Currently my scavenger manages to dig 10.5 scrap a day. With the prices on the hive engine, that's a nice extra income for clicking every now and then.
I hope I could give you a good insight with the article and the video.
Now there are reflinks to the game. If you use mine to register I will send you one scrap as a headstart:
https://www.terracoregame.com/?ref=kheldar1982
If so, just subscribe to my channel to never miss a video again. It would make me happy.
Have fun playing and investing.
Yours
Kheldar1982
---
---