Hive Won't Be Ignored For Much Longer...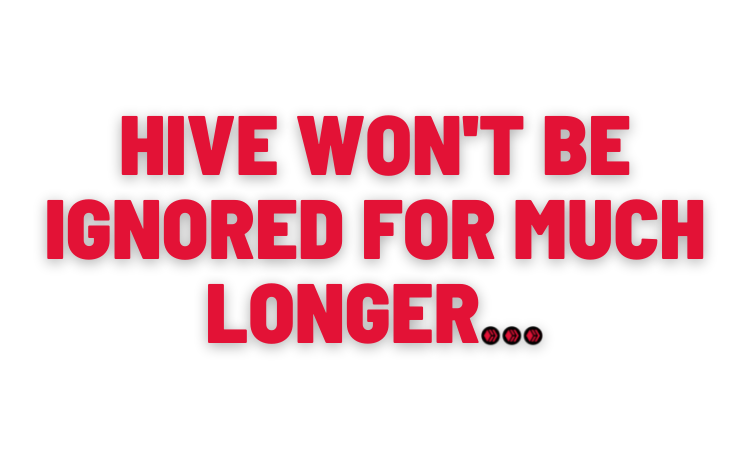 A day ago, we all enjoyed a beautiful thing...
Facebook, Instagram and WhatsApp....All went offline for a bit!!!!
The rumors started flying....
"They've been hacked!"
"It's because of the Whistle Blower!!!"
But then you started to see something pop up on the only tradional social media site that was still online - Twitter!
The need for Web 3.0 when it came to social media!
Of course, what's hilarious is that most of the crypto 'influencers' that were yapping about the need for blockchain based social media...Never seem to use blockchain based social media.
But I digress...
Facebook came back online and the world returned to complaining about politics, vaccinations and whether they were Republicans or Democrats.
That's when I saw a quick little update from @dmilliz who like all good Hivians (are we called that or Hivers, I still haven't figured that one out?), took the opportunity of Facebook being down to highlight the need for...
Web 3.0 on the blockchain!
This is the graphic he shared...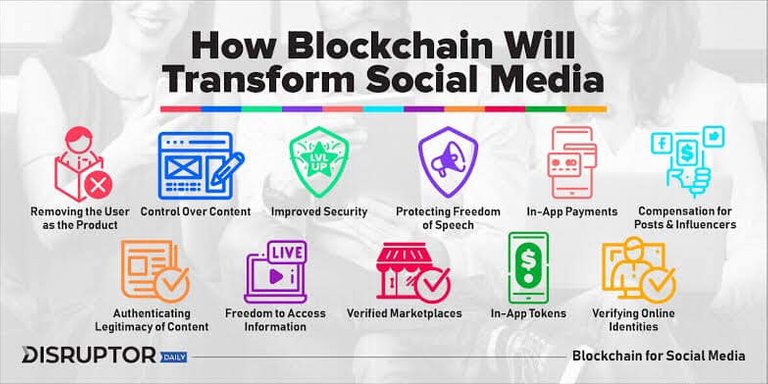 (Image via DisruptorDaily)
Oh baby....Let's break this down and see how Hive truly does, check everything we need off the list!
Removing the User as the Product - 'If you aren't paying for the product, you are the product!' Guess what Hive can't and won't do...Sell you ads LOL I don't know about you, but that's pretty awesome! It allows you to concentrate on what matters most...The content and the comments!
Control Over Content - Wanna know why you see rants about politics, fighting about vaccinations and general drama on your social media feeds? Because they are designed to be that way. With Hive it's simple, you follow who you want and get to see THEIR content...Not something that's being force fed down your throat!
Improved Security - Some may think, because we don't have a retrieve password function, this is harmful. I personally think it's GREAT to have tools like Hive Keychain and the ability to be the master of your own passwords. You control your account!!
Protecting Freedom Of Speech - A friend of mine just got a 48 hour ban on Facebook. Why? He shared n image about the vaccinations. Whether you agree with his stance or not, doesn't matter. I just think we should have the right to let our voices be heard without the fear of being...Banned.
In-App Payments - Not only is our Hive account and wallet attached, it's crazy easy to send and receive payments with Hive and even set up recurring subscriptions. Right on chain. Of course, we've developed @hivepay-io to allow merchants and online businesses to easily integrate Hive and Hive Engine tokens into their websites to make payments a breeze!
Compensation for Posts & Influencers - I mean...Does this even need an explanation? Own your content and heck, get rewarded on both first and second layer tokens...Does it get any better?
Authenticating Legitimacy of Content - I know a lot of people dislike the reputation system here on Hive and sure, it can always be improved. But it does show us the potential of crowd minded rating systems. If Hive had some kind of 'blue badge' like Twitter does I think it could even build more trust. So many ways to do that as well!
Freedom to Access Information - You can get your posts downvoted to oblivion, but guess what...It's still on chain! Yeah, once it's on the blockchain baby, it's there for anyone and everyone to access. Never need to worry about the powers that be, silencing you or your opinion!
Verified Marketplaces - Check out what @thelogicaldude is building with Hive List. Marketplaces DRIVEN by the users of the platform. Heck, even the different markets within the @splinterlands eco-system...All ways for people to buy and sell products and services the are looking for!
In-App Tokens - I dunno if you guys have heard about this, but Hive-Engine allows any tribe, any app or any community to tokenize it. Shocker, we have that right here, right now on Hive!
Verifying Online Identities - Not sure if everyone would go for this, but you know what...People that want to be verified can be if they choose to. And with the blockchain, you know it'll be rock solid!
So yeah...Maybe I'm just a fan boy....
Bu I'm pretty sure this 'dream' that everyone on traditional social media rants and raves about exists...Right now!
Right here on Hive!
At the end of the day, they will only be able to ignore us for so long because once the flood gates open...Watch out! It'll take other blockchains years to develop, what we've had right here at home since day one!
---
Vote for our Witness Node (clicktrackprofit) On..
Hive:
https://peakd.com/me/witnesses
https://wallet.hive.blog/~witnesses
Hive-Engine:
https://tribaldex.com/witnesses (clicktrackprofit)Bold
---
---