Manual Curation/Upvoting Journey: Week 1
Manual Curation/Upvoting Journey: My First Week (Nov 15, 2021 - Nov. 22, 2021)
---
Content curation is about finding great content and presenting it to others in a way that adds value.
---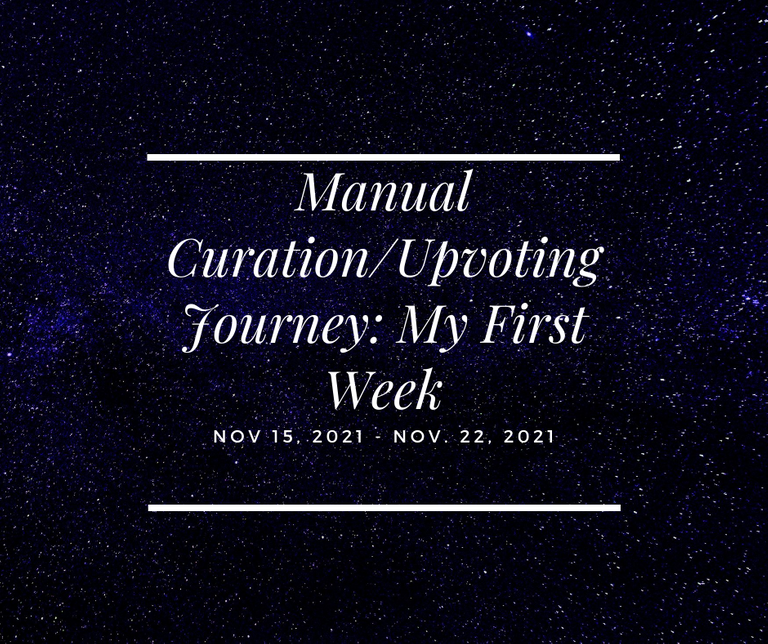 Photo above is made by ivarbjorn in Canva.com

You can see the post and blogs that I have updated and re-blogged here: Click here
I have been earning passive income myself while I am also helping others earn from doing their blog posts.
I have been curating people from #Splinterlands and #RisingStars, since they are the main reason I am on the hive blockchain, but I am already exploring new opportunities and studying lots of projects on the #HiveBlockchain
I will share here some of the favorite post that I have been following and who are posting them, I really find this posts inspirational, motivational and educational. I am thinking of sharing them weekly here on my posts.
Disclaimer: If you are tagged here and you don't like your posts shared by me or if you feel by any chance  that is kind of stealing your content please let me know in the comment section or send me a DM in discord,  ivarbjorn#9345
No copyright intended

---
My upvotes are actually not worth a lot right now, but I have a few of tokens staked on hive-engine account, Though I am still trying to build them up so my upvotes gets more weight and I can provide more to everyone!
Also I am really hoping this posts of mine that I wish to do weekly (at the moment but will change it as I see fit) will help people to make their post reach a lot of audiences that might be interested in their contents.
---
Here are some of the posts that I have upvoted/curated which really catch my interest:
---
@zasktrader, I have been following this guy for a long time and I am really amazed on how good he make his investments and do his trading strategies, you can follows this guy and learn a lot from his posts which is so educational. Check out one of his latest posts. Click Here

---
From @cmmndrbawang, this guy is a twitch splinterlands streamer and has this project called the Gthoughts, that he is planning to post daily, this guy is really inspirational and motivational, he also share some educational and funny memes too, this guys energy is off the roof. You can check his latest post.
Click here

---
@drabs587, this guy is a twitch splinterlands streamer and have been motivating people to do their blogs and he does some cool posts of his own. He got a very interesting Introductory post and does posts as frequent as he can. You can check out one of his latest post about their guild brawl. Click here




---
@gameboyali, this one is one of my favorites, really the poem was awesome. He is also a twitch Splinterlands Streamer and I really like how he played the words on his posts. You can check his latest post. Click Here

---
@tim.hendrix, this guy is doing some great post about his splinterlands matches and experiences, he got this series of posts going on titled "Tales From an Ordinary Player" which is now on its second part, you can check his latest post here. Click Here




---
@rosiew , I have been following her recently but I have been reading all his AMA updates about Splinterlands for a long time, yes that's how ungrateful I am, but mostly I really thought that I am following her already. It is crazy how fast she could make the post about the AMA with all those details, she also doing some awesome and educational/informational posts. Check her latest post about the Splinterlands AMA here: Click Here



You can also check her latest posts here. Click Here

---
@clove71 I try to upvote Clove's post as much as possible, just to give back from everything that she have helped me with. Mostly she makes some awesome videos in Three Speak and she is a really generous person. Thanks for everything check her latest post here. Click Here

---
There are a lots of post that I curated too that you might find interesting like Rising Star Giveaways posts, but this are the top posts that is the most interesting to me based on my own judgement and opinion. Again you can see all the post I have curated here.
Disclaimer: Photos are property of the posts owners and/or where they give the credits to on their posts,   no copyright intended.

---
What I am doing right now means so much to me since it is a way to share all my blessings that I got from my twitch community (Huge shoutout to the #nosleepgang), all I ever wanted was to share, I know I am also earning from these, but most of my earnings will be given away on my streams though
For those people that are doing this kind of thing for much longer, I would like to ask for your advice and ideas/opinion on how I can improve on this thing that I chose to do now, any opinion and idea is much appreciated <3
---
You can also add your post on the comment section if you got some post that you wanted to get upvoted. I will go through some posts on the comment section and get it upvoted.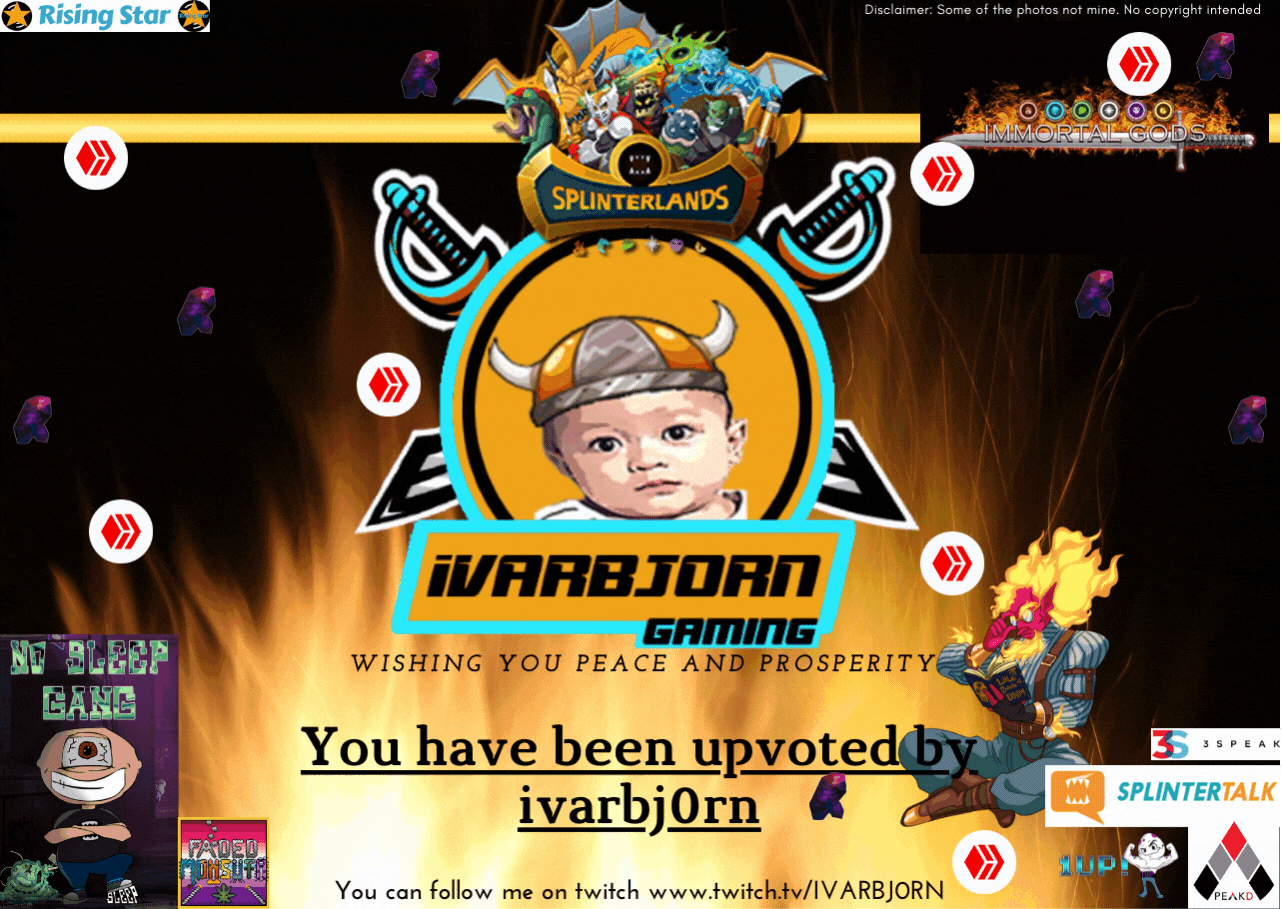 ---
Follow me on Twitch, Click Here
Follow me on Twitter, Click Here
Check out all the #nosleepgang Streamers here, Click Here
(You can also see all the posts the streamers make. huge shoutout to @nevermeltice for making the website possible)
---

Before I end this post I wanted to make a huge shoutout to this people, for their support:

@clove71 @gank @skyn @tim.hendrix @rentaw03 @cmmndrbawang @mhowii @sgt-dan @drabs587 @gameboyali @dubclub @confusedminer @godislove777 @hol0zor @walkingkeys @snyxnya @luthien12 @jaopalas @bokica80 @marcuswahl @elephantium @ohmmygod @thercek @bladesong ...and many more I am sorry if I am not able to put everyone in here. To all the members of the #nosleepgang thank you so much!

Especially to @sgt-dan for helping me so I could get started
---
---