How To Maximize Your SPS Airdrops Daily Using A SECRET Whale Strategy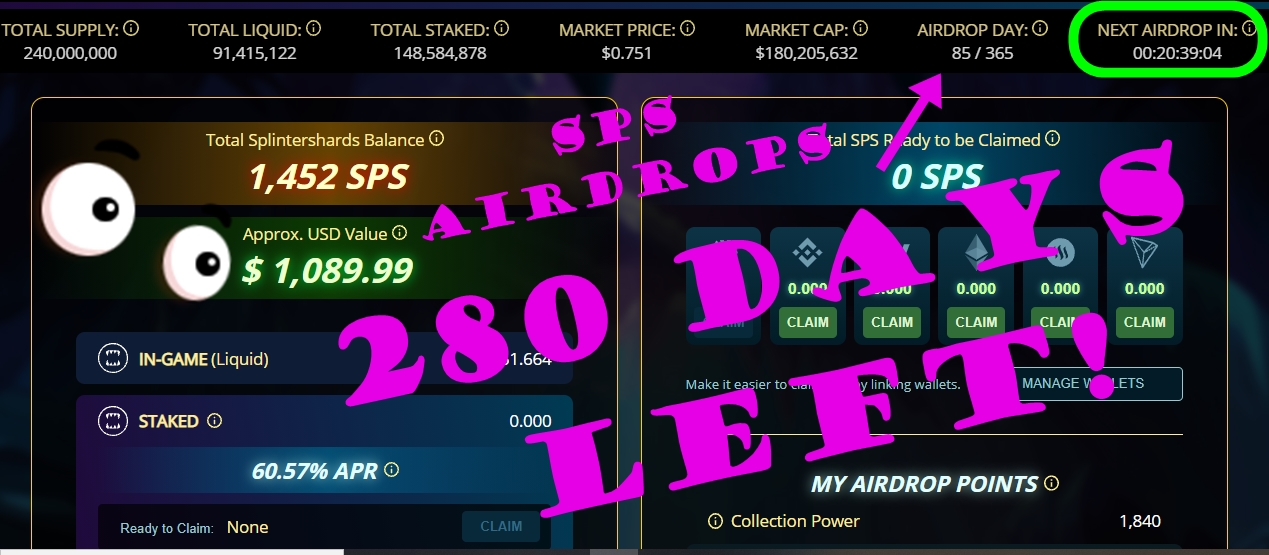 Every morning the Splintershards airdrop takes a snapshot of the players balances and in-game assets for the airdrop points at precisely 9AM PST. If you havent checked out the Splintercards.com airdrop tool yet definitely give it a whirl- see how much you could earn daily with your DEC or other Splinterlands items. There are 280 days left on the countdown timer and I think there is still plenty of value to be extracted.
The average airdrop farming strategy is to simply buy and hold Dark Energy Crystals in your account to receive Splintershards airdrops. People then cash out that SPS daily and either buy more DEC or spend the funds elsewhere. Others are staking it for more SPS, which requires a 4-week powerdown period to unlock. These SPS tokens, if held or staked, do not earn any airdrop points.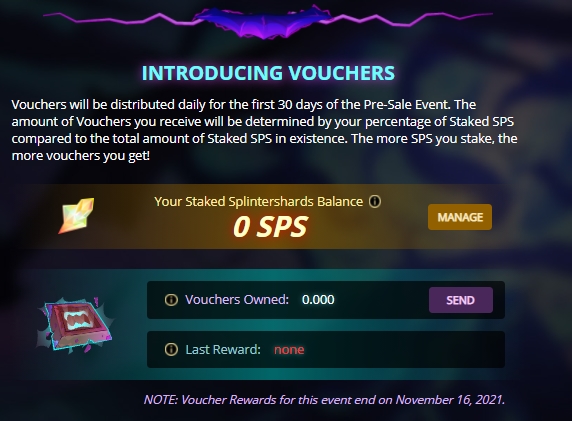 Most players are super excited for the VOUCHER release and they have also begun to stake their SPS tokens to earn those daily VOUCHER tokens required to purchase Chaos Legion booster packs in game. For every 50 packs purchased you have the chance to win an airdropped promo card after every 1 million packs sold. Some are simply reselling the CHAOS tokens on Hive-engine to recoup more funds to cycle through even more booster pack purchases and increase their chances.
Personally I don't think this is the best idea, not at this stage of the release. VOUCHER tokens will go much lower in price over the coming days to weeks and the value of the CHAOS tokens should follow. Patience is a virtue as we all know in crypto. I personally would not want to pay more than a couple dollars per VOUCHER token, if that. There will be plenty of time to get into the presale even if you don't get as many packs as you would like.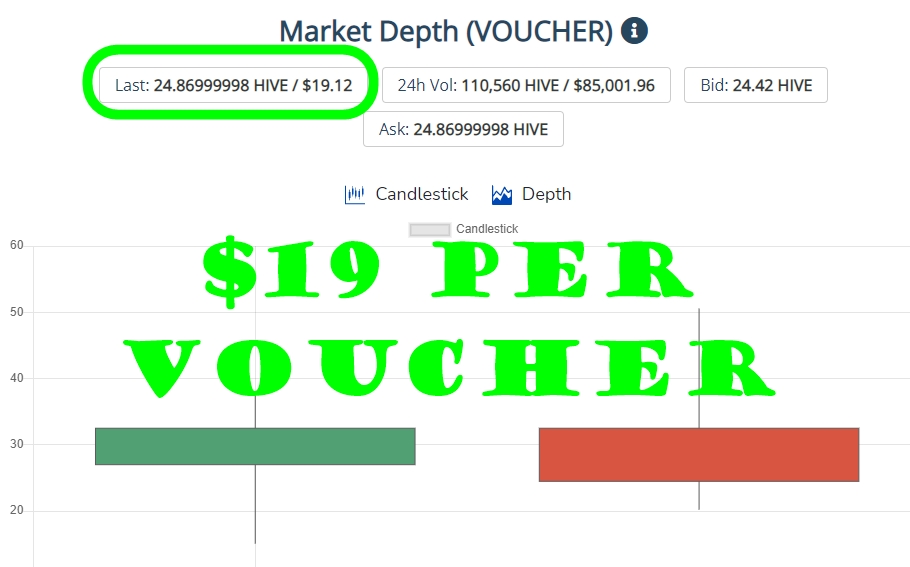 Also if you are staking your SPS tokens the 4 week waiting period for unstaking can really cut into your potential profits down the line if the price begins to drop quickly. The best strategy I believe is actually one I picked up from some of the masterminds in the Splinterlands Discord chat- pooling your SPS with DEC every morning before the snapshot on Tribaldex.com and then removing it right after the snapshot distribution.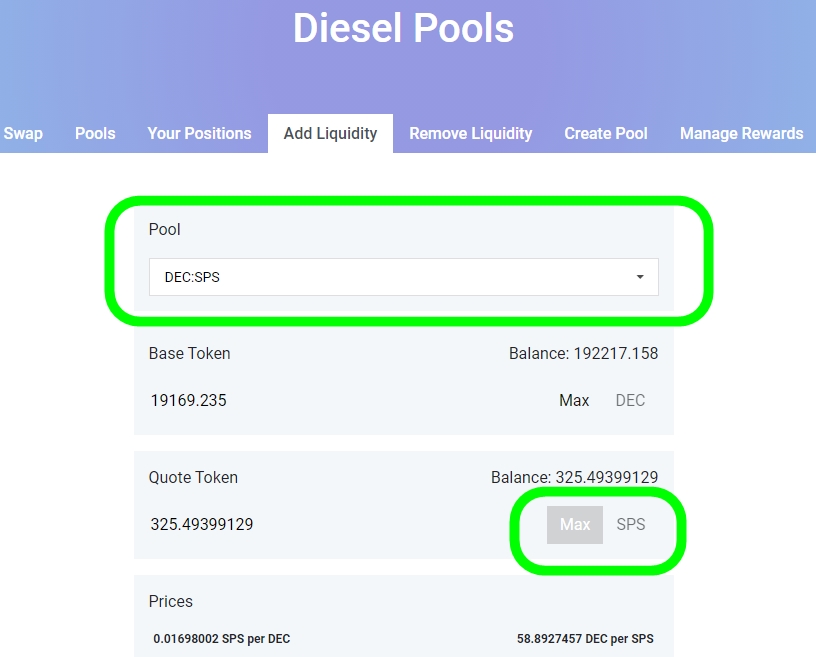 If you remember that Splintercards airdrop tool it actually shows all of the airdrop point multipliers beside each category. If you look closely you will notice that the DEC liquidity pools give 2x points. Now will all things considered 1+1=2 when you're adding liquidity to the Automated Market Maker (because it requires a 50%/50% allocation of assets to add liquidity) but there are some advantages to this strategy overall.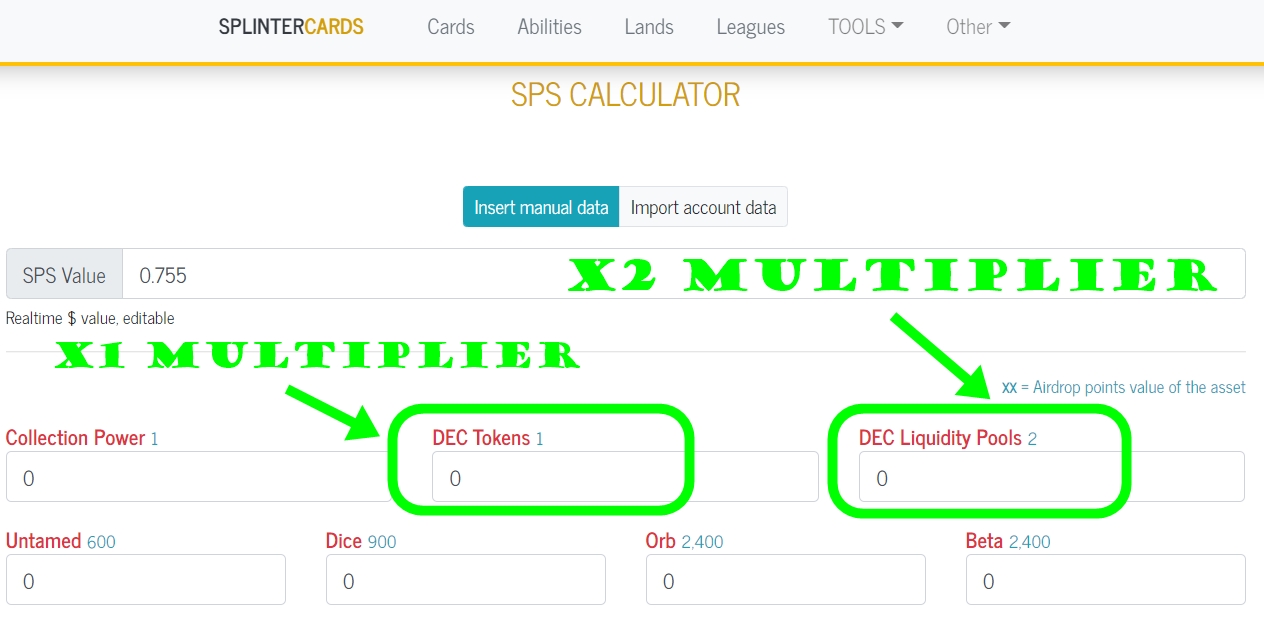 If you wanted to hold onto your SPS tokens in the hopes that it will go higher later on, or develop more use cases such as governance voting, then you can leverage these tokens for the airdrops and get point value where they otherwise would get zero. Others wanted to hold their SPS to begin staking for VOUCHER tokens while still getting points up until the last day. Additionally buying packs with SPS offers a 10% discount on boosters over other methods of purchase.
For example:
Bob has $100 in DEC and has earned $50 in SPS tokens. He could sell the $50 worth of SPS to buy more DEC and would have $150 in DEC earning 1x airdrop points. Or he could pool the $50 worth of SPS with $50 worth of DEC to receive 2x airdrop points on $50 of pooled DEC and 1x airdrop points on the remaining $50 of unpooled DEC- effectively the same amount of airdrop points ($150x1 worth when all DEC, $50x2 + $50x1 when pooled)
If Bob sells all of his SPS every day and buys DEC, but then SPS goes higher he will have to rebuy those tokens at a premium for goverance or VOUCHER staking. To hedge his bets he wants to hold his SPS while leveraging the value at the same time and the best way to do this is by pooling SPS:DEC for double points. To prevent impermanent losses he REMOVES the liquidity every time as soon as he gets his SPS airdrop and repeats the process in the morning of adding the liquidity plus the newly earned SPS tokens to compound this effect.
Eventually Bob decides he wants to take profits and that's fine because all of his tokens, both SPS and DEC, are fully liquid and ready to sell because he didn't stake anything yet! If he changes his mind he can easily go and stake those SPS for VOUCHER tokens and more SPS too.
What is your Splinterlands airdrop strategy and why? Please leave a comment down below and let us know :)
I am not a financial advisor and this is not financial advice. This material is for informational and educational purposes only
---
---