What can we make of HIVE-ENGINE during these times?
HIVE is staying strong, it still has not pulled back to my buys, even with the drop yesterday, the low HBD price kept the internal market strong and now HIVE is bullish again. I am really starting to perceive that there are some actors that want to accumulate HIVE, even at these prices.
But what does this mean for our favorite Hive-Engine projects?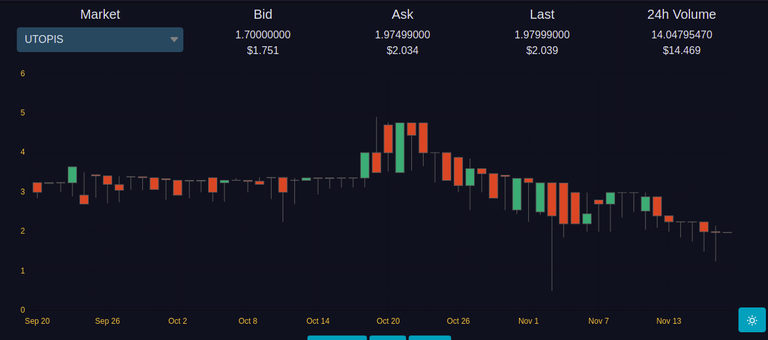 Here is UTOPIS, which unless @chronocryto rugs - something he has personally assured me he will not do - is an absolute steal right now. I have listed some buys for 1.7, let's see if I get 'lucky'.
I use 'lucky' in quotes since the luckiest people are usually the most prepared to be smart when everyone else is fearfully running for the exits.
But my stash of SWAP.HIVE is getting low, where did I get the cash to put in some low buys?
I sold some VOUCHER

Could VOUCHER moon from here? Its likely that it does go up, there are just 5 days left of the presale and new VOUCHERs are out of print for the time being. But the HIVE pump is a contravaling force against a huge moon here, as most people are calculating this 'price of a pack' against later packs to be sold for 4 dollars each.
Also, as is always true when we trade in SWAP.HIVE, price is relative. If I manage to get some half price UTOPIS, it is the same as if I sold the VOUCHERs for double and got in on UTOPIS at the normal price.
This is how we must think when we are trading in SWAP.HIVE.
ARCHONM

I bought another 5 ARCHONM at 26, and at these prices I might have to scrounge up some more SWAP.HIVE. I have pending on my to-do a complete breakdown of the ARCHON tribe and how to analyze it, but for now its probably enough to say that I find the tribe extremely undervalued. There are only 1000 ARCHONM miner in existence, and the first miners were originally launched at 20 hive each, so if you manage to buy some at this price (or lower), you are basically getting (re)launch prices for a tribe that has made many great developments since then.
The miners and ARCHON tokens are probably squeezing extra hard because tribe founder @taskmanager hasn't made any posts in a while, but the tribe is still alive (@archonapp), the automation is still working (especially @archon-mining), and we have seen taskmanager in discord DM to set up new supported community automation (shout out to the Feel Good Community and @barbara-orenya!)
BRO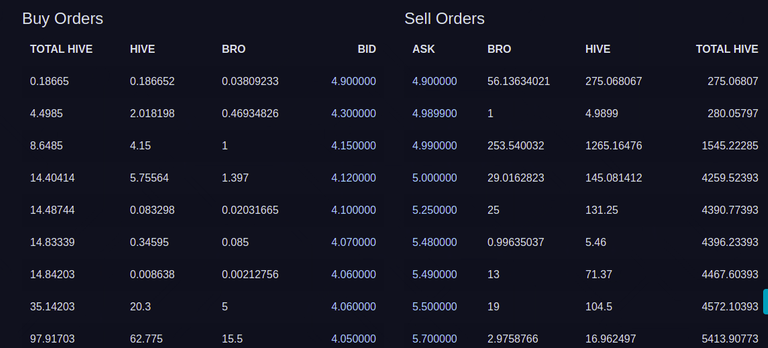 BRO token is an interesting bag, I also consider it to be greatly undervalued at these prices. First, there are only 69 thousand BRO tokens in existence, and its backed by a big portfolio of major names including Splinterlands, Axie, LeoFinance and others.
The second thing is that the DRAGON status, and role on discord, basically gives you access directly to all the other dragons, including major names on HIVE (like me! 😅). Its a powerful network of HIVE players, and is forming into something of a Mastermind Group.
The icing on the roi cake for BRO is the upvotes. For each 10 BRO you hold you will be getting a 1% upvote from @brofund account and the opportunity to be curated by the brofund tribe accounts. BROFUND holds major bags in almost every tribe.
Right now there about 800 for sale at 5 hive or less, which if you remember was the final presale price for BRO. Its a (re)launch opportunity for those of you who are keen to take it.
Where can I get more SWAP.HIVE in a time like this?
I have a sweet answer for all of you, remember that fund member MPATH is winding down its program.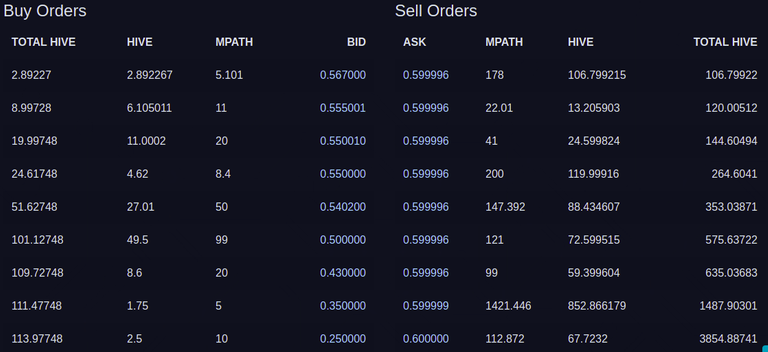 The @mpath program has vowed to continue buybacks at the 0.6 level, we see some gunning for lowest place here, but the weekly buy backs have been coming in and you too can list your long held MPATH tokens at 0.6 or below and get SWAP.HIVE back.
I originally bought these at 0.5, so the overall return on price was about 20%, but don't forget that the program has been paying out additional divs in more MPATH tokens, so I cannot be sure the total payout but I am immensely pleased by this project, remember I was getting votes for holding these tokens all along as well!
Remember to get positioned for the BXT launch
We also have to consider how to move funds to mine BXT token, the market price is a little hot for me to buy in more right now, but there are a lot of options for earning these tokens, which will earn perpetual fees on the SWAP.HIVE:HIVE gateway.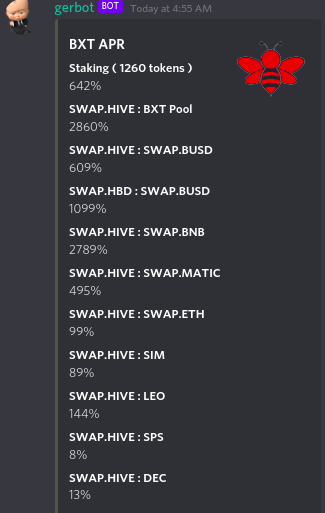 SWAP.HIVE:SWAP.BNB looks like a very promising pool, we will probably see that fill up with liqudity, as well as the interesting stable pool of SWAP.HBD:SWAP:BUSD. I am liking the 89% apr for swap.hive:SIM, and the LEO pool might even get a bit more liquidity soaked up here as well.
Splinterlands' liquidity providing economy looks to benefit as well.
The staking fee apr is clocked at 642%, this hasn't launched yet but its a gauge of how it could look. This is paid in liquid HIVE. This number is with only 1260 staked, remember that after the first month, there will be 20,000 in existence, with ~3k mined per month after that.
The resistance to staking will come from the SWAP.HIVE:BXT pool (2860% apr!), which will be mining 20% of the new inflation of BXT. Also remember that there will be some corporate selling of 4000 BXT tokens over this first month into the pool. There are 3828 to go.

These are exciting times, make sure to position yourself smartly, take small but calculated risks and try to have fun with your magic internet tokens!
Freedom and Friendship!
---
---