Personal Splinterlands update - Renting up a storm!
Sitting pretty with Splinterlands - you'll remember from my last update that I decided to spend a few hours to rent out my cards while I am busy with other things. The results?
Excellent!

You too can check out your deck and rental stats at peakmonsters.com/@username - here's a tip, you can see anybody elses cards as well but putting in their username.
We are mid season now, and to be getting 3966 dec per day I think is really good, there is some slack there to get close to max nearer to end season, I checked with 3 days left and I was getting 4200!
I have been targeting >30% roi on the rental cards, and so as long as I stay above this number on the early season, I am sitting pretty for late season.
Now the price of DEC has fallen a bit....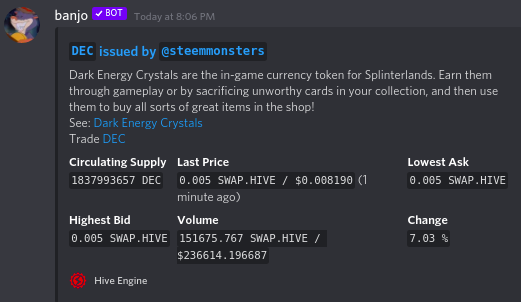 8/10ths of a cent instead of a penny, well I suppose the whole market is down.... this could also be related to the airdrop going down every day, meaning the value of holding dec each additional day is going down. We are more than a third of the way through the airdrop now.

I am keeping some dec in the dec:sps liquidity pools, I want to keep some SPS on hand to buy $4 dollar packs at a discount when they become available without VOUCHER tokens (which should start airdroping again on the 8th of December!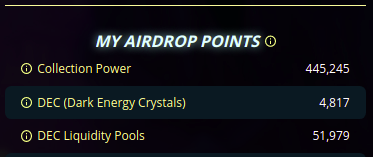 I'm bringing in about 60 SPS per day, currently worth ~18 dollars. This is mostly from the airdrop and very little from SPS staking, which I believe is programmed to last much longer, like 5 years... so I will probably want to build up my staked SPS at some time throughout this process as well.
As the airdrop goes on, the DEC:SPS ration should go down, as DEC is related to SPS through the airdrop, but less as much every day.
This means that as this ratio falls, you end up with more DEC in the pool, which gets more SPS (for now). We will see how this works out over time and with other used for DEC (such as upgrading land), but I'm thinking I will want to switch out of the liquidity pools and into staked SPS after about another 1/3 of the airdrop goes by, 3 or 4 months from now.
Oh and
Season Reward cards!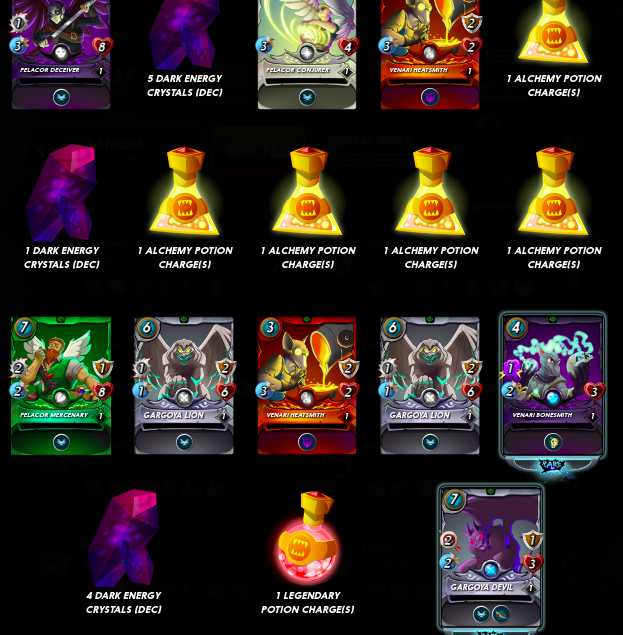 Not a particularily great season drop, but one that I am happy about because I remembered to *win at least one battle before renting out my cards the last season, which means I got silver 2 season rewards. This season I am down in bronze league, and I am interested in seeing how much worse the season rewards will be as, you guessed it, I plan to battle once more (just once that is) this season.
The passive income is rolling in....
XCHAOS BULK Pricing!
I wrote a post about buying some XCHAOS, and then they put it on sale!

4.50 cent pack derivatives with DEC drip! Of course the actual chaos packs drip SPS (300 airdrop points each). I might get some chaos, but one thing I am doing is taking advantage of any hive pumps to get into XCHAOS at a steep discount. I might be able to save up enough for 1500 more before XCHAOS sales close on the 20th of December. After that they will continue trading on the HIVE engine market of course.
All in all, I am happy with where I am sitting in Splinterlands, having sold off various pumps over the last 6 months, I don't mind buying back some packs and pack-like derivative tokens.
What do you think of my current Splinterlands Strategy? I'm not even playing the game!
Freedom and Friendship
---
---