Mein Hiveblog- Kunstwerk meines Sohnes // My hiveblog- my son's artwork (DEU/ENG)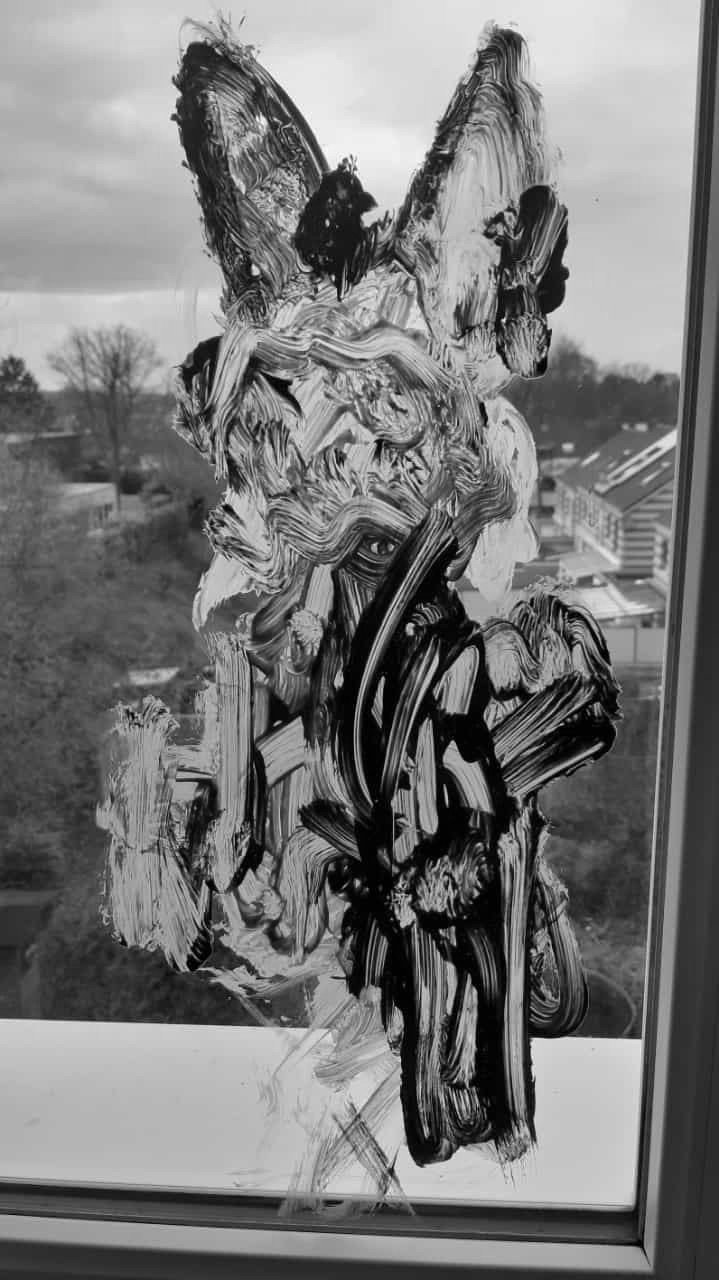 Hallo liebe Fotofreunde,
heute möchte ich Euch ein kreatives Leben meines Sohnes zeigen, letztes Wochenende kam meine Frau auf die Idee, sein Zimmerfenster mit ihm gemeinsam zu bemalen. Sie wollten eine kleine Osterlandschaft auf das Fenster zaubern, wobei sich mein Kleiner frei entfalten können sollte. Er bekam dann das kleine Fenster und etwas Fingerfarbe in ein paar Schälchen und sollte versuchen, einen Osterhasen zu malen.
Hello dear photo friends,
today I would like to show you a creative life of my son, last weekend my wife came up with the idea to paint his room window together with him.
They wanted to conjure up a small Easter landscape on the window, where my little one should be able to develop freely.
He then got the small window and some finger paint in a few small bowls and should try to paint an Easter bunny.

Meine Frau erzählte mir dann abends, dass er nach einiger Zeit schrie, er sei fertig! Meine Frau war gerade im Bad um einige Pinsel zu reinigen, als sie dann zu ihm ging, sollte sie sein Kunstwerk bewundern.
My wife then told me in the evening that after some time he screamed that he was done! My wife was just in the bathroom to clean some brushes, then when she went to him she was to admire his work of art.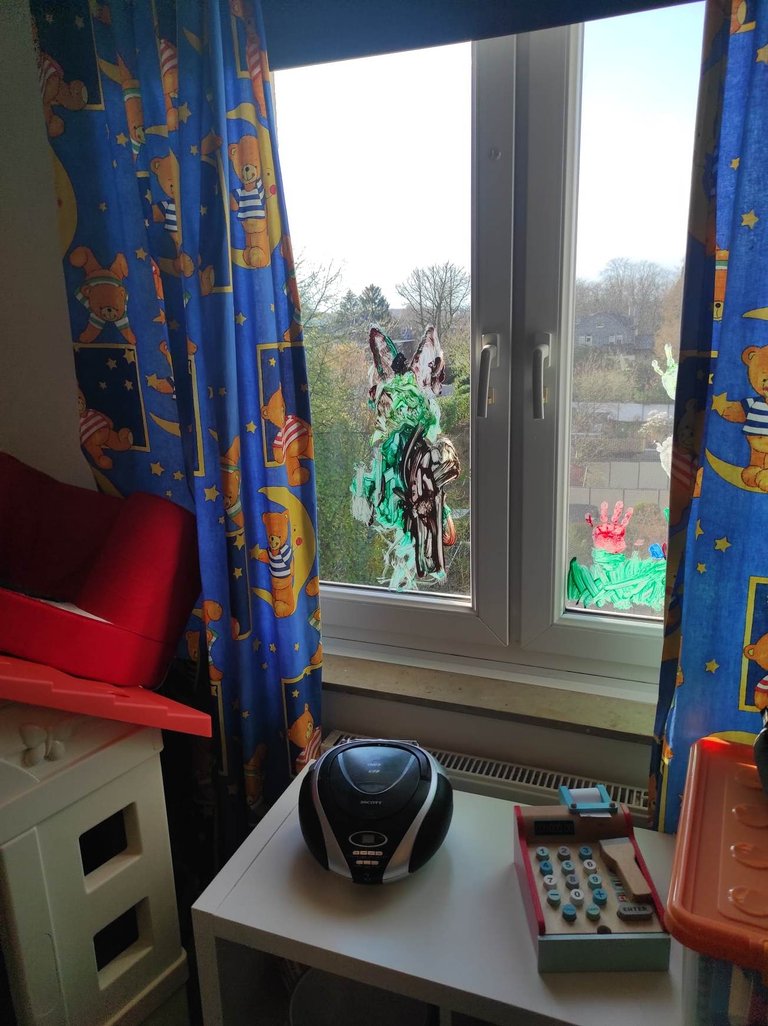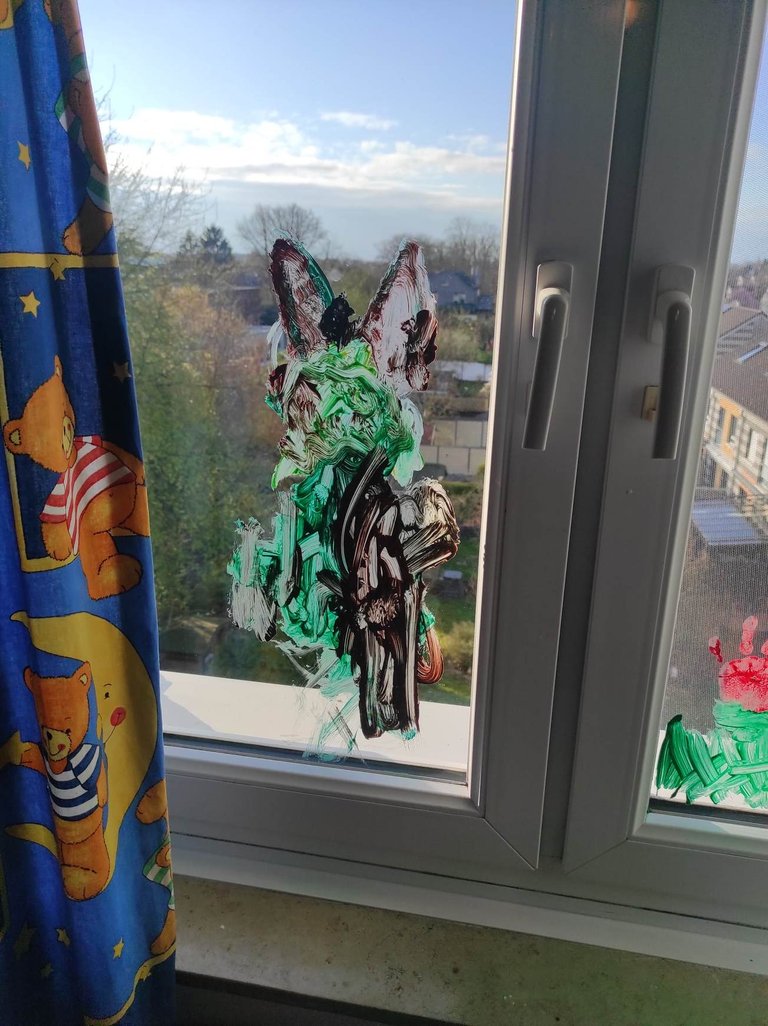 Als ich abends von der Arbeit kam, waren beide schon im Rahmen und haben auf mich gewartet, mein Sohn wollte nicht ins Bett gehen, bevor er mir sein gemaltes Kaninchen gezeigt hat.
Ich sagte, dass schon leichte Ansätze vorhanden sind, ich selbst habe schon so etwas wie Hasenohren gesehen, aber, vielleicht spricht da nur der Papa aus mir!
When I came from work in
the evening, both were already
in the frame waiting for me,
my son did not want to go to bed before showing me his painted rabbit.
I said that there are already slight approaches, I myself have already seen something like rabbit ears, but, maybe there just the dad speaks out of me!

Das Lustige an dem Bild ist aber erst später aufgefallen. Als wir Besuch hatten und mein Sohn ihnen auch das Bild gezeigt hat, kam mein Bruder und sagte, ob wir das Auge nicht gesehen hatten?
The funny thing about the picture, however, only occurred later. When we had visitors and my son also showed them the picture, my brother came and said if we had not seen the eye?
---
Wir fragten ihn nur welches Auge und er zeigte auf das gemalte Bild und ich fragte nur, ob er zu viel getrunken hat 😂.
Aber als er es uns genauer zeigte, sahen wir es auch. Durch das rumgeschmiere und tatschen ist irgendwie unbewusst dieses Auge im Hasen entstanden, was ich dann wiederum sehr geil fand.
We just asked him which eye and he pointed to the painted picture and I just asked if he drank too much 😂.
But when he showed it to us more closely, we saw it too. Through the rumgeschmiere and groping is somehow unconsciously this eye in the rabbit emerged, which I then again found very horny.

Aber entscheidet selbst, habt ihr es oben direkt im ersten Bild direkt gesehen oder nur in der Großaufnahme?
But decide for yourself, have you seen it above directly in the first picture or only in the close-up?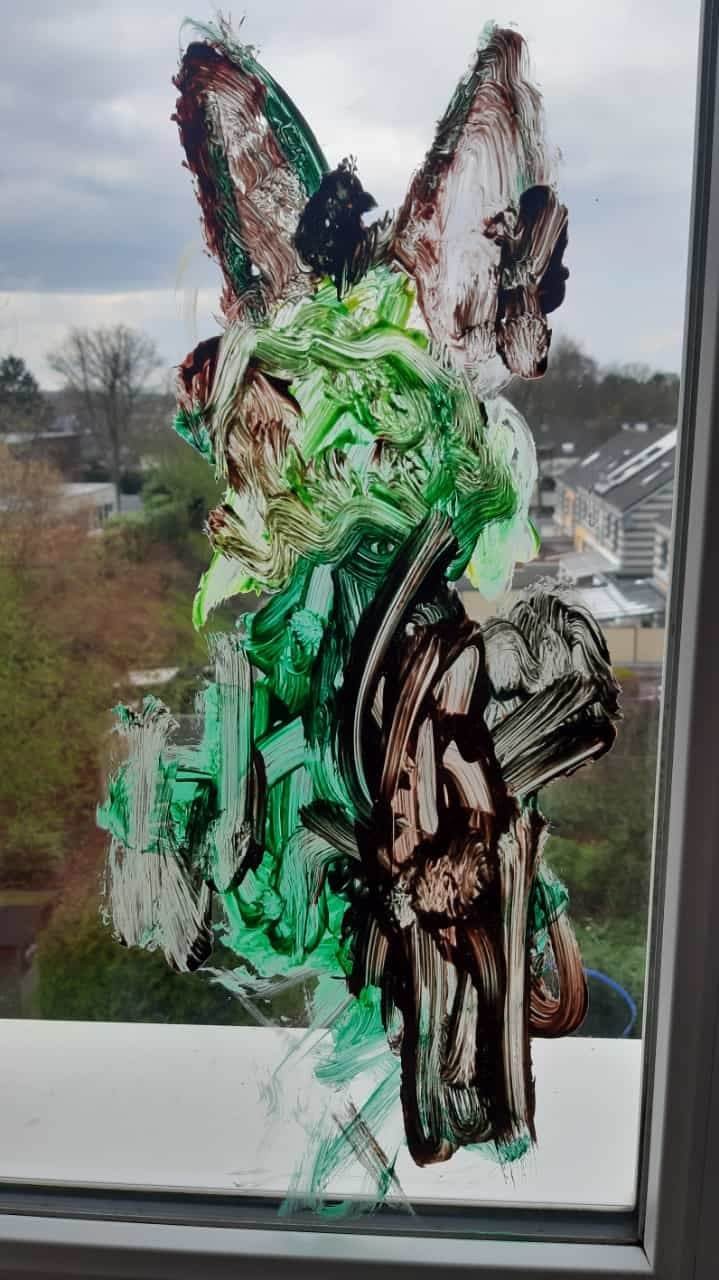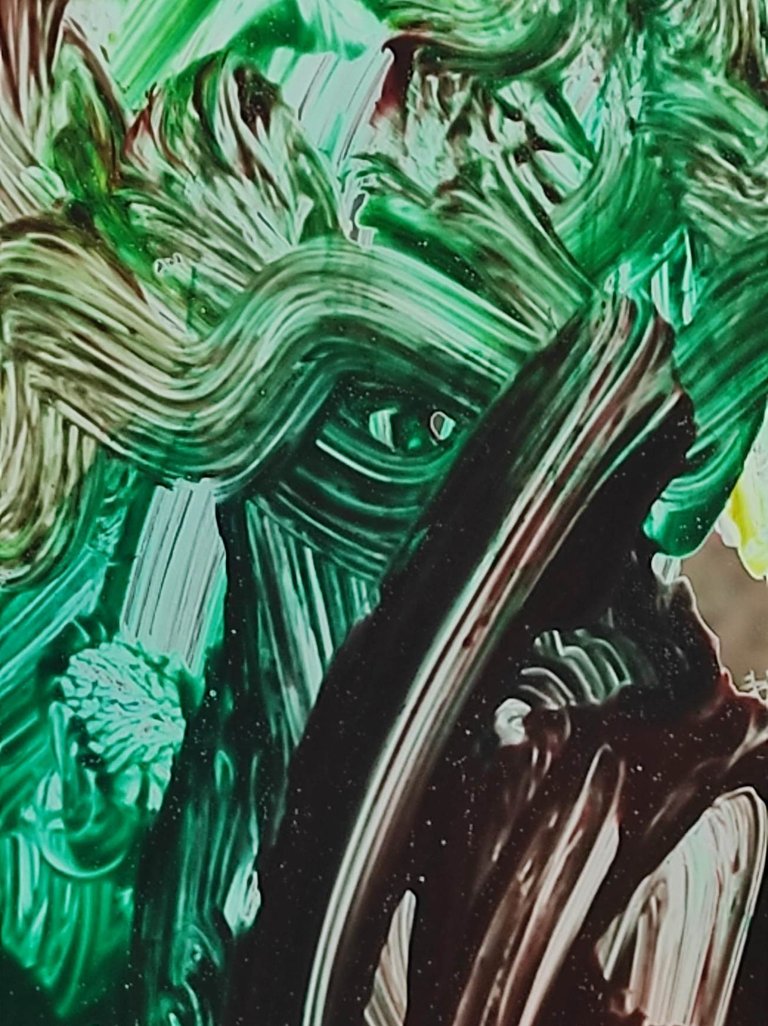 ---
---