Asean Hive community week #33 Challenge, Insect Life
Thank you @justinparke for this new and exciting challenge.
My first insect is this thorny-spiky-looking caterpillar☺️. I planted some water cabbage on a broken jar container and saw that the leaves have a lot of holes and some have been almost eaten out. The other day while I was watering our plants I saw the culprit, haha! Gotcha! Guilty as charged🕵️🧐. This one I caught while it was happily feasting on the leaves. I see that it was having the time of his life because look at how fat he is... Haha. I was mad but then I know it will soon become a pretty butterfly so I just let him have his eat-all-you can buffet!😄😄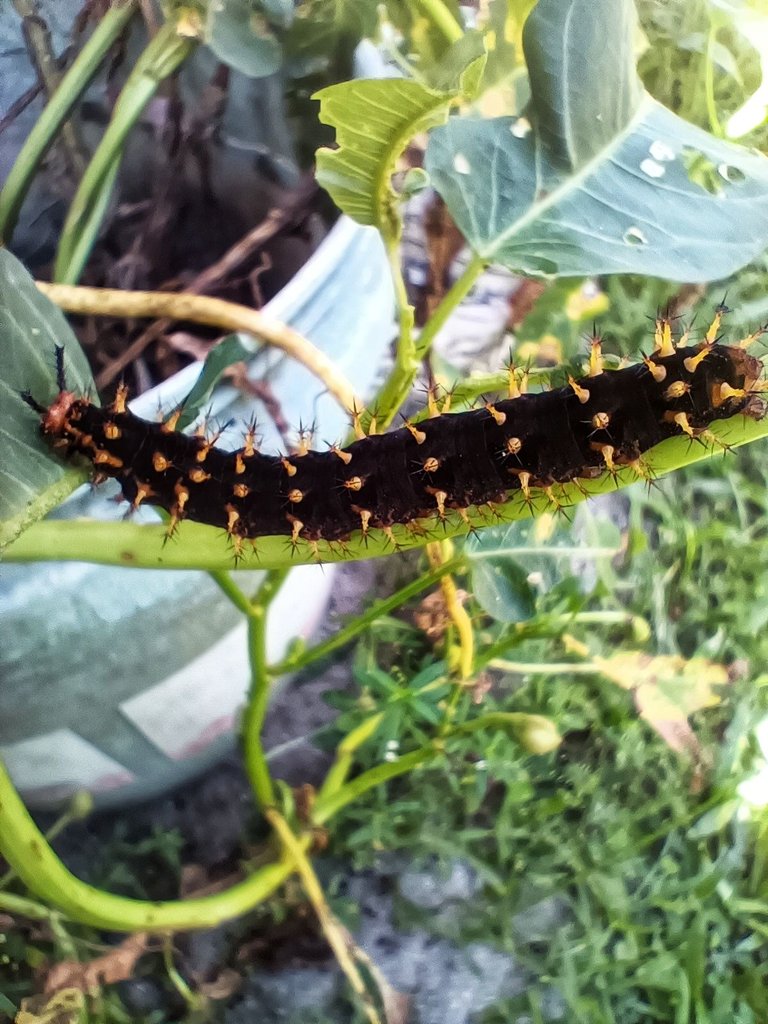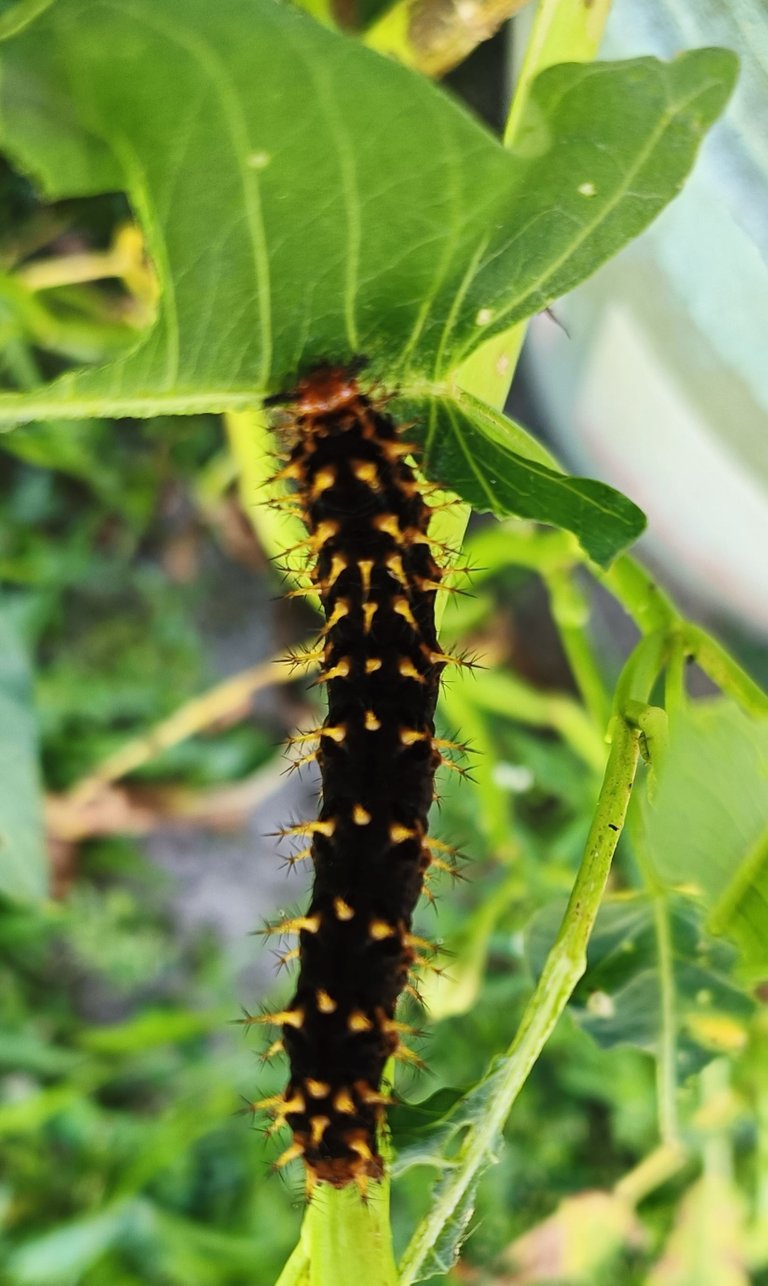 My next find is this big praying mantis. Look at how huge its front legs are. I just love looking at this insect because they are so prayerful and when I see them I feel like they are praying for me... Haha. They look scary but in reality they are harmless to humans.
If you get bitten though no worries just wash your hands for they are nonvenomous insect.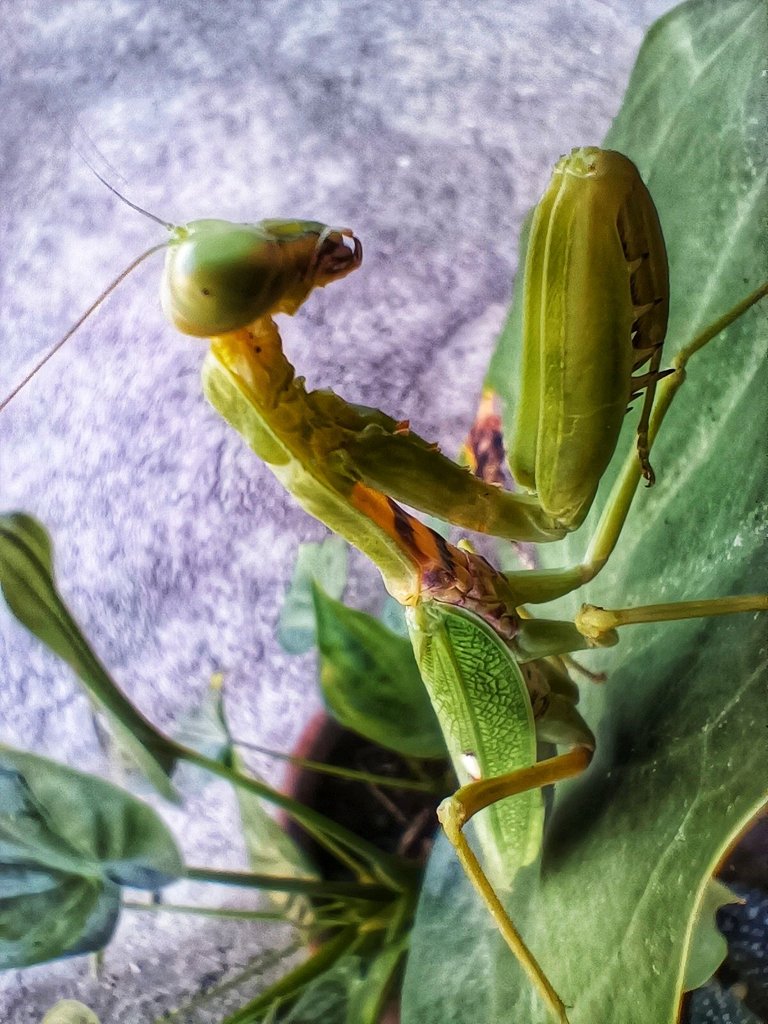 See?! It looks like it wants to devour me. This snap reminded me of those alien movies which I think they usually use the mantis as their model in creating a very horrific alien. I guess that's why a lot of kids and even adults are afraid of this very docile living thing. When fact they can be a very good beginner pet if you wish to have an insect pet because they will happily walk from hand to hand. Tsk tsk movies are giving us bad imprints that's why when I was young, I too was so afraid of them, even had nightmares of me being chased and hunted by them 😱😱😁
What do you think is he thinking of??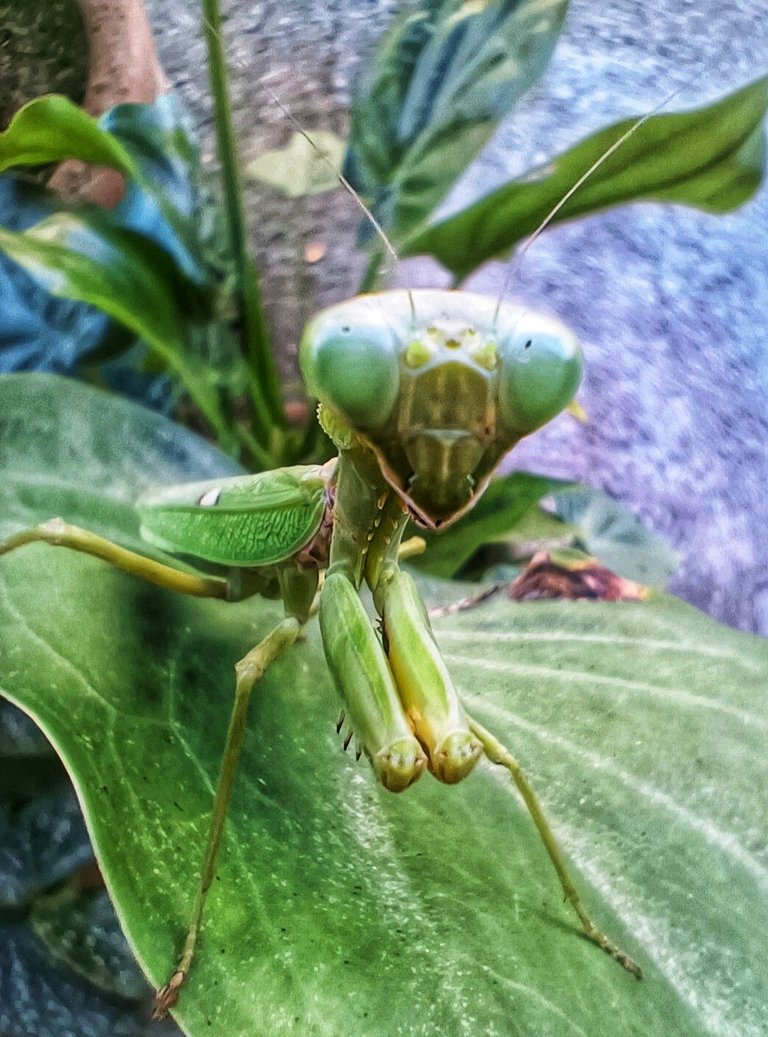 In our front yard we have a big Talisay tree or an Indian Fig tree. Ants love to make this tree their home because of it's huge leaves where they can wove their nests on it. One time while I was sweeping our front yard, by the curb I saw these army of big red ants helping out each other carry their victim, a moth. There were three groups of different categories. These are the first one, the hunters, I suppose because they were hunting this poor moth.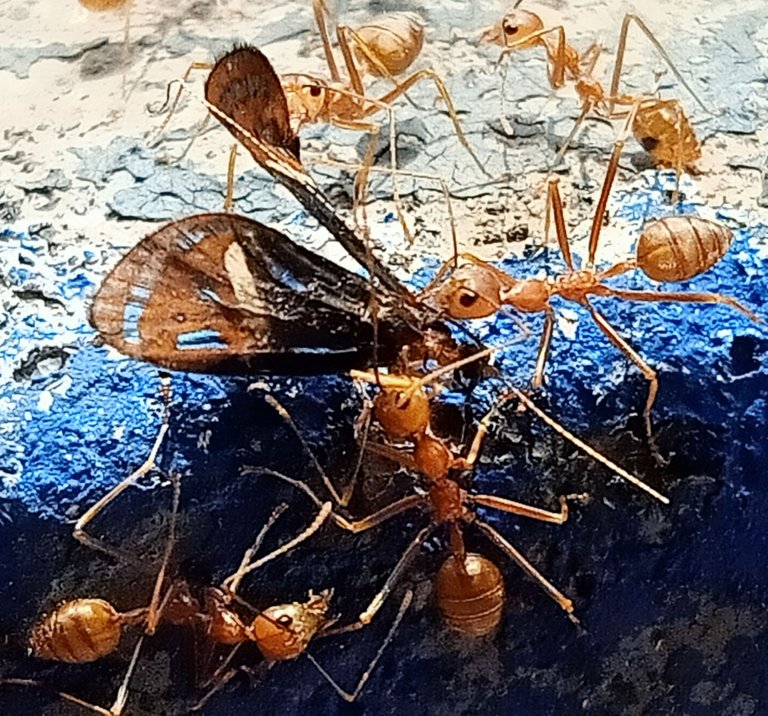 While on the other side of the curb near the gate. I saw these second group wherein it looked like they were just talking about what's the latest in Ellen DeGeneres Show. A lot of Maritess's or asking about the latest gossip's and scoop.
I thought only our neighbors are the ones gossiping, I guess gossip's really do come around even in the insect kingdom..haha.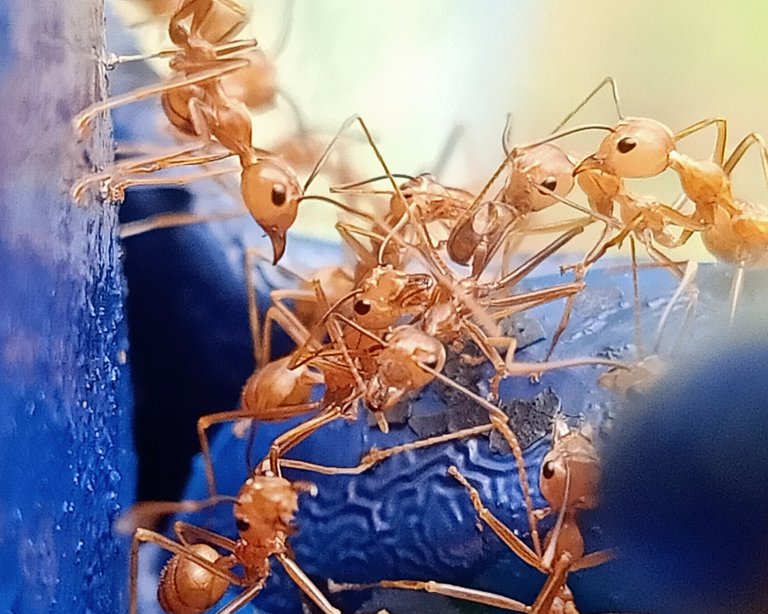 This third group are the warriors I guess because when I go near them, look at how ready they are to attack me!! See their butts pointing upwards and ready to charge! I was testing and teasing them. I tried moving the leaf where they were standing and they got angry and was really attacking me, my hand. This right here was when I stopped touching the leaf because I need to take out my phone so I can take a selfie of them,looking mad and furious! See those eyes!😁😁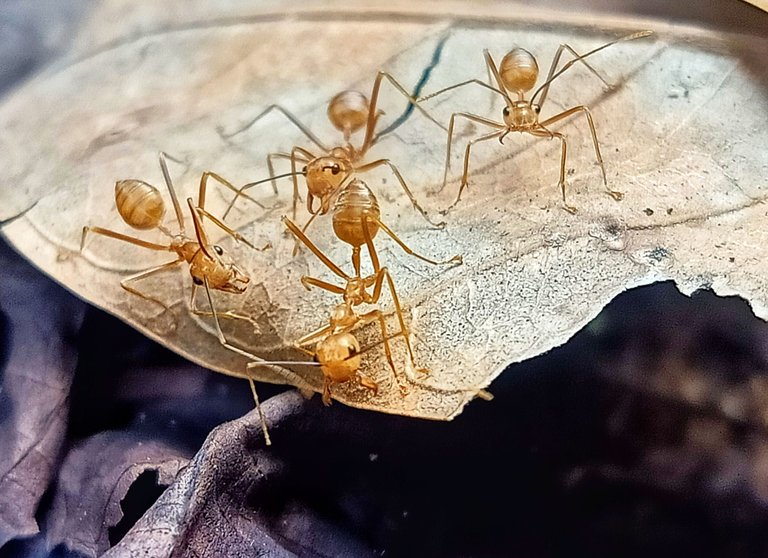 My next find were these black ants. I saw them when we were doing some grass cutting at out mango orchard. These are huge black ants but they don't bite. They don't even mind I was there in fact they were so scared I might do something like harm them that they carried their eggs with them.
At first when I saw them, I thought our boys were giving them some bread crumbs because they were carrying something. Upon my investigation out of curiosity I saw that it wasn't bread they were carrying. I even called my husband just to ask him what were they bringing with them because there were like eight of them running around holding something. Then hubby told me it's their egg! Haha, silly me, I am in my mid-forty's and doesn't even know.🤔😁
Well, I've never really seen one like this my entire life, this is a first for me. I learned something new that day.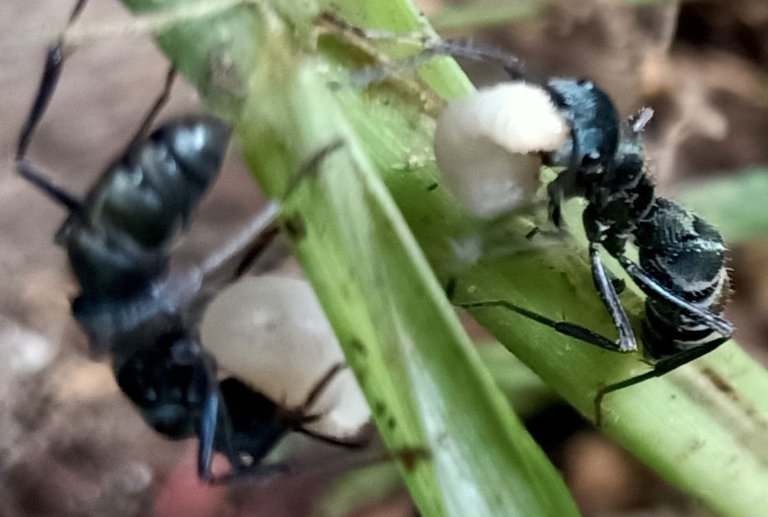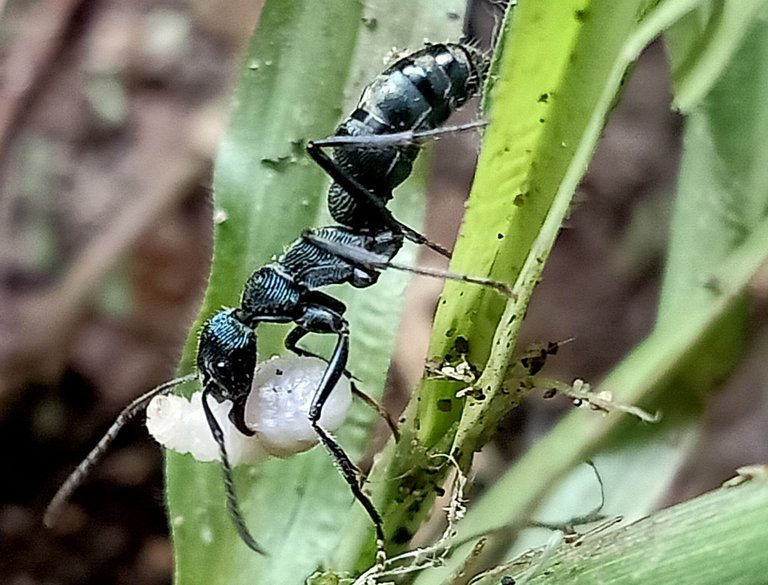 My next find was this beautiful bee. I think he is a king or of a noble blood because he looks like royalty to me😄. Not a common bee, again my first time seeing this kind of bee.
I saw this when our boys were cutting off by chain saw the fallen cashew tree from our orchard. I think he felt displaced because he wants to go inside the tree trunk again but could not find the doorway to their kingdom, maybe?!🤔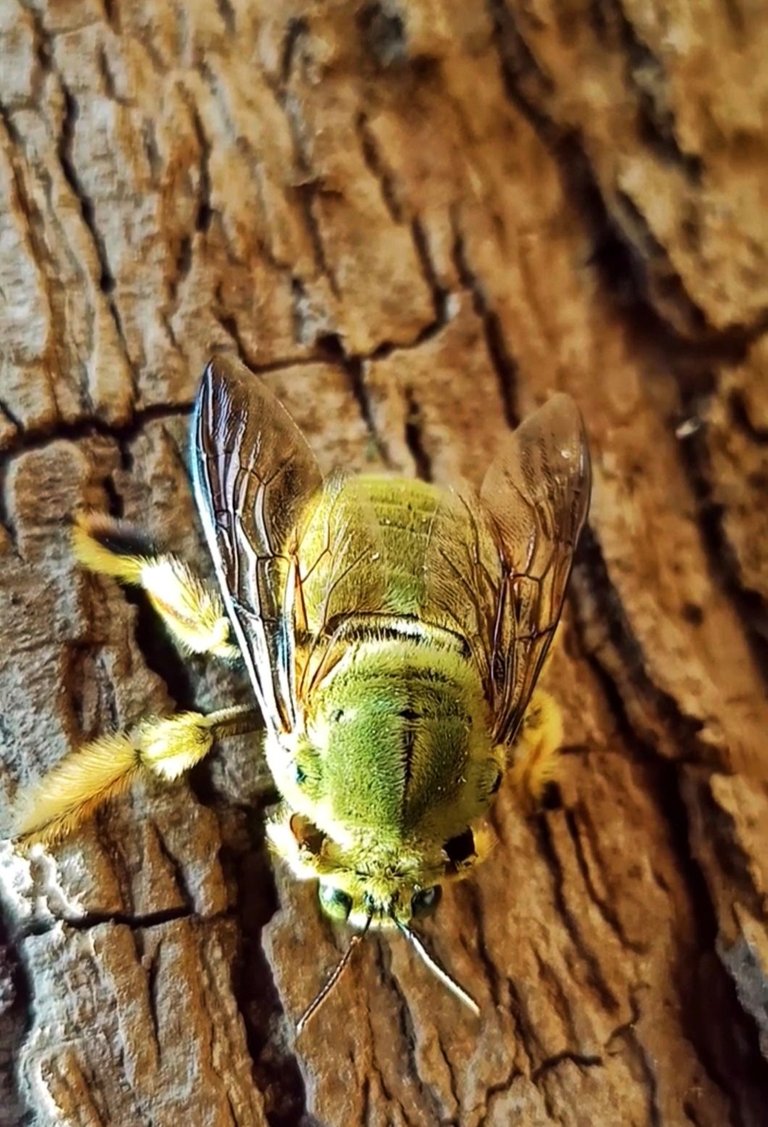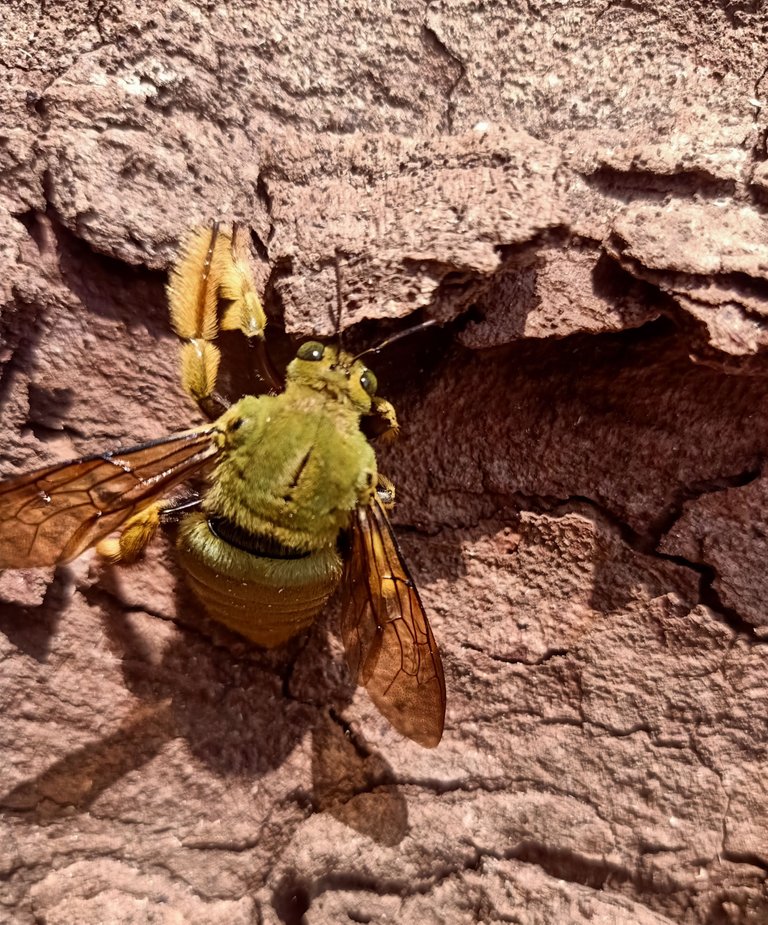 The dreaded one that I saw was this very hairy and huge caterpillar which is really very itchy. I was glad that it did not fell on us while clearing up the branches of the fallen cashew tree.
This one is so hairy and thick, man oh man it will really be very itchy.
I played with it a bit by using a long stick and made it go wherever I want it to. Haha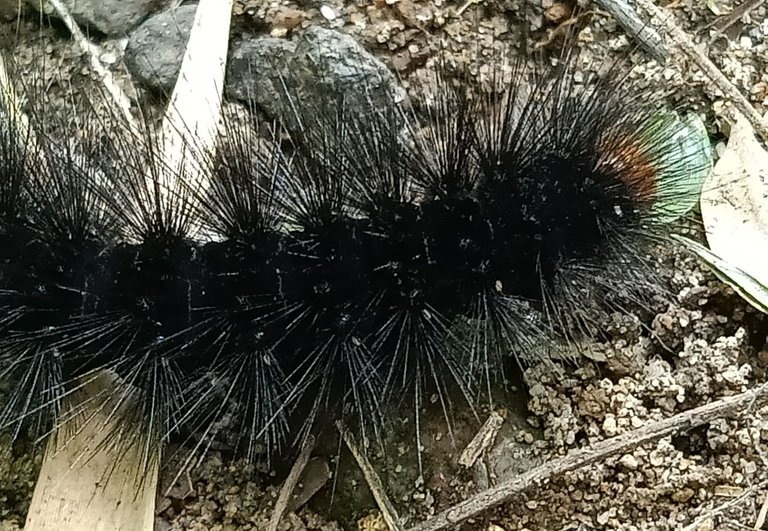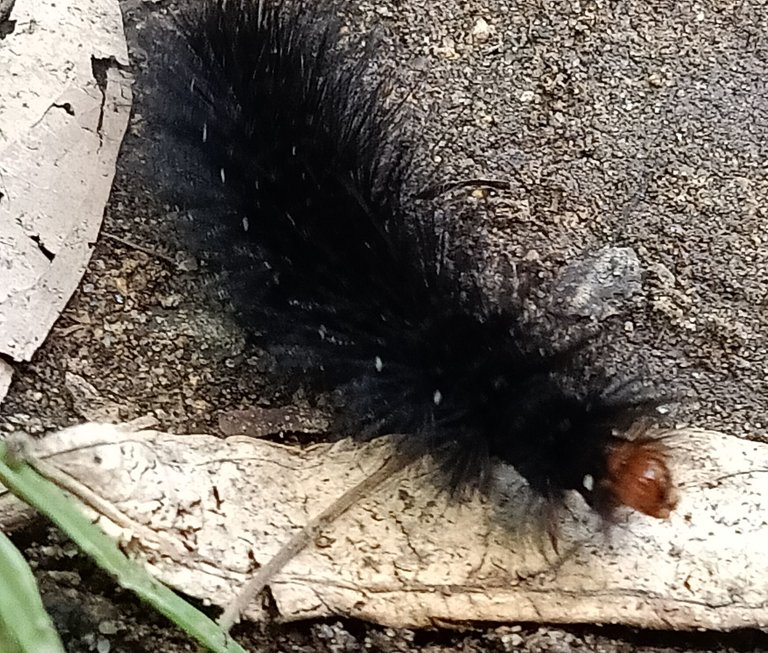 Well, enough of the thorny-spiky, alien, warrior, hairy, itchy insects.
Now let's go to the pretty and harmless insects that visited our backyard garden. Good thing they were still in my gallery so I can show some really beautiful visitors that frequented our garden before.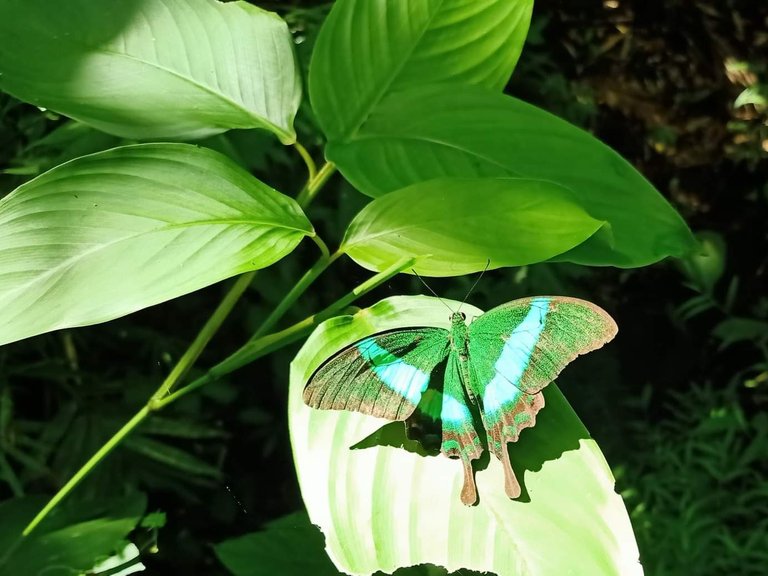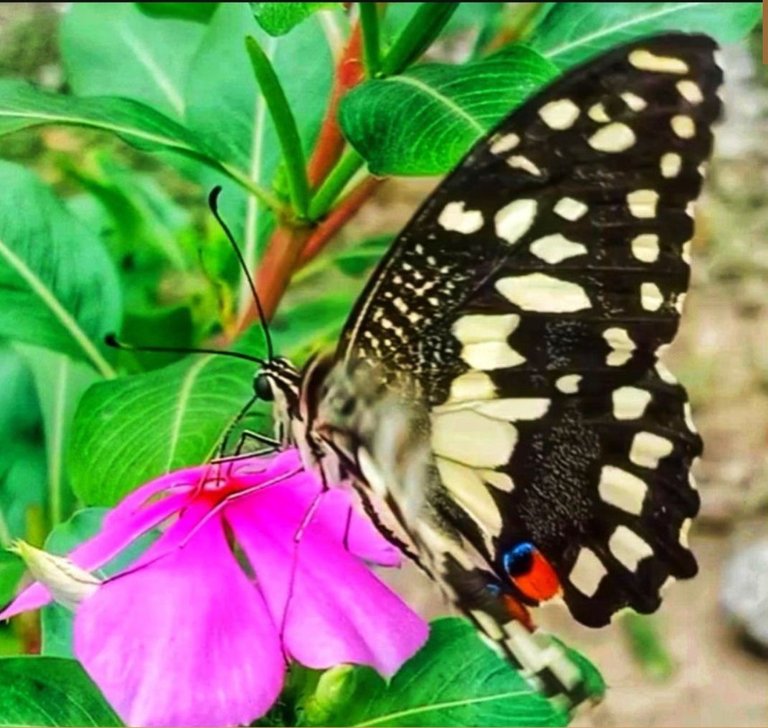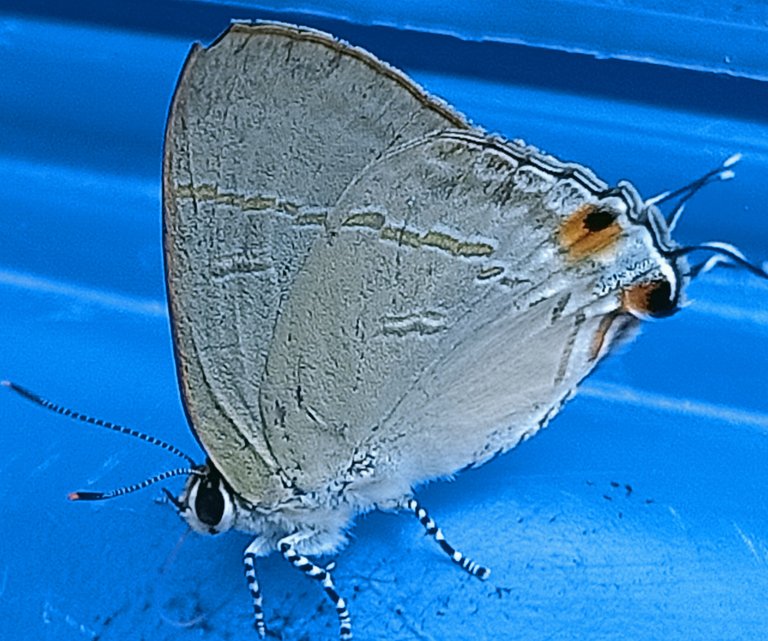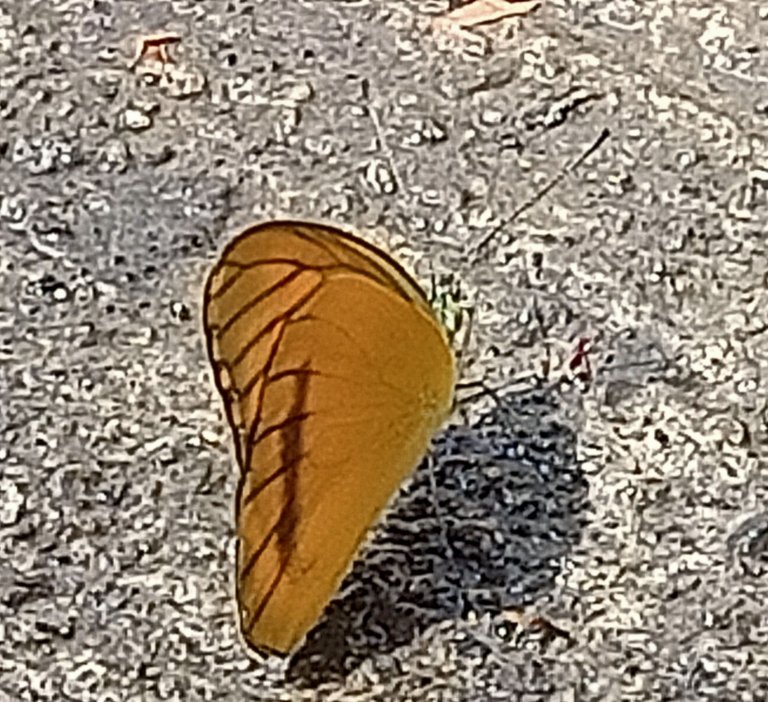 I hope you had fun looking at my insect photos while happily reading their stories. I had fun sharing them to you too.
I will be looking forward to your visits as well and would love to hear your reactions on the insects that I shared to you.
Till next challenge. Thanks for dropping by.
As always, be happy 😊
@aideleijoie
---
---