BEGINNER'S GUIDE: PART 3: MAKE BUYING, SELLING, RENTING EASIER WITH PEAKMONSTERS
😎Welcome to Beginner's Guide Part 3😎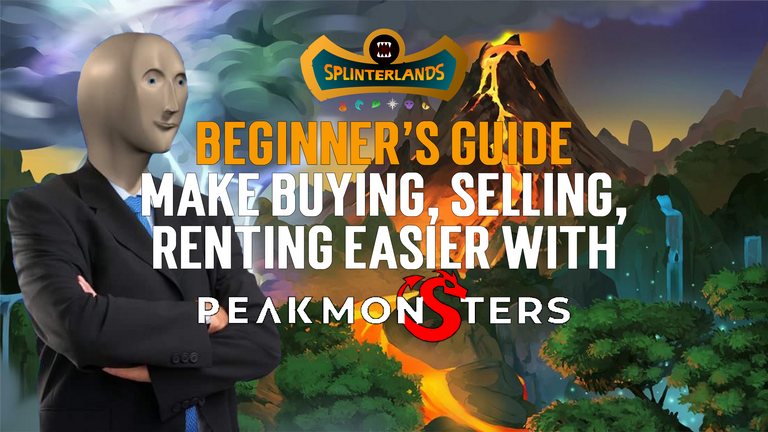 Using Splinterlands market is okay but there are lot of tools are missing like searching cards by there name that's why there are some third-party apps like Peakmonsters to make your life with ease. In this post I'll try to give you insight on how to buy, sell, rent, & rent out cards using this cool application, there are a lot of useful tools here that we can cover on my next post I can't put them all on one post because I think I need some time to make a post about that. So without further ado
LETS JUMP INTO IT!!!

HOW TO BUY CARDS
I hope you already have installed hive-keychain to your browser because you can use it to login on Peakmonsters. At first go to PeakMonsters Website and login with your account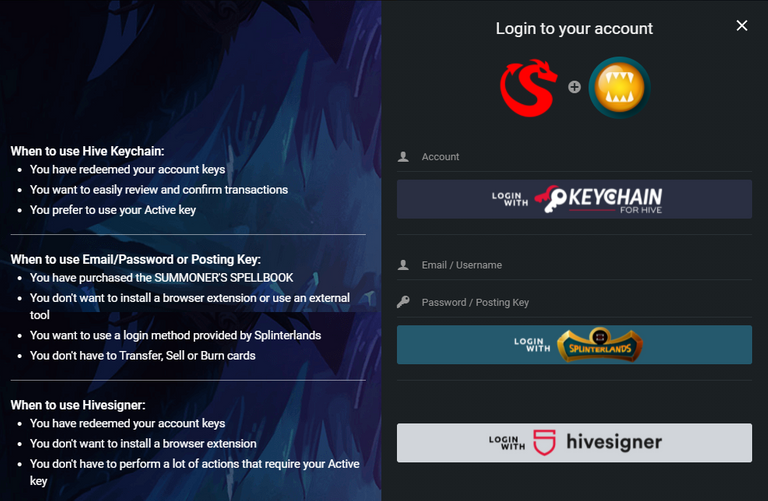 As you can see here there are 3 options to login. In my case I'm gonna use my hive-keychain (recommended) to easily login and reduce risk of your account. If you don't have hive-keychain yet please refer to my guide on how to setup your hive-keychain. After logging in you'll see a bunch of helpful tools in our case where going to buy cards so click the buy menu.


After you click the buy you'll see this interface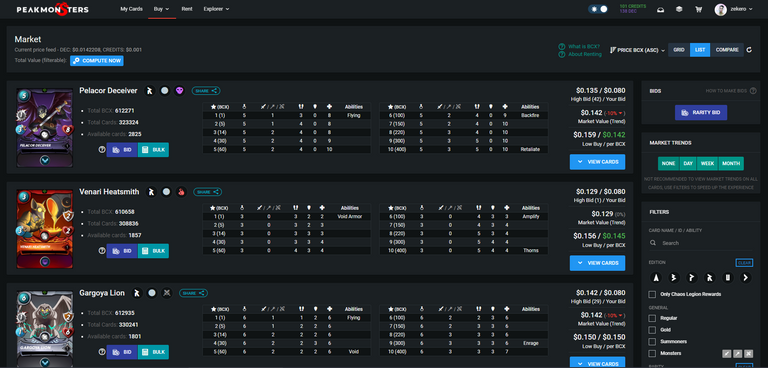 SORTING
On the top-right of this interface you'll see a sorting settings where you can choose if you want the cheapest card to expensive card (or vice versa). There are 2 types of price sorting:
PRICE BCX (BASE CARDS UNIT BY EXPERIENCE) - it means it'll show the most cheapest cards per base card experience, 1bcx are equivalent to one level cards (regular foil).
PRICE - it shows the most cheapest cards to most expensive cards regardless there level.
VIEW MODES
Grid
It will show you a compact view of cards and it won't show much details about the cards.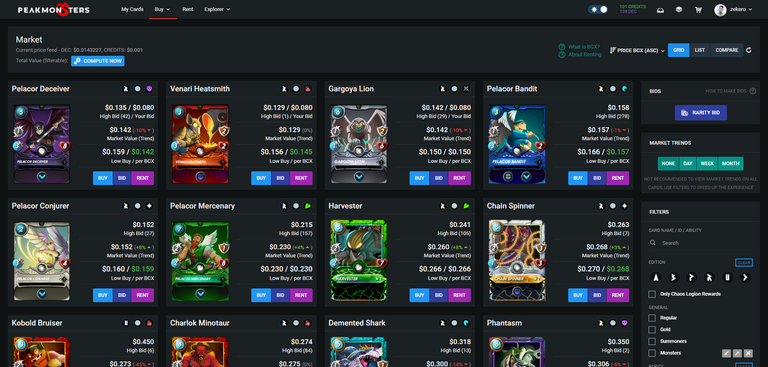 LIST
This will give you a detailed information about each cards. I recommended to use this if you're new player.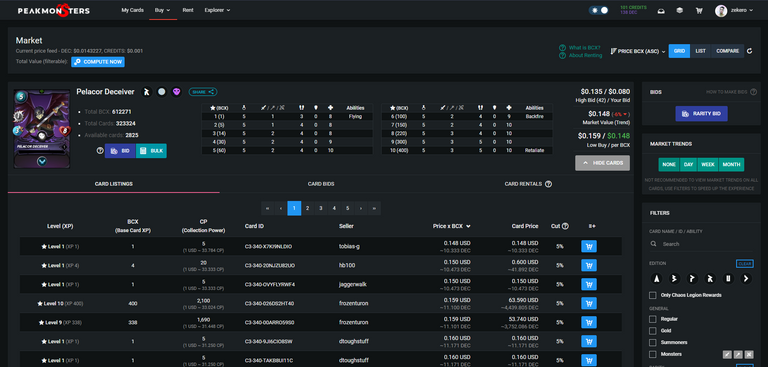 COMPARE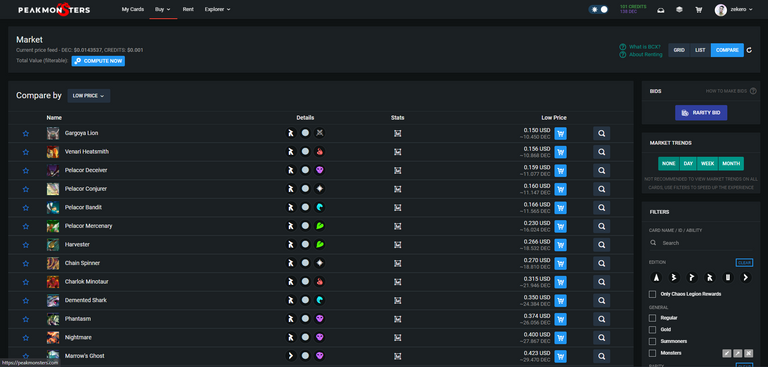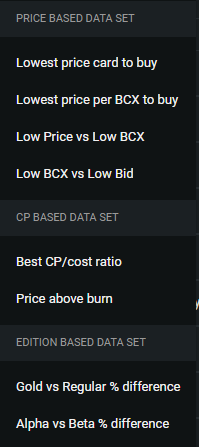 In this view mode you can compare low buy and price per bcx, low bcx and low bid etc. this is so useful when you like to spend wise rather than buying careless.
FILTERS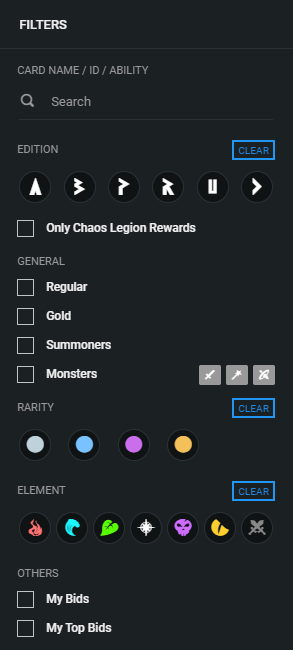 So in this area you can filters cards easily to find a specific cards. You can search by name, id , ability, edition, foil, rarity, elements and other. With this filters you can easily find the cards that you are looking for.
BUYING
So if you decided to choose what cards to buy just click the cart icon, if the cards turn to red it means you already added it to the cart, you can select multiple card.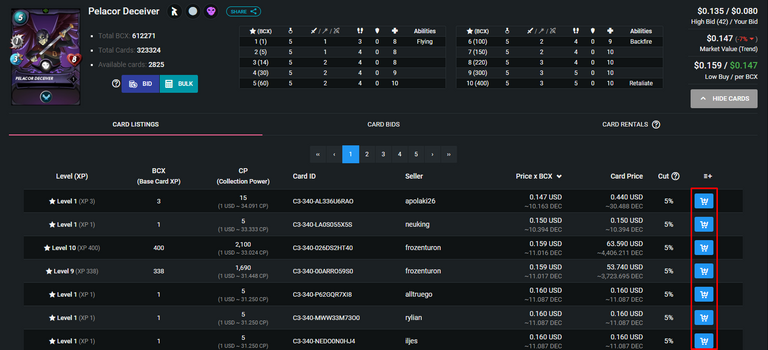 After clicking the cart you'll notice that the cart icon at the top menu will have numbers (how many cards you choose). Click this icon.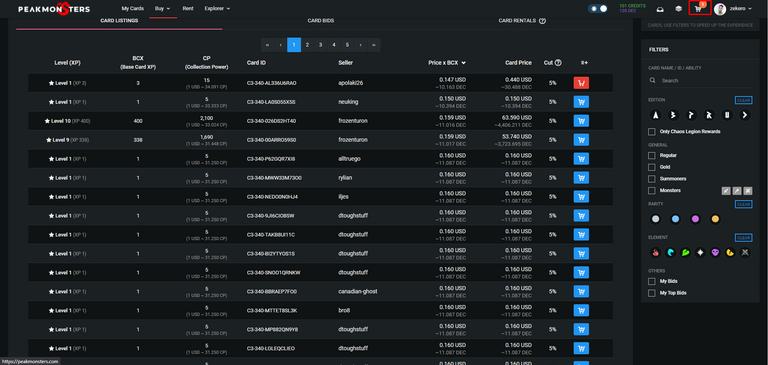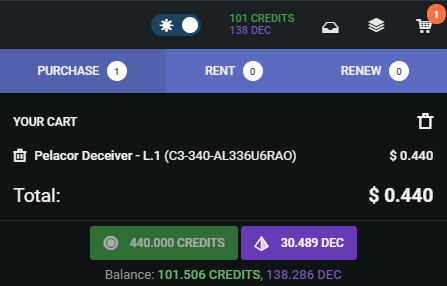 After clicking the icon you are going to see what cards goes to your cart and the total cost of that card. This pelacor deceiver cost around $0.440 because it has multiple bcx. It will show you how much DEC would it cost. Click CREDITS or DEC depending on what currency you want to pay for it.

HOW TO SELL CARDS AND RENT OUT CARDS

If you want to sell or rent out cards you just go to my cards menu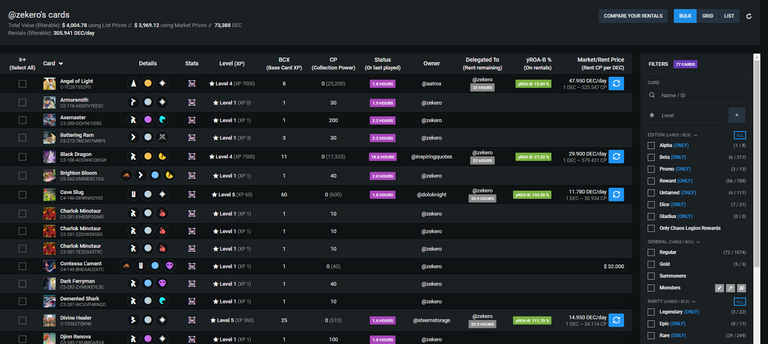 After clicking cards you'll see the cards you have (including rented cards, you can stop seeing rented cards by checking yes on the owned filter).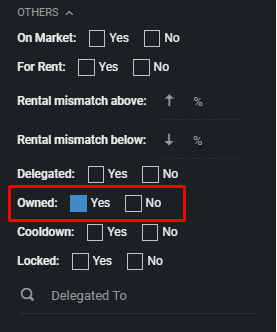 When you already decided what cards you want to sell or rent out just check the box beside this card.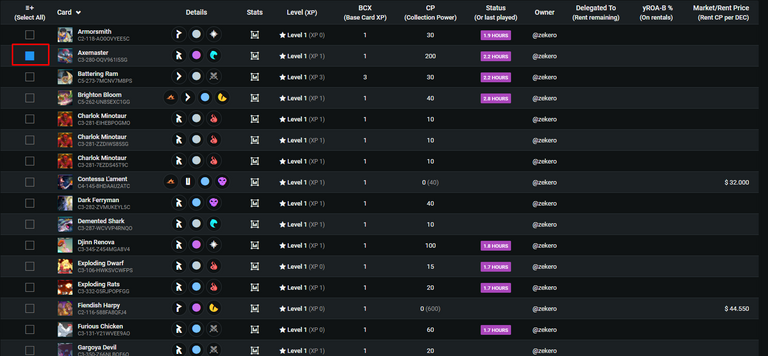 After selecting cards you want to sell or rent out this icon will tell you how many cards are selected. Click the icon.

This is what you see. It will tell you what cards are selected.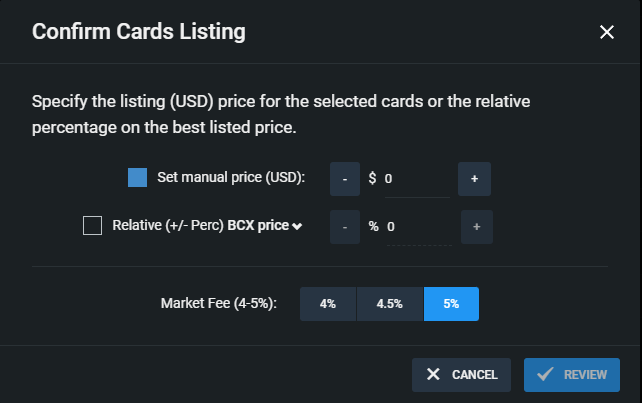 If you choose sell this will popup. You can set manual price to the cards or depend on the current price on the market (it can be BCX price or Low Buy price).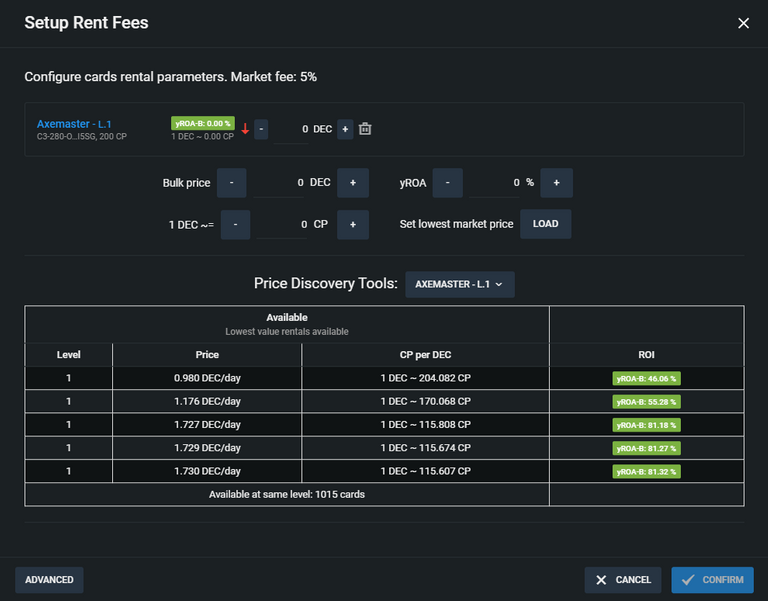 And if you want to rent it out this will popup. You can price it as bulk, yROA%, 1DEC per CP, or the easiest one is gonna be set lowest market price. At the bottom you can see how others set the price for this selected cards.

HOW TO RENT CARDS
Renting is easy with PeakMonsters! if you want to rent cards I definitely suggest to use this tool. When your at the website and want to rent just click the rent menu

You'll now see cards that are listed for renting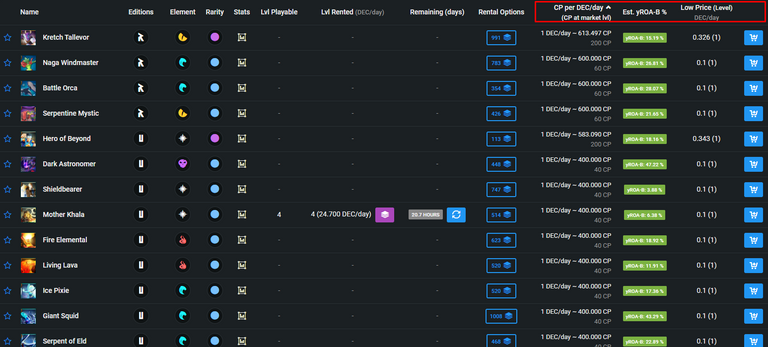 This is my favorite because if you needed power you can sort CP per DEC/DAY and get the most cp for less cost and you can also sort lowest price pretty much quick. You can add cards to favorite so you can quickly access cards that you want to rent in a daily basis. If you decided what to rent click the cart icon on the right side of the card.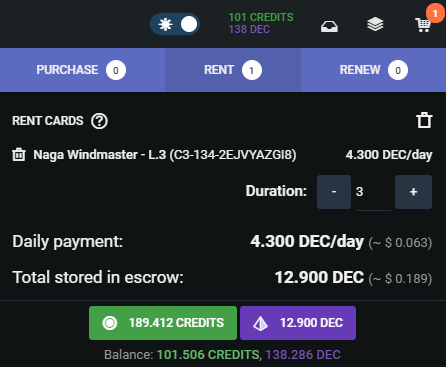 The process of renting are almost same as buying but instead of prucase you go to rent and here you can see how much would you pay for that selected card and you can also set the duration for how many days you want it to rent. You can also check how much you have time for that card in the My Cards menu.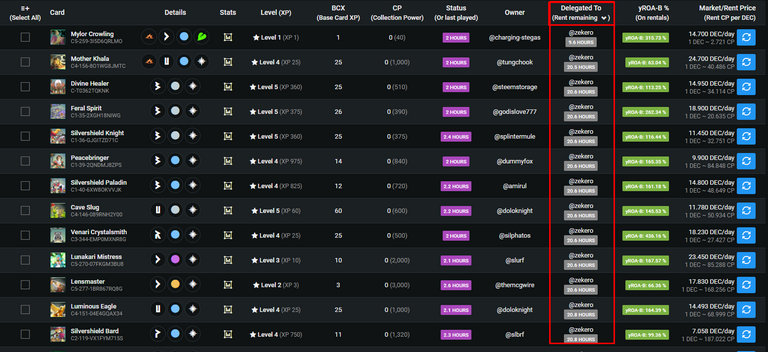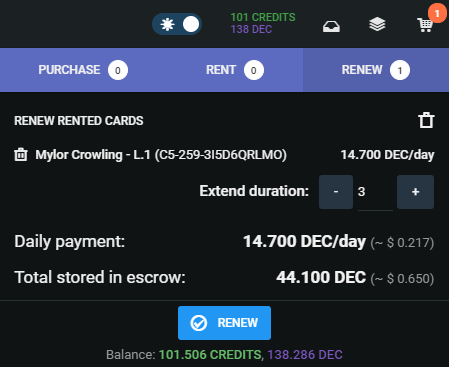 You can also extend days by clicking the refresh icon and you're going to repeat the process but instead of rent menu your going to the renew and you'll pay the same amount for that specific card. Use this if you have rented cards that are cheap.

That's all on HOW TO BUY, SELL, RENT or RENT OUT CARDS ON PEAKMONSTERS.
credits to PeakMonsters.com
divider that I use is from @flauwy thank you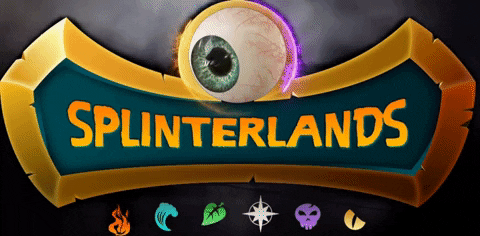 Want to try the game? why not use my link and register to the game! We can help each other grow 🤗

---
---