Reason Hive Engine is Having Issues...and More NFTs Revealed
If you've been following my posts, you know full well that I've been working really hard to get information for you guys about all the stuff that Psyber-X has been working on. Well...it looks like I hit a nerve.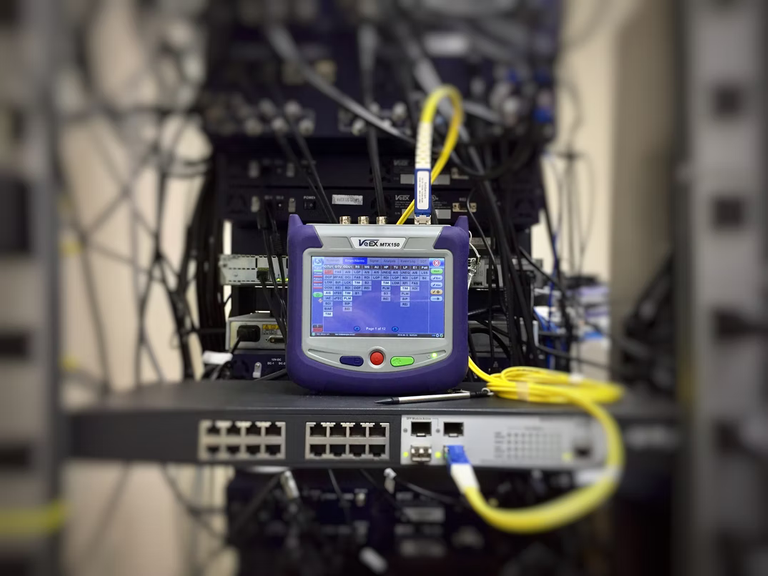 ---
I found their hidden data center. Psyber-X has been working with these guys: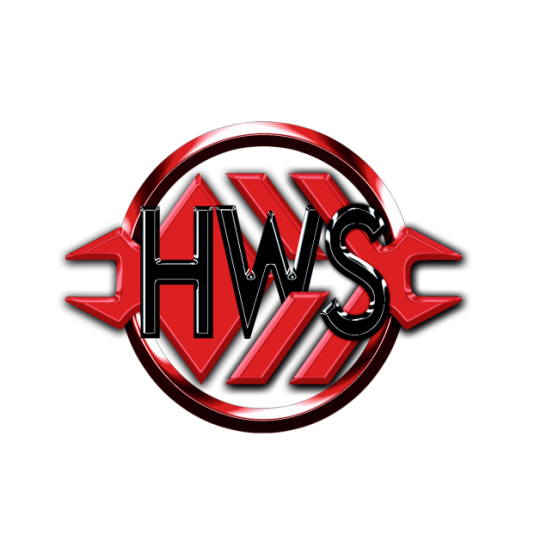 You may not have heard of them before...Hive Web Services, or HWS for short. It's some underground conglomerate from the Philippines that has just come up out of thin air. They're building their server farms, and I caught wind of it. Some of my "grounds folks" like Randy have been watching the Psyber-X headquarters for a while. When he saw a van pull up with this logo, he pinged me immediately.
Come to find out, HWS had a post on the Hive Blockchain and I was able to do a hack into the server the moment they made this post, but I thought I only had 10 minutes. Well...long story short, HWS's security is tighter than an Olympic Squatter's cheeks at full pucker. They must have been prepared for it because I got a redirect to the Hive Engine. Apparently, it's not as secure! So when I thought I was hacking HWS's server, I was hacking the Hive-Engine...you may have noticed a slight interruption over the last few days... oops...You'll have to forgive me. Look at what I found while in there...I'm sure the Hive-Engine will be back up running the right way soon again. I may have left some code in there to more easily hack into it again, anyway...just remember
I did this for you!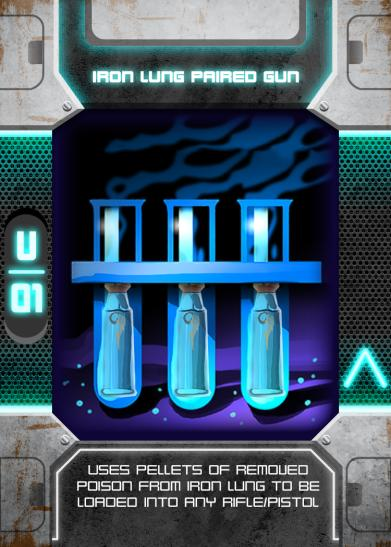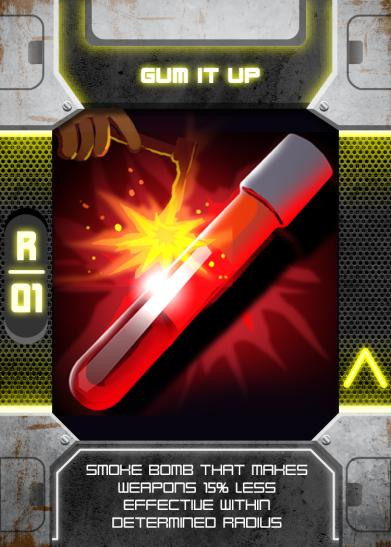 Uncommon: Iron Lung Paired Gun
For those who don't know, Zeelis has terrible air quality. There was an explosion about 20 years ago that has never been proper cleaned up. The air is poisonous, so we all use filtration systems...those of us lucky enough to get our hands on one. Well...the filters can sometimes drop out some poisonous goo. That goo has been used by some to create concentrated poisonous pellets that can then be loaded into a rifle or pistol. When you get hit with one of these...well...poison ain't pretty folks! We'll leave it at that...







Rare: Gum It Up
Speaking of the poisonous air...The weapons in Zeelis have become very sophisticated. Ever since Space Kahnex had their explosion, all kinds of crazy devices started popping up. It's been a few decades and this little stinker wreaks havoc when you're trying to get out of a really bad situation. Then again, it can really help you, as long as you're not going through the plume it creates. All the weapons I've ever used while within the reach of one of these have seemed super slow in the moment.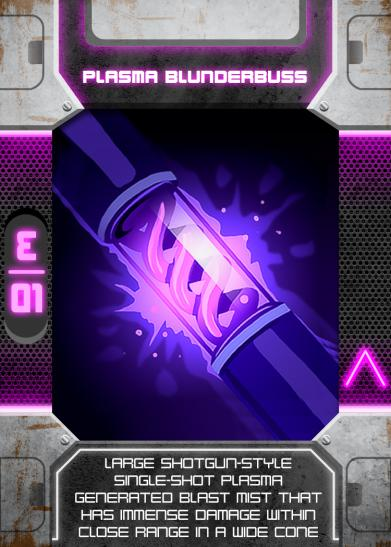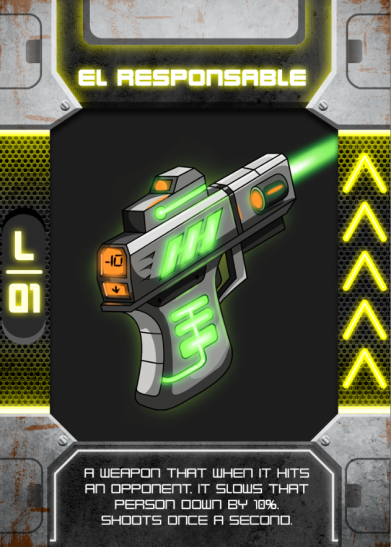 Epic: Plasma Blunderbuss
I've been caught in some close quarters cross fire. This sucker would come in handy in those situations. Point and shoot...makes blasting through a group of slickers really easy. It may also be a great way to pick up some LVL quickly if you can get all the thugs in a group before popping them off.
A wide cone is right...ever cut a tree down with a shotgun?
Legendary: El Responsable
A great pairing...Gum It Up and El Responsable...like a great wine and a nice meal, or so I've heard. I don't think I've had either in a long time, but I digress. If you can smack your enemy with a Gum It Up and then crack their center mass with the El Responsable, you'll probably be able to finish them off with a standard pistol. They'll probably think they're experiencing a high as they see a lead slug aiming for the bridge of their nose. Oh well...
---
Like I said, I left some coding behind. If I can grab some more info for you by tomorrow, I'll drop some more NFT info for you...but I hear the biggest developers are working on the Hive-Engine as I write this...they may find my code. Wish me luck!
---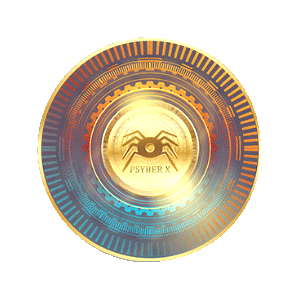 ---
---
BEST ON THE BLOCK DELEGATION PROGRAM
LVL - Level 1 Token
Our Team manages the curation with the APR % currently at 9.18% & growing.

You get back 100% of gained curation through an automated API already in place making payments, & if you look today they are nearly double the previous days!
You get LVL airdrop for HP delegated!

Your content gets upvoted for your delegation. (% depends on quality content & delegation amount)
Delegate HIVE Power to @psyberx for account creation ticket onboarding efforts
join the conversation in discord
---
Need Larger Whale Sized Buttons?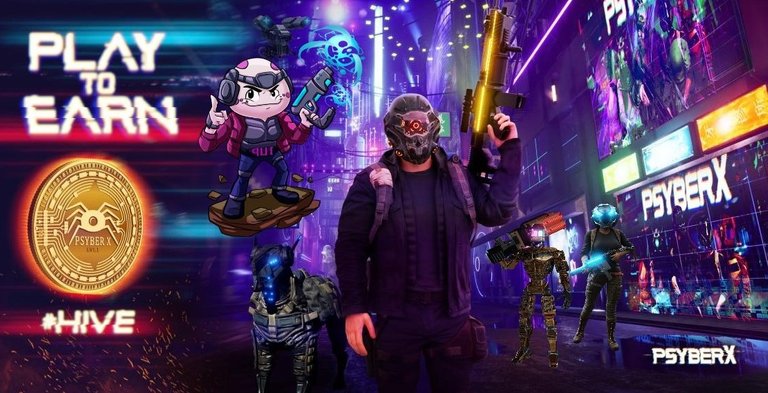 Witness Vote Links
These votes are not required yet appreciated
VET - Veteran served in the military and honorably discharged

Founder Starter Kit Reminder
It seems only fit to remind you of this one more time...When the Marketplace is revealed and released to the public on May 13, Founder Starter Kits will no longer be available. Instead Land Plot-Small will be purchasable at 300 Hive/HBD each. The perks will no longer be attached with Land Plot-Small purchases after the Marketplace opens. We wouldn't want anyone to tell us that we never warned you...
Current offer: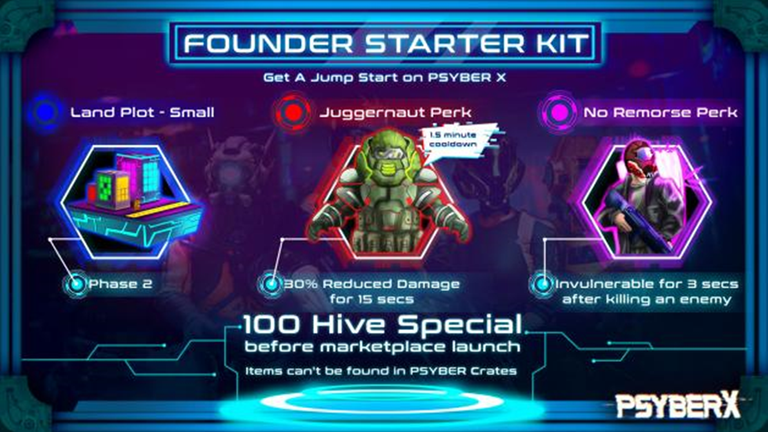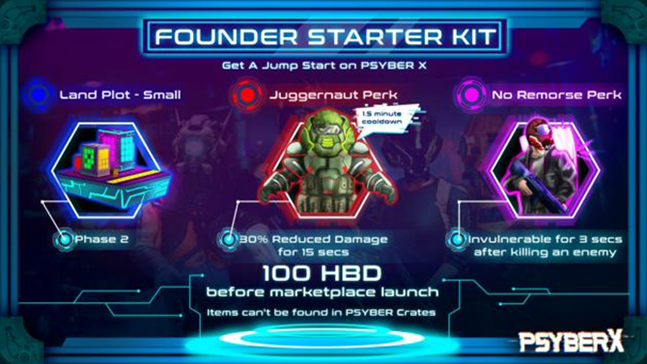 ---
You can buy these as a direct purchase by sending 100 Hive or 100 HBD to @psyberx with a memo stating you're buying the Founder Starter Kit. One person bought 90, so you are not limited on how many you can buy, except once the 10,000 are sold, they're gone.
---
Social Links
---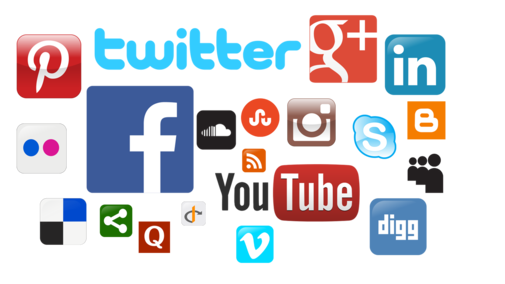 Psyber-X on Pimp Media

PsyberX on 1UP Zone

Hive account @psyberx

Twitter account psyberxofficial

Official Psyber X Discord Chat

Official Youtube account Psyber X

Official Facebook page Psyber X

Our Instagram account PsyberXofficial

The official Psyber X TikTok

Telegram Chat Invite
The Gaming Studio Royal Reptile Twitter

NftShowroom Psyber X Collection

Psyber X Blog on Reddit

Official 3Speak PsyberX Account

Whatsapp Chat Invite

Line App Chat Invite
---
Only 10.05% of Phase 1 LVL Allocation is still available
---
---