WHAT IMPROVED THE SUCCESS RATE OF POULTRY FARMING BUSINESS IN NIGERIA?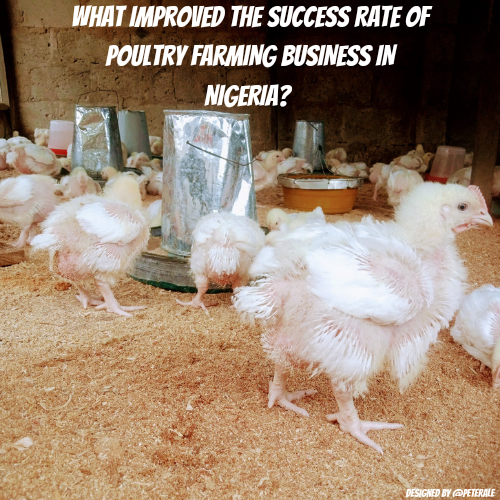 Running a Poultry farm has become one of the lucrative business in Nigeria as we speak. It will augur well if we give kudos to the out going President in the rising growth of the business from what many people shy away from to what many people are now embracing. The closure of border from neighboring countries where most of foodstuffs are being imported; foodstuffs such as frozen chicken, rice. The closure of the land border from Benin republic was to boost home made rice but on the other hand end, it helps to boost the home made Poultry farming business in Nigeria.
Though the border has been reopened but still the home made chicken production has already gained ground because initially chicken meat was also imported. Some of couple of days ago, the outgoing President gave himself a Self-encomium base on the effect of that decision he made and I myself is also beneficial of the decision he made then.
A lot of home made foodstuffs production have largely gained ground despite the fact that the land border from Benin republic has been reopened. The home made production has really helped to fight inflation in Nigeria, which in the other end ruined Benin republic's smuggling in most of foodstuffs we consume which one of the reasons behind price inflation in Nigeria.
The closure on borders do not only help the livestock farmers but also help the home made crop Farmers. The reason for this decision was that the Nigerian government also want to have total control of the imported goods through the means of seaport instead of the rampant usual smuggling through land. So with this, importation of foodstuffs through seaports attract some charges which most people didn't want to pass through, helped the importation of foodstuffs to reduce to the lowest minimum, hence improved the home made foodstuffs production.
This decision was what made the Poultry farming business to improve greatly and it has really been appreciated largely to the extent that even the production of home made chicken has now been imported to neighboring countries and countries abroad.
---
You can click below to view some of my projects.
PART ONE OF THE BROODER PEN CONSTRUCTION:- CLICK HERE👉🏻SOURCE
PART TWO OF THE BROODER PEN CONSTRUCTION:- CLICK HERE👉🏻SOURCE
PART THREE OF THE PROJECT,THE BIRDS ARE NOW 2WEEKS PLUS:- CLICK HERE👉🏻SOURCE
Also thanks to @balte , @schlees and @satren for their upvote. I really appreciate.
---
Thanks for stopping by to view my blog. Please do have a wonderful day ahead.@peterale cares🤭
---
---