a magical sniper - my reason to play Magi Necrosi in Splinterlands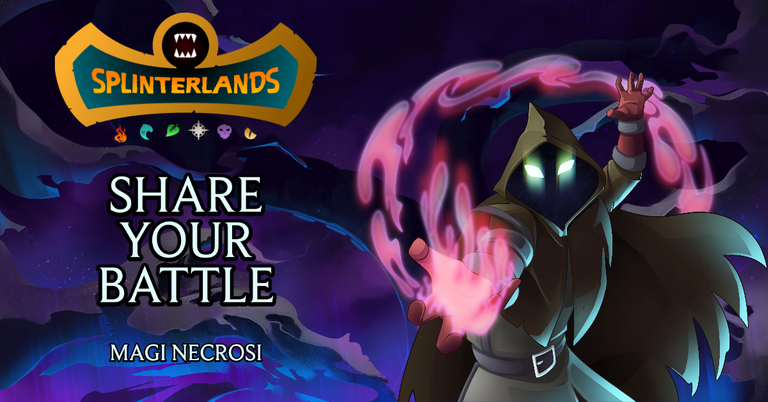 Welcome dear readers! Here we go with another share-your-battle challenge in the Splinterverse!
Personally good news is my luck somewhat came back regarding reward cards! This week I found two Epic cards and some summoners!
But back to this post's main topic - reviewing week's featured monster: Magi Necrosi! I do not own this unit (yet!) and would have bought it right from the spot, but my budget is somewhat limited lately and this Magi does not belong to a Splinter I currently can improve. So I went with renting it instead. -But perhaps my feedback after inspecting this unit is so positive I will still buy it! ;)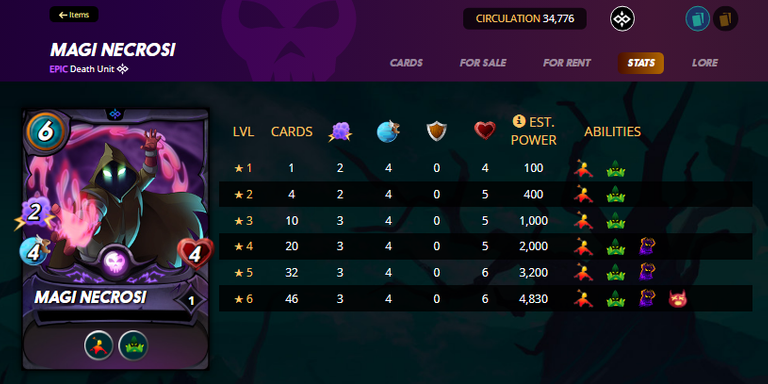 So these are my thoughts on Magi Necrosi which is an Epic card of Death Splinter:
first thought (+): 2 magic damage...
second thought (+): ... for 6 mana points...
third thought (+): ... and a initiative of 4 is nice, for sure!
fourth thought (-): However Magi's health is too low for my taste considering its price.
fifth thought (+): Still its two(!) abilities 'Snipe' and 'Camouflage' make sure the 2 magic damage will find your enemy's weak spot and perhaps survive long enough to attack multiple times.
What do I think about leveling up the Magi?
Regarding its stats development: While leveling the Magi gets an improvement of both magic attack (already at level 3!) and two increases in health (first one already at level 2!). Thus leveling improves both its biggest strength as well as its biggest weakness. That is cool, I think!
Regarding its ability development: It gains two additional abilities while leveling. One at level 4 and one at level 6. Neither of these are very much appreciated by me. They are probably way more useful for advanced players, but for me and for now I cannot really cherish them. And so for me both of them are just "nice to have". Although I must surely admit that 'Stun' can be really cool! But then again this Magi only gets it at level 6...

So enough theory for now and let us jump into one of my battles including my rented Magi Necrosi:
https://splinterlands.com?p=battle&id=sl_ac549275a3a882cc6e36bc7b4ecab44a&ref=jdike
Hard facts: Modern format, 60 Mana Cap, Additional rules: 'Taking Sides' & 'Super Sneak'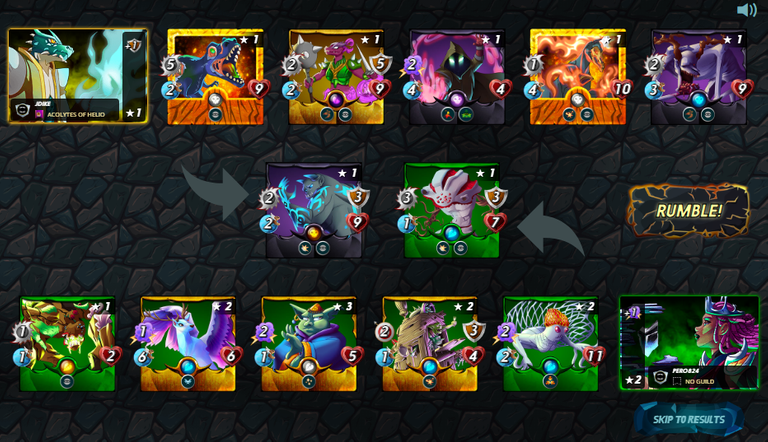 Looking at the opponent's lineup my choice of summoner was somewhat useless facing all this magic attacks! ;)
All in all I expected much more melee attack! Furthermore I wanted to utilize the 'Super Sneak' ruleset and make all of my melee units attack my opponent's backrow.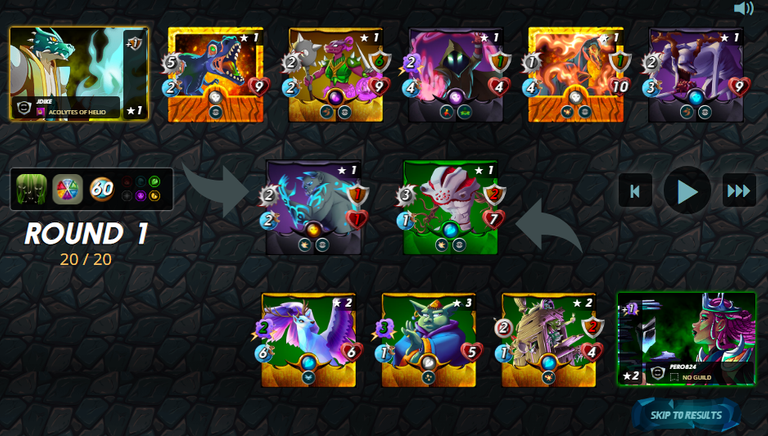 What happened in Round 1? -Especially looking at the Magi it attacked like all the others the Mycelic Slipspawn. But eventually I was able to take 2 enemy units off the board in Round 1. Good start!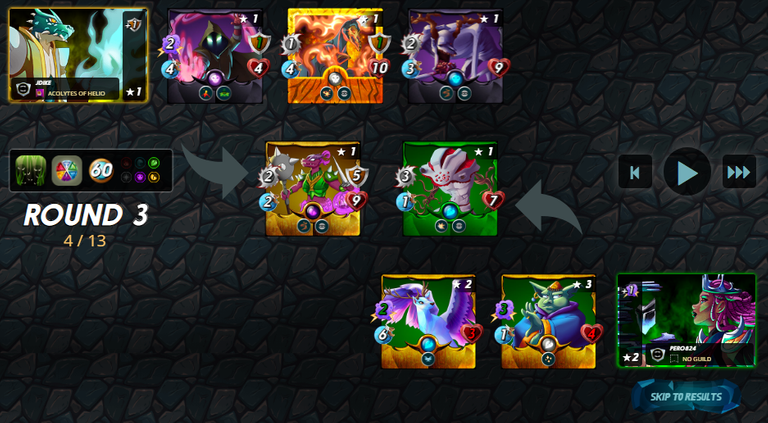 Without the Slipspawn's ability the Magi Necrosi went for the enemy's weak spot I mentioned above, thus targeted the Goblin Tower and took it off the board all on its own in Round 3! As this unit was rather annoying to me I can only say good work!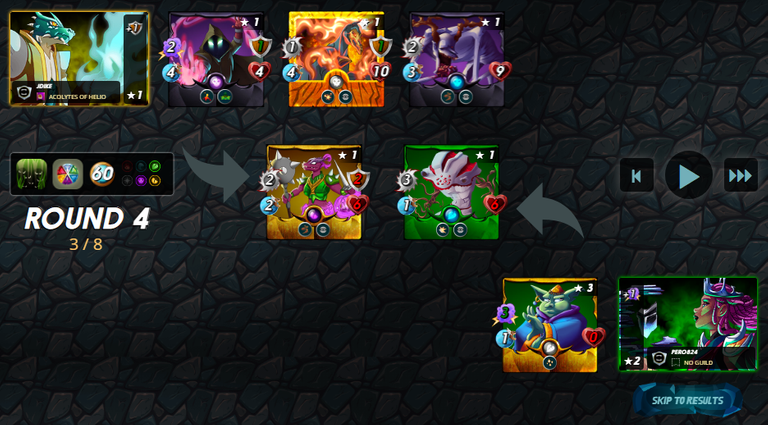 Again the Magi went for the weak spot and took Goblin Psychic off the board!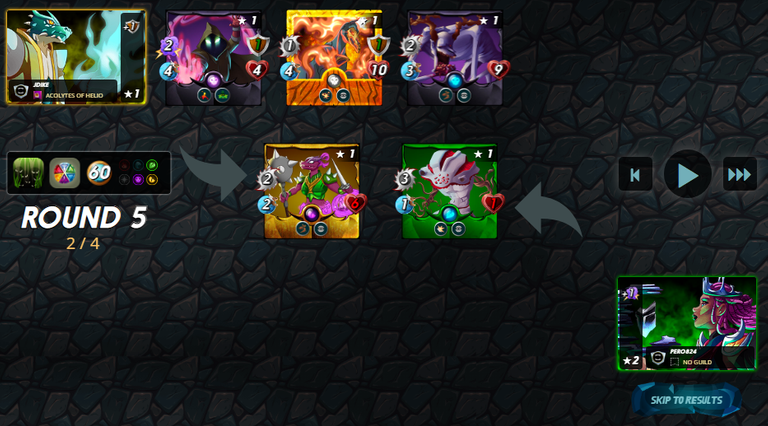 And finally Magi Necrosi helped to speed things up a little because its magic damage bypassed Mycelic Infantry's damage reduction ability!

So what is my conclusion? -For me Magi Necrosi is a really good unit, indeed! It usually aims for the opponent's most annoying units (see above) and has some firepower, too. Even a level-up might be worth it for me because it improves both its main weakness as well as its biggest strength.
Yeah... you are right. I might end up buying at least a bcx 1 version of the Magi Necrosi eventually! ;)
If you consider a journey into Splinterlands on your own feel free to use my sign-up link:
https://splinterlands.com?ref=jdike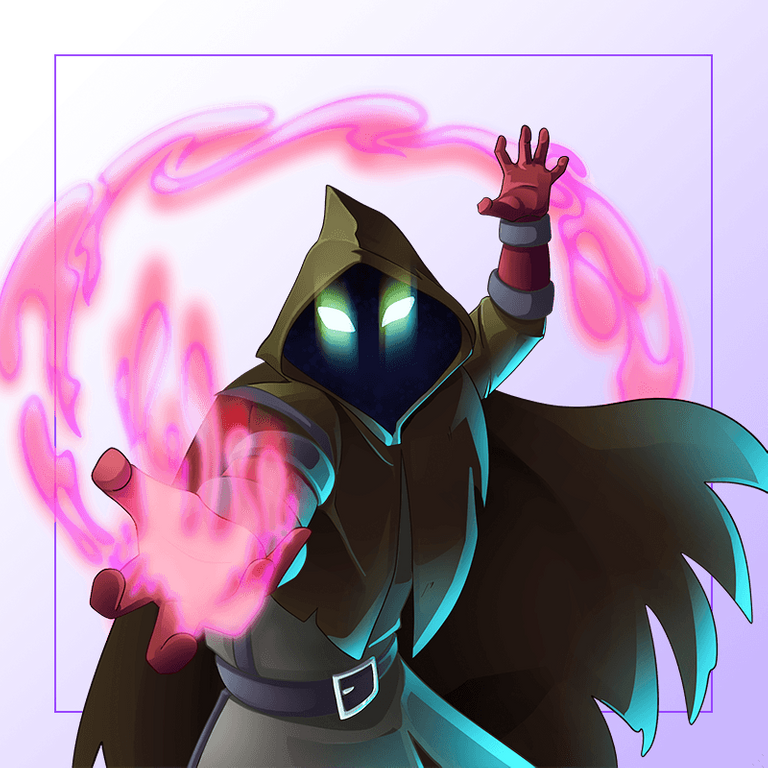 ---
---