3x2 melee Double Strike! - mein Grund to use Grund in Splinterlands
First of all sorry for the joke in the title in German language. But ever since I read the name I could not resist thinking of joking with his name...
This is going to be a cheap week for me in Splinterlands' share-your-battle-challenge! Why? -Because this week's unit Grund already is mine!
But then again I started to look at higher levels of a week's unit, too and my Grund is still level 1 so I might end up otherwise. :D
Hope you had a good start with the new reward cards! I got 3 copies of the Fire summoner which is what I would call a good start for me! -Unfortunately the goodbye to the old reward cards at the end of the last season was not nearly as lucky! ;)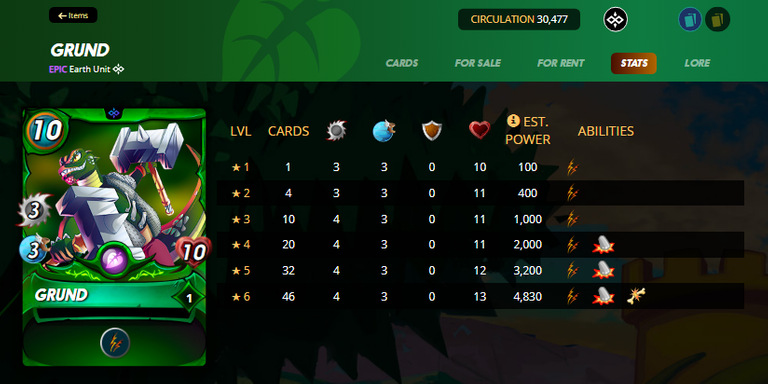 So here we are with my thoughts on Grund which is an Epic card of Earth Splinter:
first thought (+): 'Double Strike' ability is present on this card! It is one of my favorite abilities as it provides you with a second attack!
second thought (+): 3 (melee) attack combined with 'Double Strike' is 3+3 damage per round dealt by Grund!
third thought (-): 10 mana cost, this one really hurts!
fourth thought (+): 10 health is really nice!
fifth thought (+): Even the initiative of 3 is 'decent'. I would not call it 'nice', but better than average! ;)
Adding my thoughts when leveling up Grund
regarding his stats development: It is nice to see that on level 3 (melee) attack gets an increase, but otherwise not really much is happening regarding stats.
regarding his abilities: 'Trample' and 'Cripple' are both nice to get, especially when considering that Grund has the option to apply 'Cripple' twice on his opponent per round. But what I really like is 'Trample' which might give you another attack per round.

But let's have a look at Grund in action in this battle of mine:
https://splinterlands.com?p=battle&id=sl_fedc1c2e5c4485861d1e5d39e6b1a2f0&ref=jdike
Hard facts: Modern format, 46 Mana Cap, Additional rules: 'Silenced Summoners' & 'Melee Mayhem'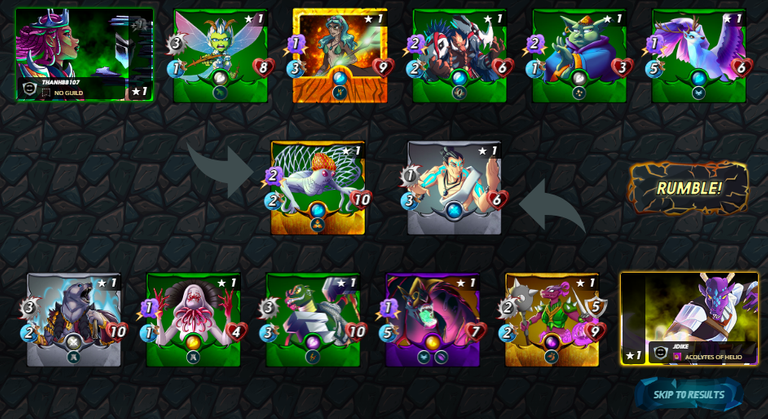 Looking at both lineups me and my opponent had very different expectations about the way this battle would evolve. In short I ended up with a lot of more or less useless units providing protection against melee attacks. ;)
But I also positioned a lot of melee damage dealers along my complete line-up. Good thing is they had high health, as well. (Also true for Grund!)
With Grund's help (and his 6 damage dealt) I took Mycelic Slipspawn already off the board in round 1 while 1 only lost my Xenith Monk.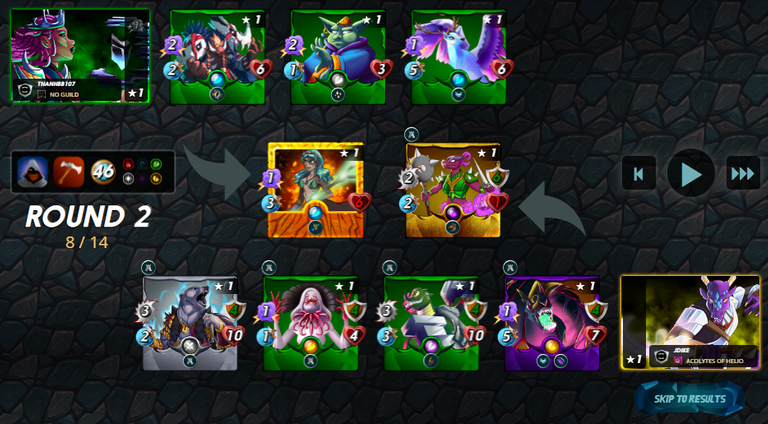 In round 2 especially Grund bit his way through the enemy's ranks, taking one unit off the board and attacking another.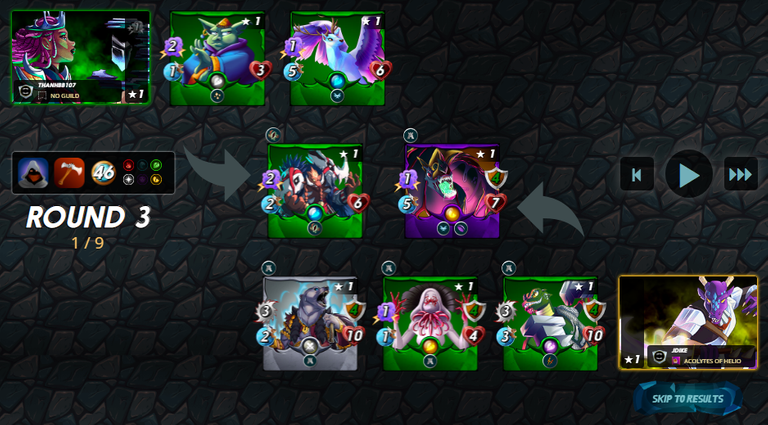 Already in round 3 it became apparent where the battle would end. The enemy only had the potential to deal 6 damage (on average) which is what Grund can deal on its own per round. My Void Dragon came in handy as it further reduced the damage I could take per round.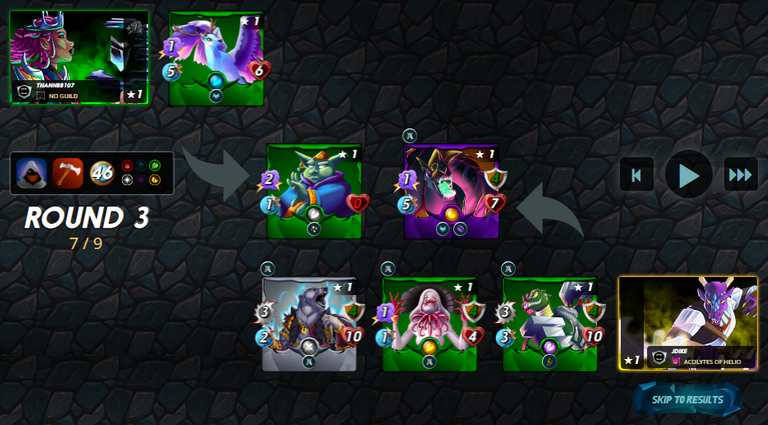 Grund ruled the board, but spoiler alert: He missed once!

So what is my overall impression of Grund? -I really like him with his ability, although due to his mana cost of 10 he is of better use in high mana matches. However (at least in Modern format) he lacks a bit a really fitting summoner! One might already guess which kind of summoner Earth Splinter will get next! ;) I better already start saving today!
However Grund has a place in my heart and is one of my favorite units in Chaos Legion! A piece of additional advice: Avoid Grund in 'Thorns' rulesets! ;)
If you are not yet into Splinterlands feel free to use my sign-up link:
https://splinterlands.com?ref=jdike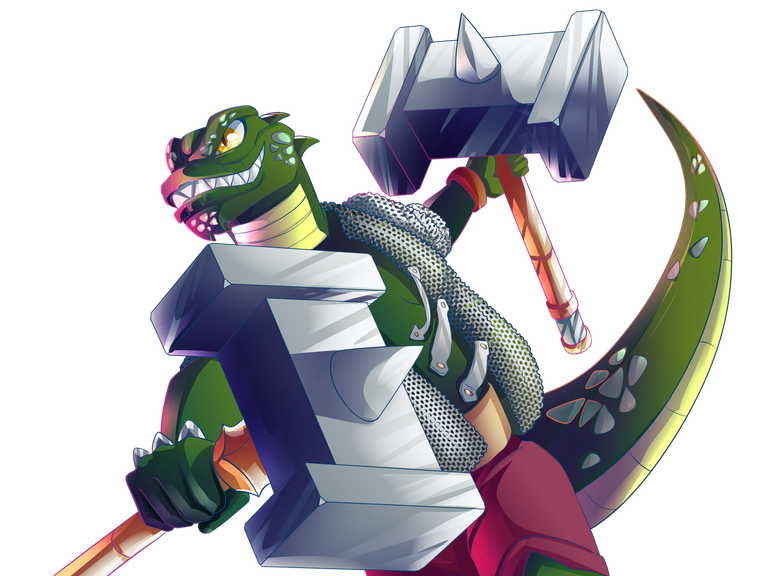 ---
---