Share Your Battle! Theme: Dragons [EN-ES]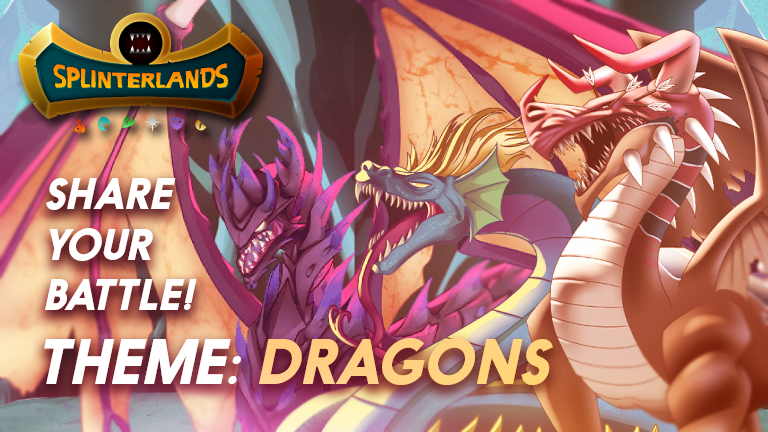 Introduction
This week the battle challenge is not with a specific card, this week is with the entire splinter of Dragons. I love this splinter, it has a very good cards and you can play it together with with another splinter, which makes them very versatile.
Esta semana el reto de batalla no va con una carta específica, sino que se puede jugar con todo el splinter de Dragones. Hay que decir que me encanta este splinter, tiene cartas muy buenas y se pueden jugar junto con otro splinter, lo que las hace muy versátiles.
Dragons
In this post obviously it is not possible to explain all the dragon cards that the game has, but since the Riftwatchers cards came out two days ago and with them comes a summoner (Sthispa), a priori very interesting, I am going to focus on my experience with this summoner .
En este post evidentemente no se pueden explicar todas las cartas de dragones que tiene el juego, pero como salieron hace dos días las cartas de Riftwatchers y con ellas viene un invocador (Sthispa) a priori muy interesante voy a centrarme en mi experiencia con este invocador.
STHISPA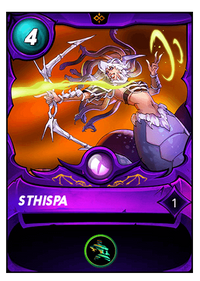 It is an epic summoner that costs 4 mana and gives the ability to Phase. This skill makes it possible to dodge magic attacks as well. Given that today it is the most expensive Riftwatchers summoner ($5.75), I suppose it will be very good, especially to play against Earth, which with this Chaos Legion edition comes with many powerful magic cards, most of which also are slow cards.
Es un invocador épico que cuesta 4 de maná y da la habilidad de Phase. Esta habilidad hace que también se puedan esquivar los ataques mágicos. Visto que a día de hoy es el invocador de Riftwatchers más caro (5.75$) supongo que será muy bueno, sobretodo para jugar contra tierra que con esta edición Chaos Legion viene con muchas cartas potentes en mágia que además la mayoria tienen muy poca velocidad.
My battle
Then lets go to see my battle.
Entonces vamos a ver mi batalla.
Ruleset

In this case the battle conditions were only Earthquake. As Dragon has many cards with the flying ability, I think it will be a very good option to play with dragon. I'm also going to take advantage of these cards with the ability to fly to combine them with the summoner Sthispa so that I can also dodge magic attacks.
En este caso las condiciones de batalla únicamente eran Terremoto. Cómo Dragon tiene muchas cartas con la habilidad de volador creo que será muy buena opción jugar con dragón. Además voy a aprovechar estas cartas con la habilidad de volar para combinarlas con el invocador Sthispa para así poder esquivar también los ataques mágicos.
Line up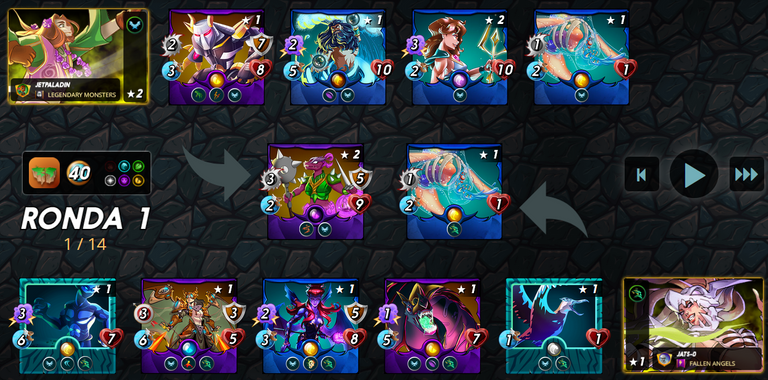 1- Torrent Fiend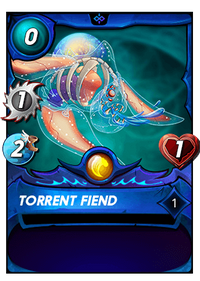 Most of the cards I've used have very high mana, so I have to use this card. I put this card in the first position because it is the only one without the ability to fly and thus it will make the enemy spend an attack.
La mayoria de las cartas que he utilizado son de muy alto maná, así que rápidamente me quedé sin. He puesto esta carta en la primera posición porqué es la única sin la habilidad de volar y así hará gastar un ataque al enemigo.
2- Albatross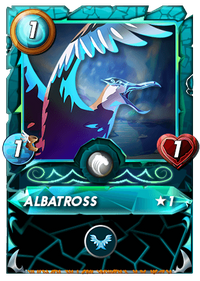 For the same reason as above, I only had 1 mana left and I put it at the beginning to spend an enemy attack.
Por el mismo motivo anterior, sólo me quedaba 1 punto de maná y la pongo al principio para así gastar ataques enemigos.
3- Void Dragon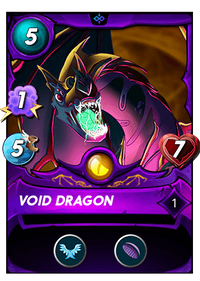 I have always found it to be a very good card, 5 speed and the ability to fly, I hope that some attack will be dodged.
Siempre me ha parecido muy buena carta, 5 de velocidad y la habilidad de volar, espero que algun ataque pueda esquivar.
4- Runemancer Kye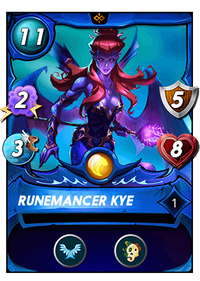 I haven't had so much time to play with the new Riftwatchers cards yet, but this is a card that I love, good shield, good life, and also it has the fly ability and the Life Leech ability, which will increase even more the life.
Aún no he tenido mucho tiempo de jugar con las nuevas cartas de Riftwatchers, pero esta es una carta que me encanta, buen escudo, buena vida, y además a medida que va atacando va ganando aún más vida. Además tiene la habilidad de volar.
5- Runic Skyclaw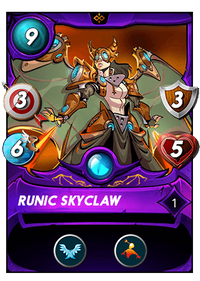 Another card from the new edition. It has the ability to fly and 6 speed, I think this card is going to give a lot of "MISS" to the game.
Otra carta de la nueva edición. Tiene la habilidad de volar y 6 de velocidad, creo que esta carta va a dar muchos "MISS" al juego.
6- Phantom of the Abyss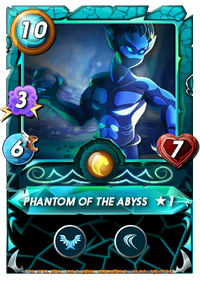 What to say about this card, when we want a strategy based on missing attacks, the Phantom of the Abyss must be played. I put it in last position because if the opponent uses Sneaks it is the card with the highest probability of dodging attacks.
Que decir de esta carta, si queremos una estrategia basada en que el rival falle sus ataques no puede faltar el Phantom of the Abyss. La pongo en última posición porqué si el rival utiliza Sneaks es la carta con mayor probabilidad de esquivar ataques.
Line up Costs
Let's look at the price of the decks to see if the most expensive deck wins (which should mean better cards) or you don't have to spend a lot of money to win if you know how to use the cards well. Knowing that there are gold cards that are very expensive compared to the normal version, I only take into account the price of the card according to the level and considering the normal version.
The current market price of my enemy's cards is: $46,4
The current market price of my team's cards is: $99.5
Vamos a ver el precio de los mazos para ver si gana el mazo más caro (lo que deberían implicar mejores cartas) o no es necesario gastarse mucho dinero para ganar si se saben utilizar bien las cartas. Sabiendo que hay cartas doradas que son muy caras respecto la versión normal, tengo en cuenta sólo el precio de la carta según el nivel y considerando la versión normal.
El precio de mercado de las cartas que ha alineado mi enemigo asciende a: 46,4$
El precio de mercado a día de hoy de las cartas de mi equipo asciende a: 99.5$
As we can see the price of the two decks is very unequal, my deck is twice as expensive as the rival deck, especially because the Phantom of the Abyss costs $70. Apart from this, I was surprised by how cheap the two decks are, given that it is a Gold 2 league battle.
Como podemos ver el precio de los dos mazos es muy desigual, mi mazo es el doble de caro que el mazo rival, sobretodo debido a que el Phantom of the Abyss sola ya cuesta 70$. a parte de esto me ha sorprendido lo baratos que son los dos mazos visto que es una batalla de liga Oro 2.
Results
And here I leave you the link of my battle so you can see how it was.
Y aquí os dejo el link de mi batalla para que podáis ver qué tal ha ido.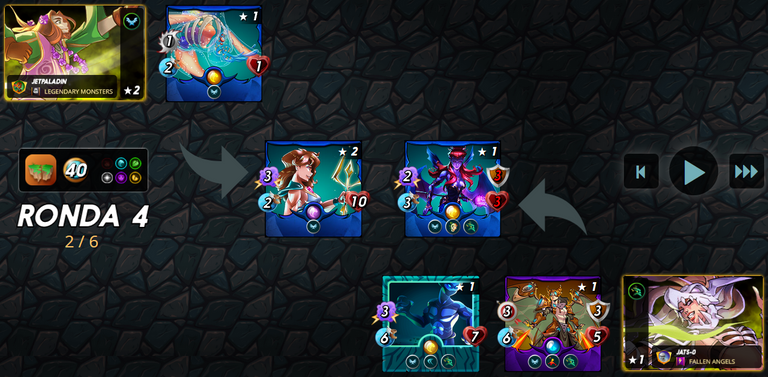 My battle link
Did my Strategy Work?
Has my strategy worked? The truth is that I won the game, and quite easy, but seeing that I had focused on dodging rival attacks, the truth is that the strategy has not been very successful. I have only dodged 1 melee attack (had a 45% chance) and 1 magic attack (had a 35% chance. But on the other hand I have received 8 attacks with similar dodge chances. Honestly after this battle (and many others that I have done with the new summoner), I must say that although it can be very useful in many games, it does not convince me. With this summoner it is totally dependent on probabilities, and I am not usually very good at them. Based on my short experience (the new edition is very recent) I prefer to use other summoners that give me a certain benefit or nerf to the opponent better than having an ability that is based on probability.
Ha funcionado mi estrategia? La verdad es que he ganado la partida, y muy sobradamente, pero visto que me habia centrado en esquivar los ataques rivales la verdad la estratégia no ha tenido mucho éxito. Sólo he esquivado 1 ataque de melé (tenía un 45% de probabilidad) y 1 ataque mágico (con un 35% de probabilidad. Pero por otra parte he recibido 8 ataques con unas probabilidades de esquivar parecidas. Sinceramente después de esta batalla (y muchas otras que he hecho con el nuevo invocador), debo decir que a pesar de que puede ser muy útil en muchas partidas, a mi no acaba de convencerme. Con este invocador se depende totalmente de las probabilidades, y a mi no se me suelen dar muy bien. De entrada prefiero utilizar otros invocadores que me dan un beneficio seguro o perjudican al rival a tener una habilidad que se basa en probabilidades.
In this case the most expensive deck has amply beaten the cheapest. Here I leave you the summary table of the Battle Challenges won by the expensive and cheap deck since I do the follow-up.
En este caso el mazo más caro ha vencido sobradamente al más barato. Aquí os dejo la tabla resumen de los Battle Challenge ganados por el mazo caro y barato desde que hago el seguimiento.
| Expensive deck Victories | Cheap deck Victories |
| --- | --- |
| 3 | 7 |
(Photos I used in this post are taken from splinterlands.com for this post purpose only)

---
---