WHY I FALL IN LOVE TO POB COMMUNITY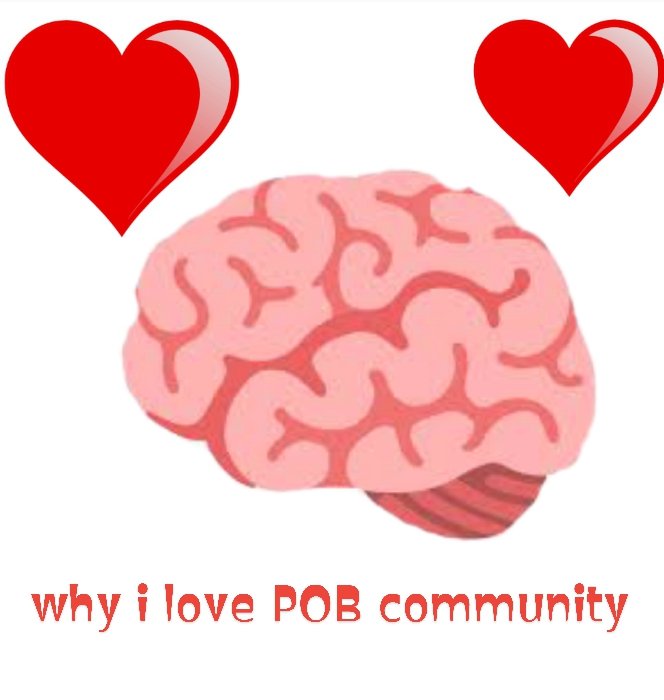 It's has been a while since I created a post in this community and it's nice creating a great content today again.
I have learnt a lot of things in this brainy community where I didn't learn anything similar outside proofofbrain community due to its creativity from members of this community and inability to Plagiarise or copy someone else content like other web2 platform which caused every content to come out of the content creator thinking and involve creating something new all the time
I learnt a lot in a community under proofofbrain community called #pobstreet hosted by @insight.pob and @onealfa.pob. it's a very brainy community and it's full of so many quality content and a very helpful content to proofofbrain community is discussed there everyday
Why I love pob
It's freedom
Pob is a place to express your full thought, express your mind to the community in content creation.
This proofofbrain community is not limited to finance alone,not limited to sports alone not limited to science cryptocurrency education but it's like an unlimited world very different and anytime am in this community like #pobtalk I feel free of thought it fills easy to express.
I am full of smile when in this community and always myself.
it's Creativity
The most creative tribe have accessed in this hive community in terms of content creation.
Almost all content in this proofofbrain community is always attracting me to read with it's creative headlines. And most especially those interesting contest in this proofofbrain community and a very creative and educational content by @knowledge23.pob but I don't see his educational content this days anymore.i will like him to continue his educational content because I do learn from him alot.
Encouraging rewards curation
Pob is the best tribe in terms of curation for both curators and content creators. unlike hive where if you staked 10000 hive power, your hundred percent curation power might not be more than 2 hive dollar but if you stake 10,000 pob power,then your hundred percent curation power is over 5 pob which is equivalent to averagely 1 USD.
Presently, 10,000 hive worth $7,900 and 10,000 worth $1,800.
So the rewards for pob curators is a very good one and the best in this hive community.
While the rewards for content creators he's also the amazing reward and this pob community do appreciate content alot with the likes of @onealfa.pob the person who curate the most in this community.

Easy access to the powerful ones
There is a easy access to a powerful ones unlike hive community you will hardly access the powerful ones and other tribe the powerful ones are so scarce. they will just curate and hardly reply but proofofbrain community is very different.
People like @scholaris.pob irrespective of his pob power and irrespective of your own pob power and reputation, they will reply all your question and even welcome newbies so humble.
Friendly users and easy communications
The remaining friendly users in this pob community in terms of interaction communication example is @mineopoly who loves having fun. You do even tag me sometimes to his fun contest and any time he tagged me,I always feel proud and important in this community and @vikbuddy also who do gift people 🍕 🍕 🍕.
Many other friendly people in this community who are so friendly tumi communication @funshee and @abimbola753 and @pobtrader and @sugandhaseth and many more in this community.
When I first joined this community though I was so frustrated in creating content because I'm not used to it and I hardly see reply and upvote but in #pobtalk, I do feel at home I'm feel as myself due to the friendly interaction I do have with people I mentioned above.
THIS IS YOUR HOME HERE IN PROOFOFBRAIN ESPECIALLY FOR NEWBIES AND FEEL FREE BECAUSE THEY ARE MANY FRIENDLY PEOPLE IN THIS COMMUNITY AND I MENTIONED SOME OF THEM ABOVE YOU CAN INTERACT WITH THEM
I do know what I can do in return for the favour this community has done to me but what the favour I'm going to join in return in favour of this community is creating a peer-to-peer exchange for pob only to direct USD but waiting for the return of @proofofbrainio for approval
❤️💙♥️💝💖💗💞💓💕❣️💟💯
---
---