ANOTHER DAY ANOTHER GIVEAWAY #195 - WIN 1500 STARBITS DAILY - Ends May 13th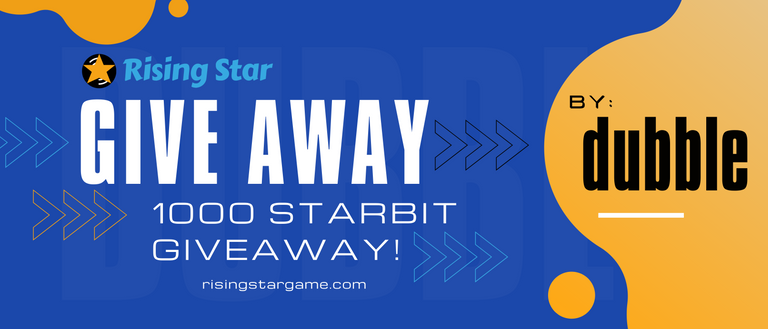 🎮Gameplay Update🎮
Hi friends, hope everyone is well during this market crash!
Pretty crazy stuff, its kept me busy on the hunt for some deals though I must admit, been filling my bags for the most part on some "cheap" holdings, I'm hoping it'll be some short term holds which I can flip into more profit or dump into stables i.e HBD for an example!
Other than that, I sold off a huge chunk of Starbits last night due to said dip, so I'm up a bunch of Hive right now. That's all I have to report upon really! Still on the hunt for my cheap drums, but my funds are a little lacking now hahahah, couldn't resist the demand to sell!
(BTW I am going to be returning tipping tokens for the previous thread shortly)
Welcome to another giveaway friends, hope you're all doing well!
Thank you as always for joining in on these giveaways, it helps our community grow and I hope inspires more to start their own giveaways to help out even more newer players!


I will be using https://hivetools.herokuapp.com/picker/ to determine winners! 😀
Thank you for participating in my giveaway, goodluck everyone-
@rondonshneezy, @rtonline, @darmst5339, @jdike, @davideownzall, @luizeba, @amaillo, @jfang003, @rafasete, @szmobacsi, @coquicoin, @belhaven14, @mario02, @tengolotodo, @maxi1982, @harpreetjanda, @candnpg, @alvesxico, @servelle, @asakasa, @tjnew14, @danideuder, @roscar9, @blitzzzz, @criptosectadepit, @rachaeldwatson, @thaddeusprime, @assasinos3, @rayius, @supriya.gupta, @pgm-curator, @jesmel26nala, @middle-earthling, @henruc, @gamita-1, @hoosie, @dafusa, @eijibr, @hivebits, @engilhramn, @maakue, @xykorlz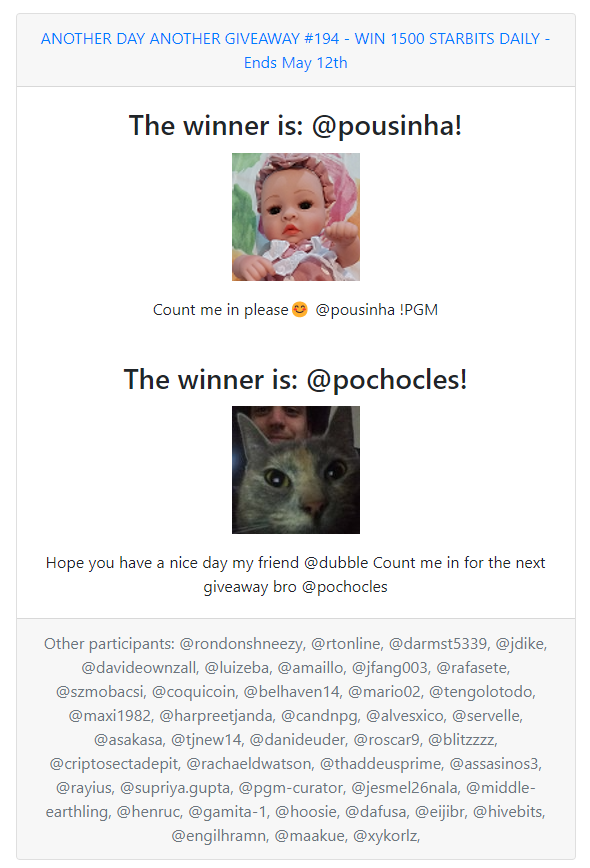 Winner 1 - 1000 Starbits - pousinha
Winner 2 - 500 Starbits - pochocles
Congratulations @pousinha & @pochocles 😄 I hope you enjoy your Starbits & Thank you for participating!
Transaction ID 1: tx/8a17229c39d7ce36b48f9662fd44bbc6d89effdc
Transaction ID 2: tx/79f88ebaa8bda003f0b30431563cf9eb18320bad
TO JOIN MY GIVEAWAY:
1. Comment anything below (include your Rising Star name)
2. Upvote this post / Follow to not miss any giveaways (optional)
3. Winner will be drawn in the next post! Goodluck + Enjoy
TO TRY RISINGSTAR OUT FOR
FREE
SIGN UP
HERE!

Check out the #1UP #ONEUP Community for great Gaming related content!

I will be distributing !PIZZA 🍕, !LUV ❤️ & !LOLZ 😂 to consistent participants in my giveaways!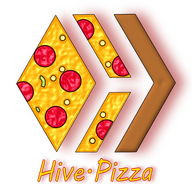 What is
!PIZZA
?
Read more about it
HERE!
JOIN THE PIZZA
DISCORD

---
---