Banks in the EU now offer SEPA Instant Payments but here is the catch 🙈

Banken in der EU bieten jetzt SEPA-Instant-Überweisungen an, aber hier ist der Haken 🙈
Dank Kryptowährungen beginnen langsam auch Banken Überweisungen zu beschleunigen.
Euro-Überweisungen (SEPA) benötigen normalerweise einen Werktag. Wobei außerhalb der Öffnungszeiten der Banken kein Geld überwiesen wird. Dadurch kann es je nach Wochenende, Bank-Feiertagen und Laufzeit auch mehrere Tage dauern, bis das Geld auf dem Zielkonto ankommt.
Seit einigen Jahren arbeitet die EU bereits an der Beschleunigung der Euro-Überweisungen und vor Kurzem hat meine Online-Bank das Feature freigschaltet.
Aber hier ist der Haken:
Das Limit beträgt nur 1000 Euro und nach der Testphase kostet jede Überweisung 1,50. Puh, das ist schon viel. Wenn ihr zum Beispiel schnell 100 Euro überweisen wollt, sind 1,50 Euro weg. Für Premium-Kunden (Gebühr: 12 Euro pro Monat) sollen die Überweisungen gratis bleiben.
Eigentlich sollte ein Limit bis 15 Tausend Euro möglich sein. Vielleicht wird das noch erhöht.
Zum Vergleich: Derzeit kostet eine Bitcoin On-Chain Überweisung ohne Limit und unabhängig vom Betrag, den man überweisen möchte, $0.18 bzw. eine Lightning Instant-Überweisung unter $0.002 (< 0.2 Cent). Zwischen Lightning Wallets desselben Anbieters sind sie sogar oft gratis.
Was sagt ihr dazu? Wie sind die Konditionen für Instant-Payments bei eurer Bank?
Euro Instant Payments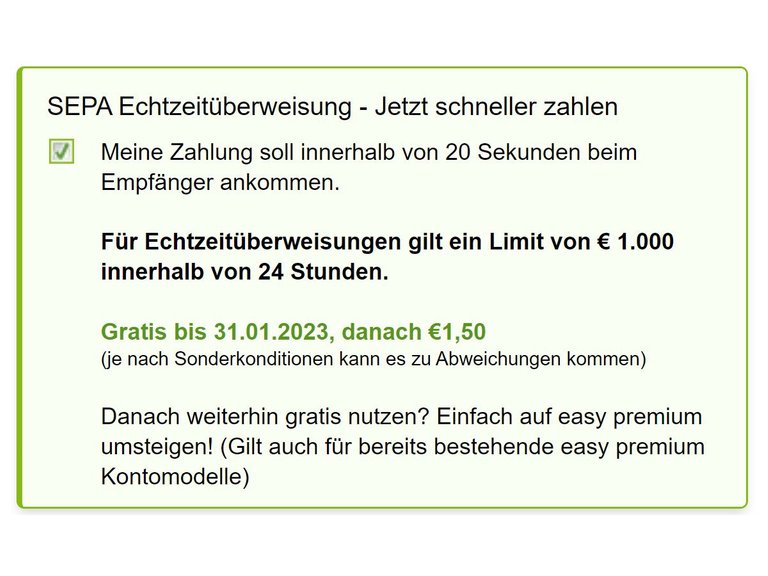 Euro SEPA Instant Payments at easybank.at
Instant transfers have a limit of €1,000 within 24 hours.

Free until 31.01.2023, thereafter €1.50
English
Banks in the EU now offer SEPA instant transfers, but here's the catch 🙈
Thanks to cryptocurrencies, banks are slowly starting to speed up transfers as well.
Euro (SEPA) transfers usually take one business day. Whereby outside the opening hours of the banks no money is transferred. As a result, it can take several days for the money to arrive at the destination account, depending on the weekend, national holiday and processing time.
For several years now, the EU has been working on speeding up euro transfers, and recently my online bank unlocked the feature.
But here's the catch:
The limit is only 1000 Euro and after the trial period, each transfer costs EUR 1.50. Phew, that's a lot. If you want to quickly transfer EUR 100 for instance, 1.50 euros are gone. For premium customers (fee: 12 euros per month), the transfers should remain free.
Actually, a limit of up to 15 thousand euros should be possible. Perhaps that will be increased.
For comparison, currently a Bitcoin on-chain transfer with no limit and regardless of the amount you want to transfer costs $0.18 or a Lightning instant transfer under $0.002 (< 0.2 cents). Between Lightning Wallets from the same provider, they are even often free.
What do you think? What are the conditions for instant payments at your bank?
Sources
[1] SEPA Instant Credit Transfer https://www.europeanpaymentscouncil.eu/what-we-do/sepa-instant-credit-transfer
[2] Commission proposal to promote euro instant payments https://www.eubusiness.com/topics/finance/instant-euro-payments/
[3] EU to propose banks offer mandatory 'instant payments' in euros https://www.reuters.com/business/finance/eu-propose-banks-offer-mandatory-instant-payments-euros-2022-10-25/
Live your Secrets and Hive Prosper 🍯
xx Viki @vikisecrets
---
---