I Brought Some Tools and Put a Few Things Together...
Some people look at their transfer history or other people's history and are just curious about what's going on...then they get satisfied and leave. When you see this...your mind should literally explode!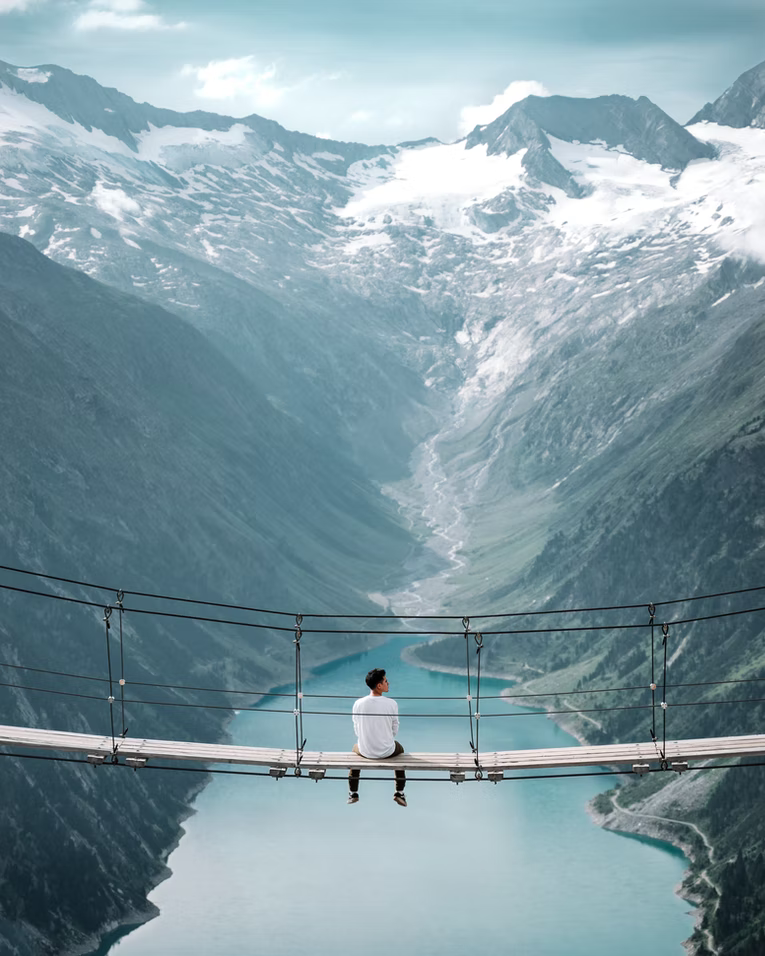 ---
If you don't know what this means...nervous laughter begins...get ready...
---
Some of you may remember this, Our Preliminary Announcement of Proposals. Within the post, we shared this image: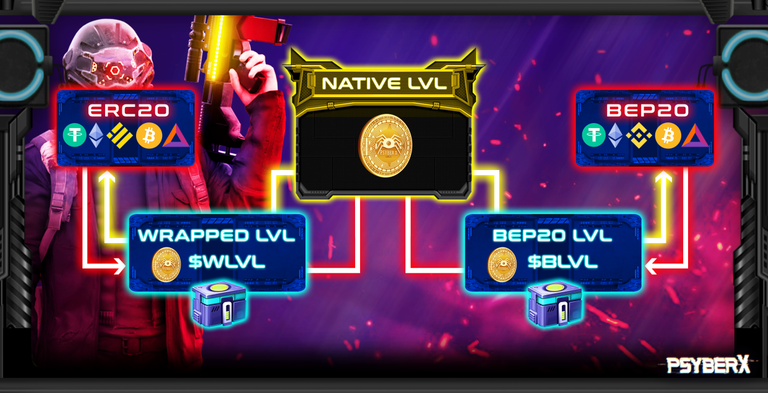 Then we said this:
Licensing will be required and we aim to develop a cross-chain bridge harnessing multiple blockchains by hiring existing Hive developers and programmers.

Psyber-SWAP will include several major chains to form a bridge to ETH, LUNA, BSC, MATIC, AVAX, WAX and FTM Powered by Hive on the front ends' primary interface.
Then we shared this: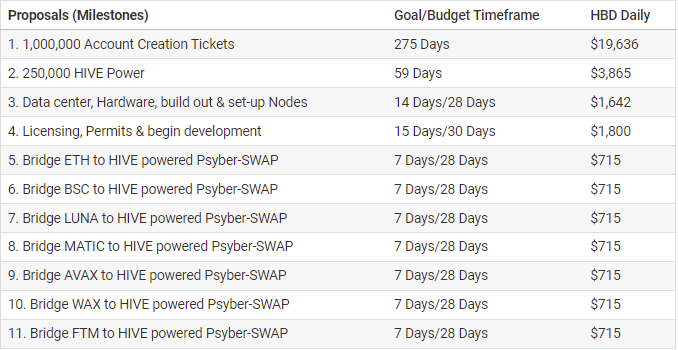 Well...
---
We've built the bridge... and tested it...

We'll even let you see it...in a couple weeks.
For now...let's talk Marketplace...
---
Now for some NFTs
I grabbed a snack. Was it !Pizza? I wish! It's really hard to get !Pizza in Zeelis. People like to slash a throat for a pepperoni, let alone a full !Pizza... Naw...I got some Zimmi's. What are they? They're little gummies, kinda sour. Whatever. We didn't come to discuss snacks. I know what you guys came for. And this time, you won't be disappointed!
I got word from Randy that there's a clan of folks called Founders. They live in upper Zeelis, probably near Lotkin. That dude's rich! Well, Randy told me he took some pics from the neighbor's house. He was diving for robotics when he heard some commotion next door. Granted, the compound where he was grabbing goods was huge, so he couldn't decipher everything that was going on, but he did hear some people arguing about taking over lower Zeelis and finally wiping out the riffraff. Seems they're tired of the slickers leaving messes all over the place. The ladies get scared and all that...anyway, while he was watching this all unfold, some guy just appeared out of nowhere! It was like he spawned there or something. This has been happening more lately...people spawning in Zeelis from nowhere. I haven't quite figured that out yet, but Randy saw this guy open his hand like he had something in it and an image popped up in front of him. I looked like he swiped in the air from side to side like he was picking a tinder hook up and then he stopped on something. You've gotta check these images out. Randy took some great pics. That robotic eye comes in handy now and then...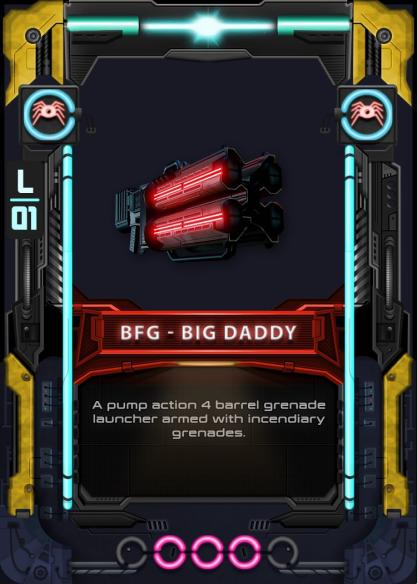 BFG - Big F*g Gun
That's all Randy told me in the text. He wouldn't tell me what the F*g stood for. I think it meant farting...maybe? @epic-fail would know. He's an expert and I'll have to ask him.
Anyway, this Founder whatever that means, had these 4 guns, and they do not look like they're something to be messed with. I mean Incendiary Grenades?!!!
If they're coming to Lower Zeelis with this, I'm hanging out with Randy in the rich man dumpsters!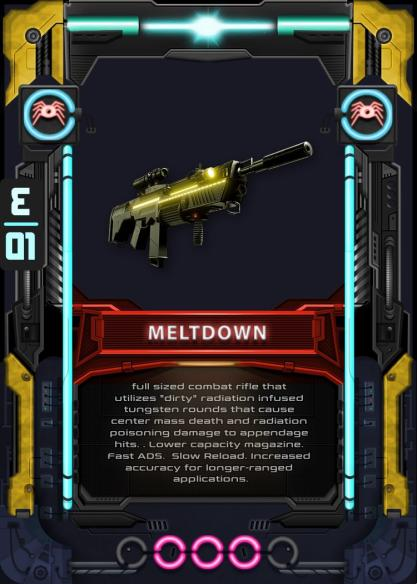 Meltdown
I don't understand half of what it says in this picture, but something that I do understand is this...
Increased accuracy for longer-ranged applications.
Sounds like these Founders may be some kinda camper clan picking people off one at a time from afar. It looks pretty slick. I want one.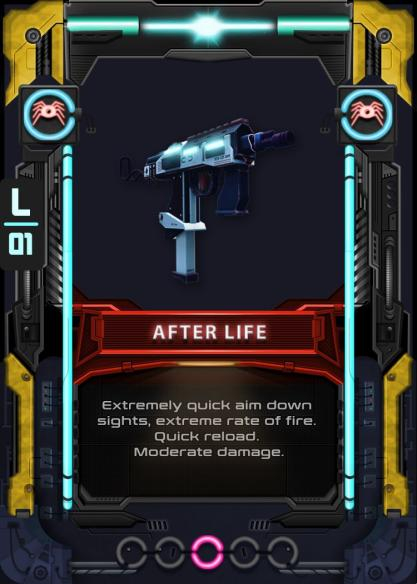 After Life
Maybe your definition of extreme and mine are different, but I've seen extreme in my day when it comes to weapons.
The faster you can pinpoint your target and flash 20 rounds, the faster you get some of that liquid LVL. I don't play around. This Founder doesn't either by the looks of it...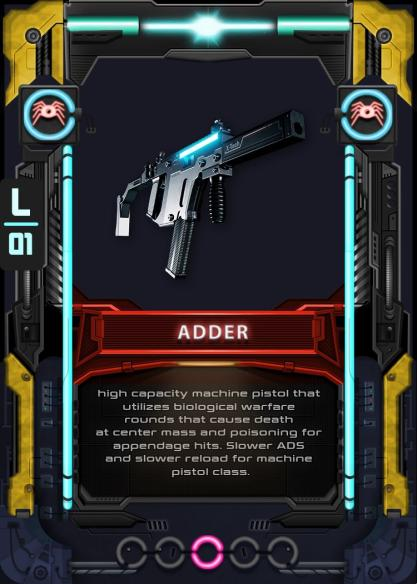 Adder
Poisoning? Appendage hits?! Eeeesh!
This is one nasty looking firearm...gimme gimme gimmeeeee
---
I gave Randy 20,000 LVL for finding these for me...you know, you gotta pay if you wanna play in these streets (not always...it is a free to play game after all).
Here's my suggestion to you...play hard, but don't spawn in my barrio. I'm armed to the teeth!
---
Founders Tiers 1-3
These weapons will not be found in Psybercrates. If you want these weapons, you'll need to buy them from Founders who have earned them by believing in Psyber-X early on. If you don't know who the Founders, tiers 1-3 are, you're not one. The only way you can become one is to buy the rights to the tiers from someone who owns one currently. Last I checked, Tier 1 was for sale for 1M Hive. I don't know if that offer still stands.
---
---
BEST ON THE BLOCK DELEGATION PROGRAM
LVL - Level 1 Token
Our Team manages the curation with the APR % currently at 9.18% & growing.
You get back 100% of gained curation through an automated API already in place making payments, & if you look today they are nearly double the previous days!
You get LVL airdrop for HP delegated!
Your content gets upvoted for your delegation. (% depends on quality content & delegation amount)
Delegate HIVE Power to @psyberx for account creation ticket onboarding efforts
join the conversation in discord
---
Need Larger Whale Sized Buttons?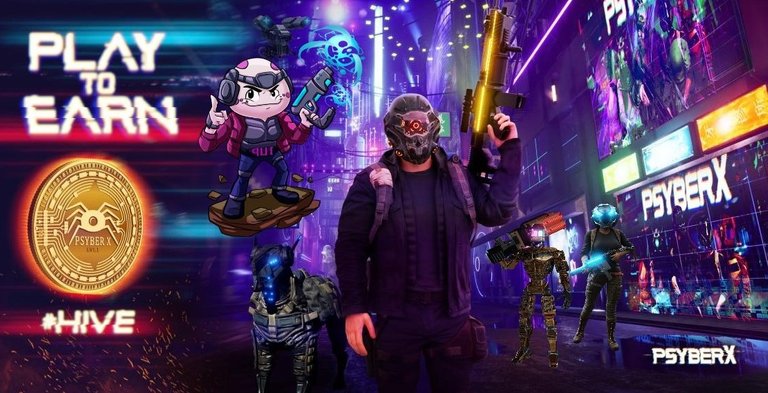 Witness Vote Links
We're now #95 because of your support! Thank you!


If you haven't voted us for Witness yet, please do. You can vote for several people at the same time.
We suggest these:
These votes are not required yet appreciated
VET - Veteran served in the military and honorably discharged


Founder Starter Kit Reminder
It seems only fit to remind you of this one more time...When the Marketplace is revealed and released to the public on May 13, Founder Starter Kits will no longer be available. Instead Land Plot-Small will be purchasable at 300 Hive/HBD each. The perks will no longer be attached with Land Plot-Small purchases after the Marketplace opens. We wouldn't want anyone to tell us that we never warned you...
Current offer: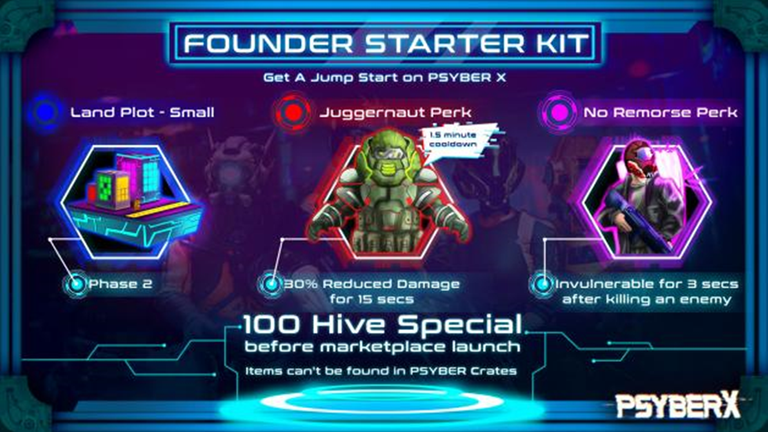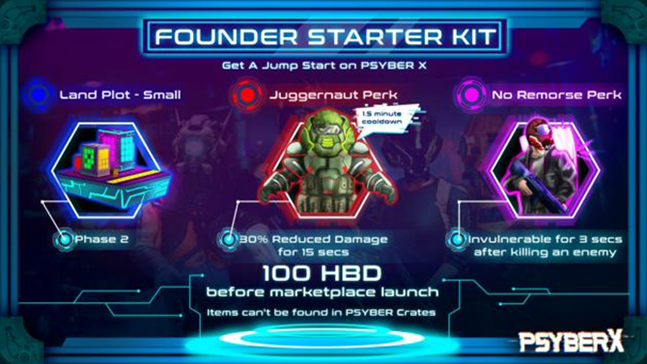 ---
You can buy these as a direct purchase by sending 100 Hive or 100 HBD to @psyberx with a memo stating you're buying the Founder Starter Kit. One person bought 90, so you are not limited on how many you can buy, except once the 10,000 are sold, they're gone.
---
---
Social Links
---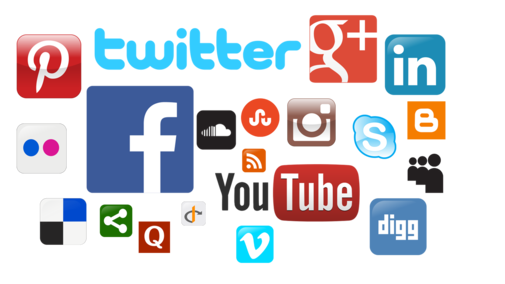 Psyber-X on Pimp Media


PsyberX on 1UP Zone


Hive account @psyberx


Twitter account psyberxofficial

Official Psyber X Discord Chat


Official Youtube account Psyber X


Official Facebook page Psyber X


Our Instagram account PsyberXofficial


The official Psyber X TikTok


Telegram Chat Invite
The Gaming Studio Royal Reptile Twitter


NftShowroom Psyber X Collection


Psyber X Blog on Reddit


Official 3Speak PsyberX Account


Whatsapp Chat Invite


Line App Chat Invite
---
Only 10.05% of Phase 1 LVL Allocation is still available
---
---